Manistique Lakeshore Campground offers plenty of space to relax and enjoy what the Upper Peninsula in Michigan has to offer…gorgeous views and clear air in a relaxed atmosphere. Public gathering area complete with pavilion and play area are available for functions.
The new Manistique Lakeshore Campground provides the ideal setting for today's camping experience. Whether you want full amenities with convenient pull-through sites or rustic camping, Manistique Lakeshore Campground has it all. Located on beautiful Lake Michigan, Manistique Lakeshore Campground is within easy walking and driving distance of many unique attractions:  Pictured Rocks National Lakeshore, beaches, golfing, lighthouses, waterfalls, winery, Kitch-iti-Kipi (The Big Spring), Manistique Boardwalk and River Walk, and local shops.
Enjoy everything the area has to offer in Manistique Michigan

The Boardwalk on Lake Michigan: Conveniently located in the village of Manistique, this maintained boardwalk is perfect for walking or biking. Stroll the boardwalk as you enjoy views of the Manistique lighthouse.
Fayette State Park & Historic Townsite. Michigan is home to Fayette State Park and historic site. Once one of the U.P's most productive iron-smelting operations, today the state park is now a completely restored village showing how life was in 1891. Visitor center, 22 historic buildings and museum exhibits can be toured May through October.
The Hiawatha National Forest is comprised of 879,600 acres and stretches from Lake Michigan, on its southern border, to Lake Superior, on its northern border. A detailed trail system is popular with ORV, hikers, bird watchers, and all outdoor enthusiasts.
Kitch-iti-kipi (The Big Spring). Michigan's largest natural freshwater spring. The name means big cold water and is sometimes referred to as The Big Spring. Its original name was the "Mirror of Heaven" given to by the early Native Americans.
Kitch-iti-kipi spring is one of the Upper Peninsula's major tourist attractions.
Historic Manistique Water Tower. Schoolcraft County Historic Park features a museum and 200 foot tall brick water tower.  Built in 1922 the water tower has a capacity of 200,000 gallons.
Pictured Rocks National Lakeshore with sandstone cliffs, beaches, sand dunes, waterfalls, lakes, forest, and shoreline beckon you to visit Pictured Rocks National Lakeshore. For over 50 years Pictured Rocks Cruises has been giving visitors the opportunity to view the 40 miles of stunning shoreline.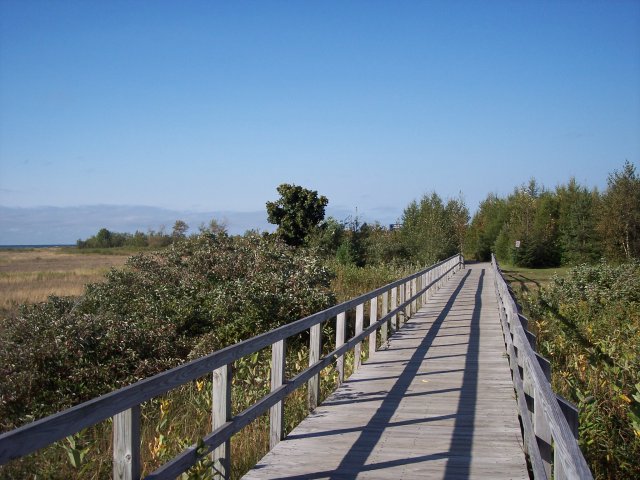 Seney Wildlife Refuge was established in 1935 as a refuge and breeding ground for migratory birds and other wildlife.  Features: Visitor Center, Marshland Wildlife Drive, Fishing Loop.
The Thompson State Fish Hatchery, is one of six hatcheries operated by the Michigan Department of Natural Resources. Cold water species: chino eok salmon, brook and rainbow trout and splake are among the species planted in U.P. waters.
Manistique Marina is equipped with 30 amp, 120vac outlets and city water at all slips; sewage pumpout, showers, toilets, security lights, gasoline, telephone and public transportation on site.
Visit our website to Book your stay at Manistique Lakeshore Campground!
Photos: Manistique Lakeshore Campground