Thank you to local resident jim Rose for bringing this beautiful natural area to my attention. I'll rely on you to fill us all in on anything I left out, especially if you have any local spots or pastimes that shouldn't be missed!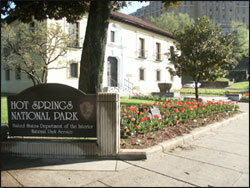 Hot Springs National Park is the nation's first resort, established in 1832 as a national reservation (designated a national park in 1921-as pointed out by Dennis & RoseMary). Congress set aside this area in the Ouachita Mountains (about 30 miles southwest of Little Rock) to protect the 47 natural thermal springs, thereby creating "America's Spa".
Water naturally heated to 143°F bubbles up from Hot Springs Mountain every day. For centuries people have come to the area to bathe in these healing mineral waters. Warring Native American tribes considered the area to be neutral territory where all could enjoy the waters in peace.
Hot Springs is also known for being the boyhood hometown of former President Bill Clinton. While visiting the area you can see where Clinton went to school and experience some of the resort town charm that influenced Clinton's early years and set him on the path to leadership.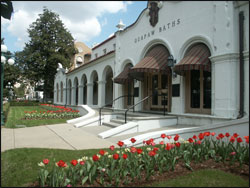 Things to Do and See:
After a luxurious soak at the baths, take a leisurely stroll through downtown Hot Springs to do some boutique shopping or antiquing. Then take in a musical stage concert or theatrical performance following a break for dinner at one of the many Hot Springs restaurants. No matter what your taste in cuisine or entertainment, you're sure to find something to suit your fancy.
If you like fishing, boating and swimming, you'll want to get out on one of the five Diamond Lakes in the Hot Springs area. Lake Hamilton is just south of town, with Lake Catherine to the east of that. Both feature marinas and launch ramps, picnic areas, snacks and ice. Take a break from the water and enjoy mountain biking, hiking and horseback riding along the many forest trails. Or, book a tee-time at one of the 12 challenging Hot Springs-area golf courses.
Looking for a more rugged adventure? Try your hand digging for crystals at the quartz mines (thank you to agesilaus and to Mark & Kay Ulm for the suggestion!) near Mt. Ida, about 20 miles from the town of Hot Springs. For a modest fee you can spend the day digging at one of the privately-owned crystal mines open to the public. Be sure to wear old clothes because you'll get quite dirty after a few hours swinging a pick-axe. Don't worry about bringing all the proper equipment; many of the mines offer equipment rentals.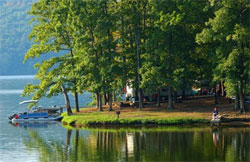 Camping Info: In addition to the campgrounds listed below, you can stay at the KOA Hot Springs or at one of the Arkansas State Parks RV campsites.
Cloud Nine RV Park welcomes big rigs with its paved roads and pull-thru sites. Free satellite TV and WiFi internet access. Each site features full hookups with 30/50 amp service. Well-behaved pets are allowed but only on a leash. This Good Sam Park also offers a laundry room, bathhouse and group meeting room. Daily rate for two people is $28, plus $4 per day for each additional guest. Call (501) 262-1996 for more information.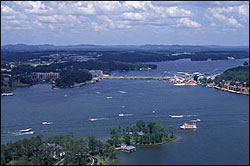 J & J RV Park provides a nicely landscaped environment in a natural creek setting. They have paved roads, a laundry room, and spacious big rig sites. Easy access and pull-thru sites are available, as is 30/50 amp service. The owners are on site at this Good Sam Park just five minutes from downtown Hot Springs. Late arrivals okay. Rates are $19-$25 per night, but Good Sam members get 10% off. Call (501) 321-9852 for more information.
Lake Hamilton RV Resort is right on the lake and features boat ramps and bank fishing. They have wide paved roads and 81 full service 20/30/50 amp sites. Enjoy the swimming pool and laundry facility. Free WiFi access for registered guests. Pets welcome. Good Sam discount available. Call (501) 767-4400 for more information.