This series highlights some of the preceding week's top RV articles from various online sources. Only articles/videos of interest to the RV industry or RV community will be on this list. Here's what's hot in the RV world this week: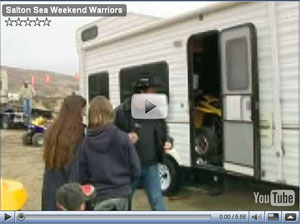 1. Salton Sea Weekend Warriors Video: Out in the California desert the crew of "RV Today" met up with a group of weekend warriors, a growing trend of RVers who like to take their toys with them on an adventure. Bringing their ATVs, motorcycles and dune buggies the weekend warriors like the wide open spaces to explore and blaze new trails.
2. Ethanol-Fueled Engine May Out-Perform Gasoline: Ricardo Inc., a powertrain engineering company in Michigan, reports that it has developed a system that allows ethanol-fueled engines to deliver performance exceeding gasoline-fueled engines and rival the mileage of diesels.
3. Check out the Arizona "Roaring 20s" Samboree coming up March 4-8: Don't miss the fun at the Pinal County Fairgrounds in Casa Grande, AZ. Enjoy games, nightly entertainment, vendors and more! Learn more about the Good Sam Club.
4. Plan Your Visit to These Upcoming Regional RV & Outdoor Recreation Shows:
52nd Annual Colorado RV, Sports, Boat & Travel Show: The region's biggest outdoor recreation show takes place March 5-8 at the National Western Complex in Denver. Buy discounted tickets online and get a bonus free 6-month subscription to MotorHome magazine!
At the 14th Annual Atlantic City RV & Camping Show, begin planning your camping vacations for the coming season, trade-up to your dream RV, see new 2009 RVs or just learn about the joys of travel in a recreational vehicle. Buy tickets online and get a bonus free 6-month subscription to Trailer Life Magazine.
5. Technology Research Corporation (TRC) recently introduced 30-amp and 50-amp Surge Guard RV Voltage Regulators to its RV power protection lineup. Poor power quality entering your RV can not only affect the longevity of your electronic equipment and motors, but can cost you thousands of dollars in repairs and create frustrating, unnecessary travel delays.