RVers are flocking to Naples Motorcoach Resort & Boat Club to enjoy luxury living on Florida's famed "Paradise Coast."
The popularity comes as no surprise to travelers who are familiar with this Gulf Coast region, where abundant fishing, challenging golf courses and fantastic white-sand beaches enthrall visitors. Naples Motorcoach Resort & Boat Club is the ideal home base for exploration of the area, located about an hour south of Fort Myers. The resort's amenities include a 12,000-square-foot grand clubhouse, three outdoor pools, a private beach area, direct canal access to the Gulf of Mexico and more.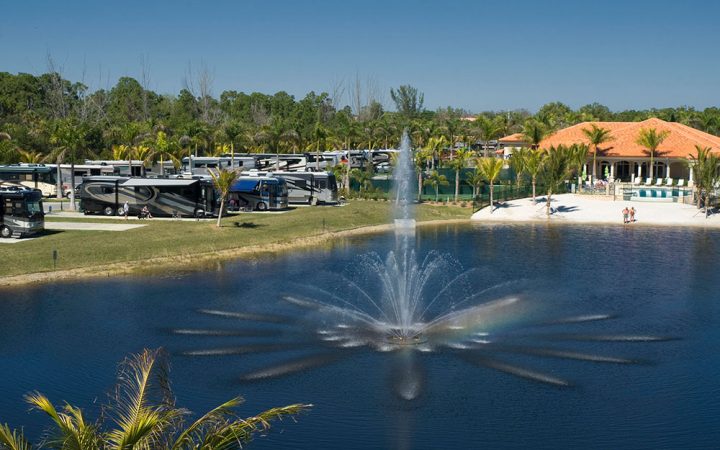 Steve Barclay, who along with his wife, DeNeese, purchased a lot in November 2015, explained that they stumbled upon Naples while planning a last-minute trip to Florida four years ago.
"We immediately fell in love with everything that it had to offer, including being no more than 20 minutes from downtown, the beach, the Everglades and Marco Island," said Steve. "That year, we stayed for a month, and each year we try to find ways to stay even longer, even though we are still in our 50s and both work.
"Everyone is extremely friendly at the resort, and it all starts with a staff that truly makes you feel welcome including a meet and greet that they hosted on our first day," said Steve. "After we decided to buy last year, they helped us begin planning for the creation of a bigger 300 square foot Casita so that our kids can come visit and are allowing us to customize our site so that it was exactly how we want. For anyone looking to buy, I would say that this is a beautiful, top-notch facility and is perfect for enjoying everything this part of Florida has to offer."
For more information, visit www.naplesmotorcoachresort.com.