After you're done cruising along northern Pennsylvania on Route 6, head on over to north-eastern Ohio for a relaxing dose of lakeside resort life at Punderson State Park in Newbury, Ohio. The park is just 55 miles from Linesville, Pennsylvania, one of the end stops of the Woodall's One Tank Trip through Pennsylvania.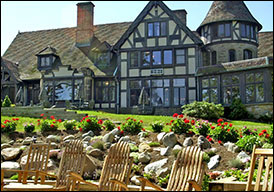 General Info: Punderson State Park includes three lakes for fishing and picnicking in a wooded setting. Located in Ohio's glaciated plateau region, the park is home to a variety of seasonal flora and fauna: wild geranium, buttercup, great blue herons, white-tail deer, beavers and great horned owls to name a few. Its ample supply of winter snow also makes this park a destination for snowmobiling, sledding and cross-country skiing. Download a PDF map of the park for your reference in planning your visit.
Hours and Fees: Day-use areas are open from 6 a.m. to 11 p.m. daily. Campgrounds are open 24-hours, but visiting hours are limited to 6 a.m. to 10 p.m. There are no entrance fees or parking fees at any Ohio State Park.
Activities: You won't be at a loss for things to do at this park! No matter your interest or activity level, you'll find an outdoor activity to match. The park features 14 miles of hiking trails of easy to moderate difficulty that wind through the trees and scenic natural areas. Picnic areas feature tables, grills and drinking water at scenic locations throughout the park. The beautiful English-tudor lodge includes meeting rooms, 31 guest rooms for overnight accommodations, a dining room and indoor and outdoor swimming pools.
True to its resort heritage, the park offers volleyball and basketball courts, horseshoes and shuffleboard at the lodge, as well as a tennis court located at the chalet. You can also find playgrounds, volleyball and basketball courts in day-use areas. Sportsman may enjoy the archery range to keep up with target practice, located at the northeast corner of the park.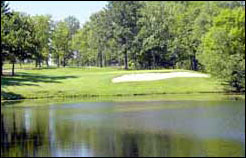 The 18-hole championship-rated public golf course is perfect for challenging even experienced golfers. Please make reservations by calling 440-564-5465; you cannot get a weekend tee time without them.
Anglers will appreciate the bluegill, largemouth bass, rainbow trout, golden trout and catfish to be hooked in Punderson Lake, or the two smaller lakes, Stump and Pine. A valid Ohio fishing license is required, and applications may be submitted by mail in advance. There are two fishing piers on Punderson Lake, in addition to a dock and a marina concession area for boaters (electric motors only). You can rent a boat if you don't have a suitable watercraft.
Pets: Your leashed pets are welcome in limited areas. Limit 2 pets per campsite (cats or dogs). Please call the park office at 440-564-2279 for more information.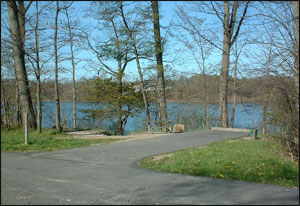 Camping Info: The campground is located on the site of an old Native American village at the park's southeast corner. There are 177 electric sites, 5 with full hookups and 12 non-electric sites. Restrooms with showers and flush toilets are available, as is a dump station. Leashed pets are allowed in designated areas, and games and recreation equipment are available from the campground office for your entertainment. Full-service sites cost $34 per night, electric-only cost $25 and non-electric cost $21. Maximum occupancy of each site is six people. Group rates are available for larger parties. You also get $1 off your nightly rate between Sundays and Thursdays, or $2 off during the winter season.
Collecting firewood is not permitted, and you cannot bring your own because of the risk of Emerald Ash Borer, an invasive pest species. Firewood is offered for sale in most state parks or from vendors nearby. See a list of campground rules, courtesy of Friends of Punderson State Park Region. For more detailed information call the campground office at 440-564-1195.
Weather: The park is located in Ohio's Snowbelt, making it a great place for winter fun. Severe snowstorms are not uncommon in this area. Summers are typically hot and humid and moderate precipitation occurs year-round.
If you're from the Buckeye State or have visited Punderson State Park in the past, please chime in with your stories and tips! Your insights can help others have a fantastic trip.