As you drive through the Buckeye State, you'll pass by beautiful and rugged terrain, and enter into a state rich with history – Ohio has been the home state of more U.S. Presidents than any other – where your opportunities for getting out and enjoying nature are virtually limitless. There are enough campgrounds with RV hookups to make this one of the most rig-friendly states in the Union, so let's take a look with this one-tank trip from the folks at Woodall's.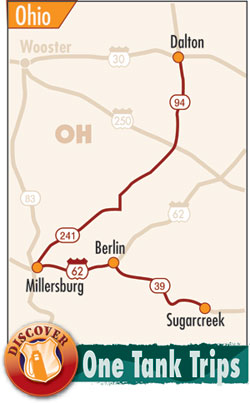 Dalton
Dalton's a great place to start off. Located in the northern part of the state, Dalton is a small village with a predominantly Amish population, so this is a place best seen by foot. The Dalton Historical Museum is a particular point of interest, as it tells the story of this small community with exhibits and artifacts from this village. Plan your trip around the time of the annual Strawberry Festival and sample some of the best strawberry jams, preserves, and other strawberry products you'll ever taste. The rest of the time, be sure not to pass up the local bakeries, where you'll surely come in contact with a few things that may be detrimental to the waistline…but worth it!
Millersburg
Leaving Dalton by way of the southbound OH-94, take it for 8 miles until it becomes the OH-241, which you'll stay on for 16 miles until you come to Millersburg. The downtown area has much to offer, including antique shops, the palatial 28-room Victorian House Museum, and many other unique stores to keep your interest. There's even a 12-mile trail winding through the local wetlands, so bring your binoculars and see how many different species of birds you can spot. A local animal park offers you a chance to come face-to-face with some docile farm animals, which will even eat from the palm of your hand.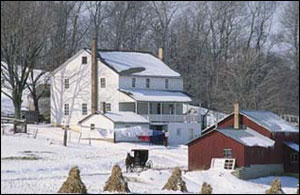 Berlin
Next stop, Berlin. Head east on the OH-39 for 6 miles and you're there. This region is rife with Amish and Mennonite history, and Berlin is the home of the Amish/Mennonite Heritage Center. The center shows a cross-section of Amish life with murals, art, and crafts displays, and various items used by both the past and modern day Amish folks. There are several local attractions in the area, including buggy rides, Amish farms open for tours, and it's unquestionably an antique lover's paradise. Grab some of the handmade candles made locally – they're truly one of a kind.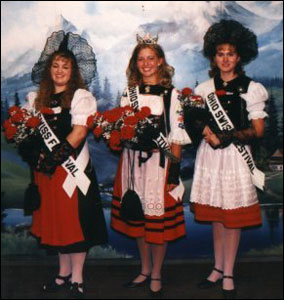 Sugarcreek
Just 12 miles ahead on the eastbound OH-39 lies the town of Sugarcreek, referred to as the Little Switzerland of Ohio. This is due to the large Swiss population, but the town is also a diverse mix of German, Amish, and others. In the fall, the area comes to life with the Ohio Swiss Festival, which features games, a parade, and several Swiss-themed costume contests. Attendance swells every year, so come to Amish country and see what all the excitement's about! **Disclaimer: Since my grandma was born in this area of Ohio and I'm 1/4 Swiss (from Zurich), I could be a little biased in my excitement for this excursion!
Where to Stay
Looking for a place to camp? There are several great RV parks to accommodate your rig in between sightseeing excursions. Try one of these area sponsors:
Baylor Beach Park
Clay's Park Resort
Cutty's Sunset Camping Resort
Evergreen Park RV Resort
KOA-Bear Creek Resort Ranch
Scenic Hills RV Park
Wood's Tall Timber Lake Resort