In preparation for The Rally (just 13 days away!), I'd like to suggest Petroglyph National Monument as a must-see stop while you're in the Albuquerque area. It's a great day-trip to see some of the ancient cultural influences of New Mexico and enjoy a scenic walk through the natural arid landscape.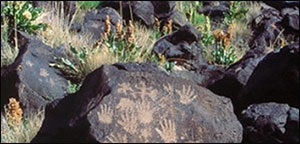 General Info: Petroglyph National Monumentcontains 7,236 acres of a volcanic basalt escarpment made from ancient lava flows, known as the West Mesa. Over the past 10,000 years humans have carved images, or petroglyphs, into these dark rock outcroppings, exposing a lighter layer of stone underneath. Many of these images are instantly recognizable as animals or handprints, while other designs are more complex. Native Americans today view these images as sacred cultural expressions made by their ancestors. Anthropologists value them as clues to the culture of the ancient Puebloan people who lived in the area thousands of years ago. Regardless of viewpoint, these petroglyphs are surely valuable as an enduring link to the long history of human settlement in the area.
While it may be tempting to reach out your hand, don't touch! Oils from your skin can permanently damage the petroglyphs. However, sketching and photography are perfectly fine if you feel so inspired, as long as you stay on the trails. There are laws in place to protect the petroglyphs; please read about rules and etiquette before your visit to ensure you don't break the law unintentionally.
This volcanic environment provides a desert refuge for various plants, birds, reptiles and mammals. Watch out for rattlesnakes near the trails, but rest assured most snakes in the park are harmless and nocturnal. Remember, it is forbidden to take anything out of any National Park or Monument, whether a plant, flower, animal, rock, or artifact of any kind. Please leave these resources where they are for all visitors to enjoy.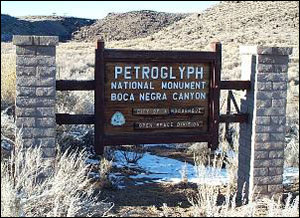 Hours and Fees: The park is open daily from 8 a.m. to 5 p.m. all year, with a few exceptions for holidays. Drop in at the visitor center for maps and current information about park conditions. There is no entrance fee, but the City of Albuquerque charges a parking fee per private vehicle of $1 on weekdays and $2 on weekends for the Boca Negra Canyon Day Use Area. This part of the park also features an RV/Trailer parking area for oversized vehicles; view the Boca Negra Trail map for details.
Activities: Petroglyph National Monument hosts several hiking trails ranging in difficulty that provide excellent viewing of the petroglyphs and the landscape's natural features.
The Boca Negra Canyon Trails make up the most popular section of the park, and is the only fully- developed area of the park with restroom facilities, shade and a drinking fountain for your convenience. It features three partially paved trails that are accessible to visitors of all ages and physical capabilities. You can walk all three trails in about an hour and get a glimpse at 200 petroglyphs along the way.
The Rinconada Canyon area has moderately strenuous hiking trails with minimal petroglyphs but with a better chance of spotting wildlife. Rinconada Canyon also features evidence of Spanish settlement in the area. This trail area has no water, so bring your own.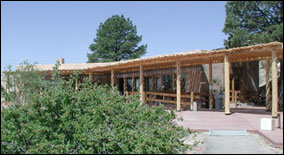 Pets: Leashed dogs are welcome at Petroglyph with certain restrictions. They are not allowed in buildings, such as the visitor center, offices or public restrooms unless they are service dogs. However, dogs are not allowed at the Boca Negra Canyon area because this popular section gets crowded with visitors and the trails are narrow. For both the safety of your pet and the comfort of other park visitors, please leave your dog at home if you plan to visit the Boca Negra Canyon region.
Weather: Expect average highs of 70°F and lows of 40°F in April.
For more detailed visitor information or to ask specific questions, call the visitor center at (505) 899-0205 ext. 331. If you're from the general Albuquerque area or have visited the Petroglyph National Monument in the past, please chime in with your stories and tips! Your insights can help others have a fantastic trip.