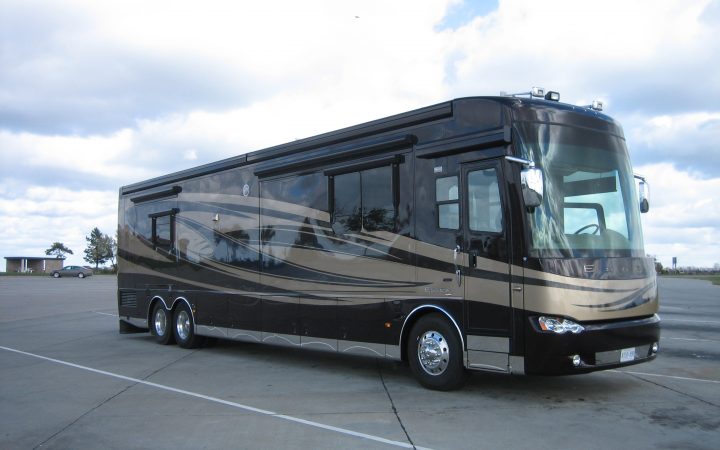 There are some lesser known RV maintenance tips, or at least lesser practiced ones. While these exist in all the RV types and configurations, we will focus on those that apply to diesel pusher motorhomes.
The first one that comes to mind is the checking of the SCAs (Supplement Cooling Additives) of the engine coolant. This should be done every year.  This is accomplished using test strips that are available from your local Cummins or Caterpillar engine dealer. If the SCA count is lower than required, additional additive can be added via a coolant filter designed for that purpose.  There are special coolants, such as Final Charge, that do not require SCAs, but this should be verified through your RV or engine dealer. Failure to maintain this can lead to engine cylinder sleeve issues due to corrosive bubbles forming on the outside of sleeve walls.
The spark arrestor in the Onan diesel generator needs to be cleaned at least every 250 operating hours. A plug located in the muffler assembly must be removed. The generator is then started and put under load for about 5 minutes. This blows the carbon buildup from the spark arrestor. Re-install the plug after. To locate where this plug is on your particular unit, refer to the owner's manual. Failure to clean this out can lead to possible hot carbon deposits exhausted into the dry grass causing a fire and may also cause some exhaust smoke.
Check the coalescing air filter operation and age. These expensive filter cartridges generally last about 3 years on the average diesel motorhome. They are located near the rear axle. Failure to maintain this may lead to air system issues as well as possible cold weather freeze up.
Wet hubs (Oil filled) are found on many diesel pushers on the front axle as well as non-driven tag axles. These hubs incorporate Stemco seals to keep the gear oil in the hub housing. The clear viewing window at the outside end of each must be inspected to assure the oil level is at the full mark. To do this, the center chrome trim cap must be removed. Also the inside of the tires should be viewed for any oil traces that may be visible. This should be done on an ongoing basis, checking the outside for any signs of leaking daily while checking the level each month. Failure to maintain sufficient gear oil in these hubs can cause serious bearing problems and costly repairs.
Well, these are but a few of the chores many seem to miss. There are many items that we must make sure are tended to on a regular basis. Most of the general maintenance can be done by your local dealer; however, it's up to you to monitor the performance of your rig and to get it serviced in a timely fashion.