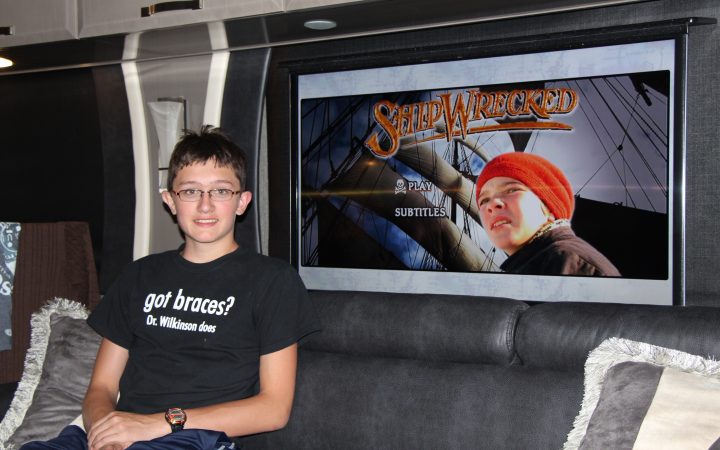 With large class A motor coaches today, bigger always appears better, as is more. Nothing mirrors this more than the televisions that can be found on most.
One, or possibly two CRT TV's were in demand fifteen or twenty years ago. Usually a 19" to 26" in the living room, with a 17" or so in the bedroom area. Of course, at this stage RV TV's were used mainly for watching local network programming via off-air VHF or UHF frequencies. Some also integrated video tape recorders to enjoy movies and pre-recorded programs.
The implementation in the RV industry of satellite TV, DVD players, and video gaming further advanced the need for bigger and more TV's in these homes-on-wheels.
But, how big is too big in a motorhome?   How many do you really need in a RV? Well, some may believe that two is ample and that any more would just be an un-necessarily redundant waste. To those it may come as a surprise that today's average large class A has at least three TV's with some having even more.
Much lighter and thinner profiled LCD (Liquid Crystal Display) sets have allowed larger screens to be used in RV's. Today 30" to 60" can be found in many models. Typically, a modern large class A has a TV set in the living room, the bedroom, and in an outside entertainment center.
In addition to this, some units may employ two TV's in the living room area. This may seem overkill, but some floorplans, or family sizes, may benefit having this. Given the elongated interior space of a motorhome's living room, not all seating can be comfortably used to view a single position-located television. But, with a set above the dashboard in addition to one mounted mid-ship or side televator, more family or friends can join in on the show.   If that's not enough, and your floorplan includes bunk beds for the kids, better count on another two 10" fold down LCD's.
The TV's of today, L.E.D. (Light Emitting Diode) Smart TV are capable of delivering off-air analogue or digital programs, satellite, cable, internet, personal photo albums, slide shows, video gaming and more. All of this for far less cost than the old bulky analogue sets that hung over the dash in previous times.
So, dad can catch the big game on one set in front of his Lazy Boy, local weather might silently be displayed on the other TV in the forward living area, mom can keep up with her favorite show in the bedroom, and the kids can play games on the Wii outside on the patio set.
Now that's a multi-tasking option, helping to keep you in the loop and entertained.