On a recent trip to Elkhart, Indiana I had the pleasure of meeting with Doug Lantz. Yes that Doug Lantz, the RV enthusiast and President of Evergreen RV Company that stole the show on the Fox News Mike Huckabee program. Turns out, Doug is as passionate in person as he is on camera; a trait I always dig in media types. I also had the opportunity to meet Ken Mahaffa, a master in the technologies they use in constructing their product line. You can tell instantly that he know his stuff!
For most of the afternoon we talked about the RV industry, the collective passion of his EverGreen RV "Green Team," we toured his manufacturing facility and even climbed around, inside and out, a few different models of their amazing new trailers. Very Cool!
So, you might be wondering, how did my time there contribute to some great Zzzzzs? That takes us back to the "climbing around" I mentioned. Before I left, Doug hooked me up with a Queen-sized Eco Mattress. This hypoallergenic "Comfort Fiber Pillow Top" is designed for EverGreen RV and made here in the USA of recycled plastic bottles.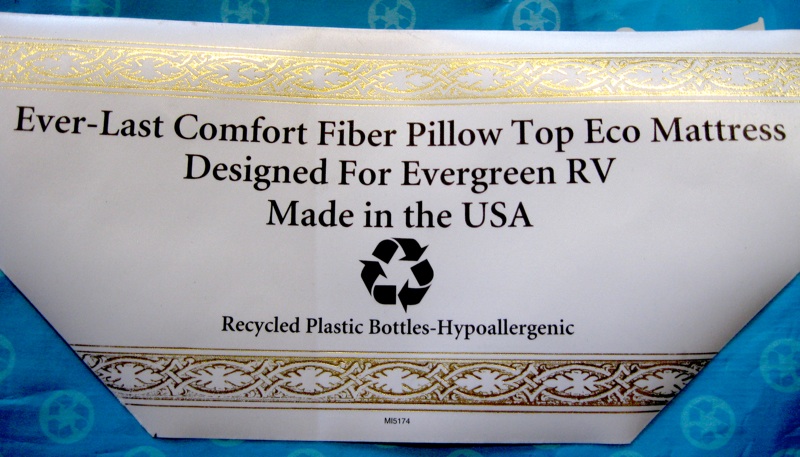 Recycled plastic bottles? I know. I was pretty surprised. It's a mattress that's good on your back and on our environment at the same time. Comfortable AND easy on your conscience. Now, that's the perfect combo.
It's a constant goal of mine to find Green products and technologies for the Green RV. The addition of a mattress to a bedding system that already contains organic cotton linens and Eco Down pillows gets me one step closer.
I am always happy to be a part of any industry and company that pushes the envelope while putting the planet first. If, reading this, you have any suggestions as to other companies, like EverGreen RV,  working to make a difference in our world, please comment. I would love to learn from you.
__
To learn more about Conservation thru Exploration and Greening your RV, please visit BrianBrawdy.com