Go with the flow at Live Oak Landing, an RVC Outdoor Destination in Freeport, Florida.
Surrounded by water, and within minutes of the Emerald Coast beaches, this slice of the Sunshine State's panhandle is an ideal natural environment for a luxury RVing experience filled with scenery that connects RVers with nature.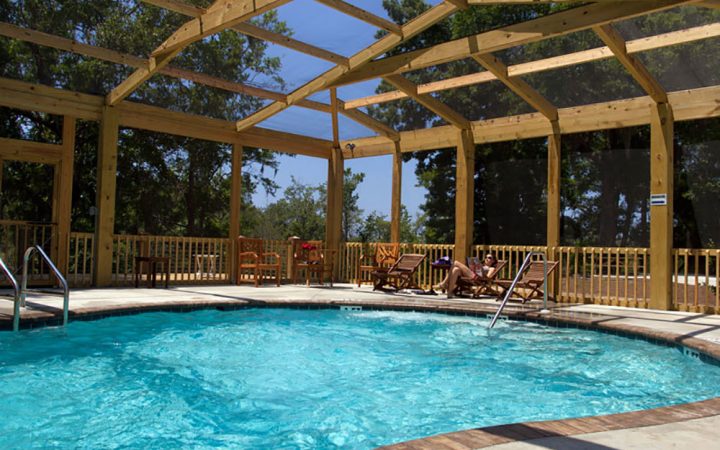 This destination, found north of Destin on the Choctawhatchee Bay, is perfect for those who want to spend some much-needed time nestled next to the pristine tributaries of the Choctawhatchee River. Historically known as one of the best fishing destinations in the country, even today new generations are learning the sport at the resort. The Pet-friendly resort has upscale amenities that you would expect at a hotel such as; concierge service, free Wi-Fi and cable, air-conditioned pavilion, playground, boat launch and dock, and a new screened-in saline swimming pool with observation deck.
Go With the Flow With Great Amenities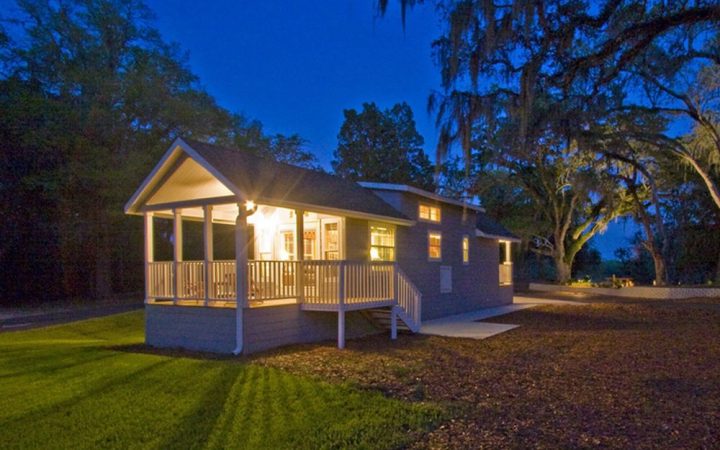 Each RV site is nestled among the Live Oak trees to maintain privacy and enjoy the outdoor experience. All of the resort's sites are Big-Rig friendly and include Full hookups, 30/50 amps, free Wi-Fi and Cable, picnic table, fire ring and BBQ grill. There are two types of RV sites to choose from, either the beautiful waterfront sites located on the Choctawhatchee Bay or among the gorgeous 100-year old Live Oak trees around the resort. We also offer kayak, canoe, fishing boat, and bicycles rental to enjoy the scenic trails and breathtaking waterscape.
The location in Freeport offers a wide variety of accommodations, activities, and amenities to comfortably connect you with nature and make your experience truly memorable. Adding to this, we've upgraded to give you the modern comforts of home. Ideal for outdoor enthusiasts, families, and even individuals who want to relax and take in the picturesque surroundings of Live Oak Landing.
Go With the Flow to Great Attractions
At Live Oak Landing, you are just minutes away Destin shopping and from great local attractions like Eden Gardens, Windswept Dunes Golf, beautiful Florida State Parks, the beach, and more. Join us to experience the gulf coast in a new way. If your family wants to join the adventure without an RV we also have fully furnished cottages with flat screen TVs, washers/dryers, bathrooms, kitchens, fresh linens and towels. The cottages even include a BBQ grill, picnic table, and fire ring for outdoor cooking and gathering. RVC Resort Cottages can sleep up to four adults and two children with the bedroom, loft and fold out sofa. Pets are also welcome in the pet-friendly cottages!
 RVC Outdoor Destinations takes the conventional camping experience to the next level with its unique outdoor vacation concept that lets travelers enjoy the outdoors on their own terms with upgraded facilities and hotel-like amenities. RVC is redefining how people think about camping by offering a variety of affordable lodging options to suit any traveler's tastes, including RV sites, yurts, cabins and cottages, all with upscale amenities such as a concierge service, free Wi-Fi and cable, fitness centers, coffee, beer and wine bars, modern swimming pools and a "bark park" for pets. Guests can feel confidant knowing they'll find consistency in the quality and attention to detail at all of the properties RVC owns and operates.