As an adventure photographer, outdoor explorer, and enthusiast for all things outside, L Renee, aka @urbanclimbr, shows how road trips can make impactful memories. Here she takes us on a journey that includes climbing along the Pacific coast, sandboarding dunes, hiking coastal plains, and surfing the beaches below.
Road trips with @urbanclimbr
Hand her climbing shoes and a camera, and watch a story unfold. Put her in an RV rental, and she shows us the type of road trips and outdoor excursions that make some of the best memories.
Lanisha "L" Renee Blount, a.k.a. @urbanclimbr on Instagram, is an adventure photographer, rock climber, designer, and outdoor enthusiast–a "multi-passionate individual," she says. And she teamed up with Good Sam RV Rentals to create her own adventure–rock climbing, cliffside exploring, surfing, and sandboarding dunes
The rocks, the water, the sky
Living in the Bay Area gives L access to a playground of natural environments where she makes the most of it by rock climbing, surfing, and trail running. But traveling with an RV rental affords her an even closer connection to the outdoors. "I love being able to open the doors, and you're just right here. The rocks, the water, the sky–no commuting, it's just here," she said.
L's life hasn't always been about chasing new experiences in the great outdoors. When studying at Harvard, she reconsidered her plans and decided to redefine what her future looked like: "I chose to elevate my passion for the outdoors, adventure, and creativity, and do the things I'm passionate about–and that became my purpose." Now she's turned that passion for the outdoors into a career of storytelling and adventuring.
Joys of the journey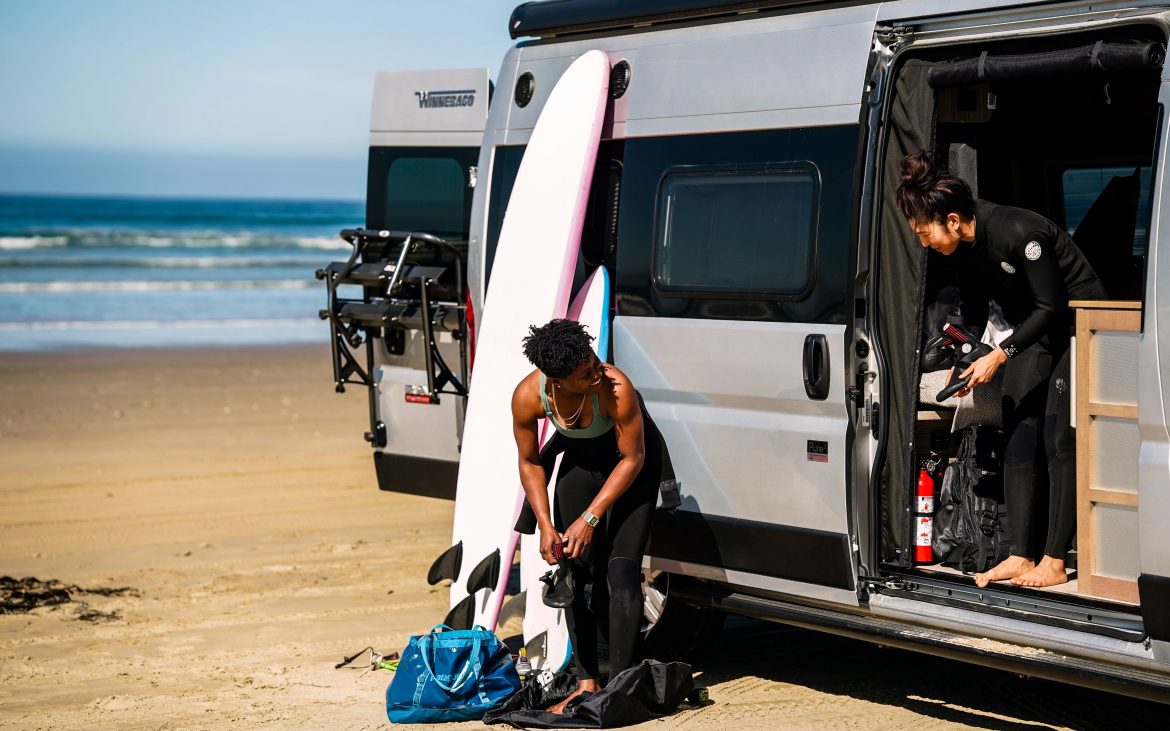 L aims to redefine and reimagine what people think of when it comes to outdoor enthusiasm and exploring–it's inclusionary: "It could be them, it could be you, it could be us." And an RV road trip is a great way for anyone to start exploring the outdoors. "What I love about road trips is where they take you–it's about the joy of the journey," she said.
With Good Sam RV Rentals she traveled in a Class B van to explore several locations along the California coast. "The beautiful thing about renting an RV, it gave me this fervor to try and test so many things," she said. "Being able to drive to new locations do all these rad things, and have the ability to crash on the beach? Now that's pretty epic," she said of her RV rental trip. "I always say, 'Do the things that bring you the most joy, the biggest smiles.' And this right here? This is a joy."
Learn more about Good Sam RV Rentals and find the rig that's perfect for your next adventure.