By Bob Difley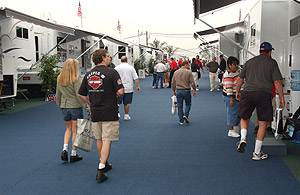 Subtle signs indicate that maybe this economic thunderstorm is starting to fizzle out–at least in the RV marketplace. Country Coach has reopened with Chapter 11 bankruptcy protection and has sold a couple units (at about $600,000 each) and has deposits on a few more. Though they have only hired back about 20% of their workers they claim to be able to produce one unit a week and will attempt to sell them direct from the factory. That may (or may not) be good news for buyers who assume that by cutting out the dealer middle man the retail price will be more attractive. Or will it mean more profit to the manufacturer. And of course you will have to journey to Junction City, Oregon to make your purchase rather than your friendly neighborhood dealer.
Fleetwood's sales have been better than expected, so much so that they may be able to avoid bankruptcy. A judge will rule on whether to allow Fleetwood to work out it's financial problems by selling off inventory, raw materials, and by closing plants. A few other manufacturers have reported buying activity also. Reporting of sales figures always lags behind and it may be a month before any real upward trends can be pinpointed.
Not all is rosy yet, though, as companies like Protonex Technology, that had intended to make their fuel cells available to the RV industry this year have backed off, saying that they need more time to make their fuel cells more economically attractive. Could have something to do with the fact that the military (part of the government, I must remind you) has money to spend and are pouring it into fuel cell technology for military uses. The good news is that the government's expenditures will move fuel cells along in their development, but it will still be a while until they–and the infrastructure needed to support them–become available to other than home-based fleets and filter down to the lowly RV market. Read more on Protonex here.
Don't expect too much in the way of energy efficiency or use of sustainable or renewable resources just yet. The manufacturers will probably continue to sell what they have, what they are already set up to produce, and what has sold in the past, unwilling to take the plunge into RVs that are radically different or untried in the retail market. There will also be a lag period before new unit sales make a definitive move upward, that being when the used market bargains have been depleted.
Have faith, RVers, there is light at the end of the tunnel, and this summer looks like a great time to explore the country's forests, seashores, national and state parks, and historic sites.