Arches National Park, in the southeastern part of Utah's high desert, protects more than 2,000 natural sandstone arches and other unique rock formations. These delicate features were eroded by water and wind over millions of years from the surrounding colorful, multi-layered canyons and cliffs.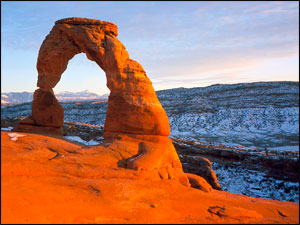 General Info: Humans have passed through the area since ancient times. You can still see petroglyph images left by Native Americans a thousand years ago. The Moab area was first permanently settled by ranchers and prospectors in the 1880s. The 76,519 acres of land were first set aside for protection as Arches National Monument in 1929, and became a National Park in 1971. Although the environment looks hardy, stay on marked trails only to preserve the fragile organisms that eke out a living in this harsh desert landscape. Download a PDF map of the park to start planning your adventure!
Hours and Fees: The park gates are open 24 hours a day year round. The visitor center is open daily from 7:30 a.m. to 6:30 p.m. (April-October) and from 8 a.m. to 4:30 p.m. during the off season (November-March). The visitor center is closed on Christmas Day. Entrance to the park costs $10 per vehicle, including all occupants in the vehicle, and is good for seven days.
Activities: There are several hiking trails to explore the rock formations and beautiful arches. From easy to moderate, short or long, there is a trail suitable for your group. Just make sure to stay on the trail at all times! Or, sign up for a ranger-led hike through the Fiery Furnace. Rangers also offer a 45-minute evening program at the Devils Garden campground amphitheater (ask the visitor center for details).
The park also features paved routes for both road and mountain biking. Cycling on the scenic drive is a great way to see the park's beauty.
ATVs, motorcycles and dirtbikes are limited in the park to protect the natural features. Read the park regulations for details.

If you'd prefer a more leisurely sightseeing experience, get out the camera for some great photo opportunities, or tour the park in the air-conditioned comfort of your vehicle along the scenic drive.
Accessibility: The visitor center, restrooms around the park and several viewpoints are all fully accessible. Several print publications and wayside exhibits around the park provide information about the park's natural and cultural history for the hearing impaired. Learn more about park accessibility.
Pets: Pets are allowed in the campground and on scenic overlooks as long as they're on a leash when out of your vehicle. They can only be walked on paved drives and parking lots, and are NOT allowed on any hiking trails. Since it's forbidden to leave your pet unattended, the following Moab businesses offer kennel services to keep your pets comfortable while you're exploring the park: The Moab Veterinary Clinic (435-259-8710) and Karen's Canine Campground (435-259-7922).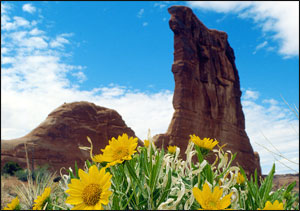 Weather: It will be sunny and HOT in summer, with temperatures easily over 100°F, so bring a hat, sunscreen and plenty of water. Spring and fall have the best weather, seeing average temperatures between the 60 and 80s. Spring winds can get pretty gusty through the arches and canyons, so hold on to your hat! If you happen to visit in winter (December to February) be prepared for near-freezing daytime temperatures. Since the park is above 5,000 ft. it's not unusual to have temperatures fluctuate up to 50 degrees in a 24-hour period at any time of year. Bring a variety of clothing for maximum comfort.
Camping Info: Devils Garden Campground at the northern end of the park has water and flush toilets in the summer (mid-March through November). There are 52 individual sites, which cost $20 per night with a maximum of 10 people. There are no hookups, showers or dump station. There are picnic tables and grills for cook-outs, but you must bring your own wood or charcoal. Some sites will fit RVs up to 30 ft. long. If you'd prefer to camp with a few more creature comforts or need space for your big rig, try searching for Moab RV parks online at the Trailer Life Directory website.
If you're from Utah or have visited Arches National Park in the past, please chime in with your stories and tips! Your insights can help others have a fantastic trip. There's plenty to see in the greater Four Corners area, so tell us about your favorite spot!