When you think of Colorado, a lot of images probably come to mind: majestic mountains covered with fresh snow, vast green forests stretching for miles, and crystal blue lakes and rivers. Colorado is the outdoor enthusiast's idea of paradise on earth, but there's so much more. The annual Sundance Film Festival, hosted by Colorado resident Robert Redford, draws Hollywood to these parts and the up-to-the-minute arts and culture scene provide a counterpoint to the rough-and-rugged terrain of the Centennial State. We're all familiar with the ski-resort towns of Aspen and Telluride, which get all the glamorous press, but this one tank trip from Woodall's will take you through some equally beautiful places you may not have heard of. By the time you're done, you'll want to keep their location a well-guarded secret!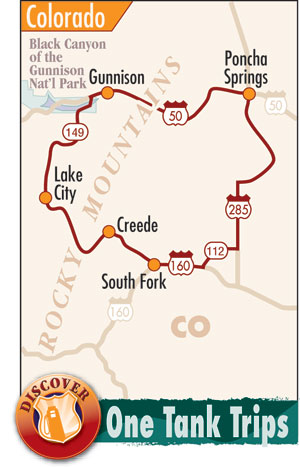 Gunnison
Our kickoff point of Gunnison is home to one of the most awe-inspiring natural wonders in the continental U.S., the world-renowned Black Canyon National Park. Sheer walls drop nearly 2,000 feet into the Gunnison River, and several observation points offer the chance to feel dizzying waves of vertigo as you peer into the depths. While some of you more adventurous visitors might be tempted to go rock climbing, the treacherous footing makes it an activity best left to highly advanced climbers only. There's plenty of opportunity for hiking and camping within Black Canyon park. You can also stare up at the imposing, sheer rock face from the river below while you wade with rod and reel in the cool waters.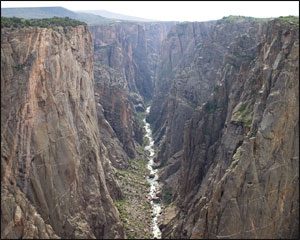 The route from Gunnison takes you eastbound on the US-50 for 8 miles, where you merge with Highway 114-E and stay on it for a little more than 60 miles, being treated to some beautiful terrain as you drive. You'll merge with the southbound US-285 for 24 miles, then once you come to the westbound Highway 112, you'll take it and follow it for 13 miles until you come to the final road on this leg, the westbound US-160, which you'll stay on for 16 miles until it brings you into your second stop; the town of South Fork.
South Fork
South Fork is an A-1 place to come to get in some good old-fashioned whitewater rafting. The section of the Rio Grande that runs through Colorado is prime high country river. Mountain Man Tours, one of the area's premier rafting ventures, offers all-ages river trips in a safe, yet fun-filled manner. The guided tours allow you to take part in the action by paddling or just sit back and hold on for the ride!
Creede
Twenty-one miles to the northwest is the city of Creede, easily accessed by Highway 149. The spectacular Pillars of Hercules, 100-foot high volcanic cliffs that stab into the air like the arms of a Greek god, provide a towering backdrop over Creede's downtown area. An interesting site to visit is the Underground Mining Museum, hacked from solid rock and standing as a monument to the processes and equipment used in the dangerous production of ore mining. The museum is completely underground, and has many displays of real mining equipment. One suggestion – wear a jacket, even in the summer. It gets cold down there.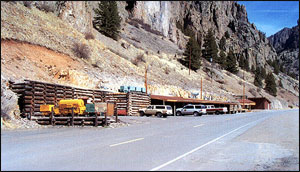 Lake City
Nearby Lake City is filled with opportunities to go four-wheeling, hunting, backpacking, or fishing, so be sure and take some time to enjoy this secluded woodland while in town.
A quick trip north on Highway-149 brings us back to our starting point of Gunnison. This trip is like discovering a hidden treasure. This sparsely populated region of Colorado grants many recreational rewards to those who venture off the beaten path to get here, where the stars are never out-shone by city lights.
Where to Stay: A&A Mesa Verde RV Park & Campground just outside of Mesa Verde National Park in the Four Corners is a great stop along the Trail of the Ancients Scenic Byway from Colorado into Utah. This campground between Cortez and Mancos is about 140 miles away from South Fork, one of the stops on this one-tank route.
If you'd prefer staying at a campground closer to the start of this route, try the Mesa RV Resort in Gunnison. It's right on Hwy 50 and welcomes big rigs and pets.
For more great campgrounds in the area, check the Woodall's North American Campground Directory. Each listing includes details about facilities, amenities, rates and more, personally inspected by the Woodall's team of RVers.