If you're planning a trip through Alabama, one thing you can count on is warm and sunny weather for most of the year. This makes it a great place to enjoy all kinds of outdoor activities such as fishing, camping, hunting, water sports, hiking and mountain biking. The wooded areas and lakes are some of the most picturesque in our nation. Alabama is also well-steeped in U.S. history, and has many museums and historical sites for those interested in seeing where many significant events in our nation's past took place. This RV trip route from Woodall's will take you through the north-central part of the Yellowhammer State on one tank of fuel.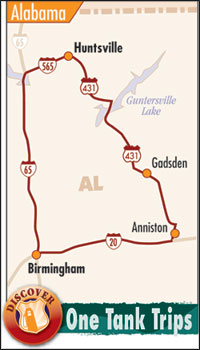 Birmingham
Start by exploring Birmingham, a city home to all manner of fantastic year-round events and attractions. Don't miss Vulcan Park, situated atop Red Mountain where it offers incredible panoramic views of Birmingham. It also possesses the world's largest cast iron sculpture, a 56-foot tall rendering of Vulcan, the Roman god of fire and forge. It's really got to be seen in person to be believed. Prepare to be impressed! For great hiking trails and picnicking, head outside the city to Oak Mountain State Park in Pelham, just 20 miles or so south of central Birmingham. Long Long Honeymooners Kristy and Sean Michael recommend Oak Mountain for its miles of trails and two lakes for canoeing and fishing.
The Birmingham Civil Rights Institute offers self-guided tours that depict the spirit and drama of the Civil Rights Movement, and is located in the historic Civil Rights District. Just around the corner is the must-see Alabama Jazz Hall of Fame, a museum that celebrates Alabama Jazz luminaries and educates visitors on the evolution of this American music genre.
Birmingham also has one of the finest sports history centers: the Alabama Sports Hall of Fame, which spreads across 33,000 square feet and presents more than 5,000 sports artifacts. Five out of the top 15 athletes found on ESPN's Greatest List are in the Alabama Sports Hall of Fame, including Carl Lewis, Hank Aaron, Jesse Owens, Joe Louis and Willie Mays.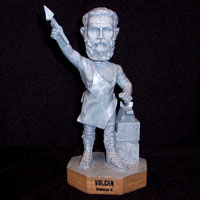 As you leave Birmingham, you'll take the northbound I-65 en route to Huntsville. Approximately 80 miles from Birmingham, exit the I-65 and take the I-565 east for another 20 miles, which brings you right into Huntsville.
Huntsville
Huntsville has the distinction of being Alabama's first English-speaking city. Also, it's where famed German rocket scientist Wernher von Braun's team developed the first rocket that put a satellite into space, in addition to rockets for the Apollo program. One can tour the U.S. Space and Rocket Center, Alabama's most frequently visited tourist attraction (I visited when I was 5), and can take part in sample astronaut training activities, such as experiencing the massive G-forces created by liftoff.
Huntsville is the starting point of the Robert Trent Jones Golf Trail, the largest golf construction project anywhere in the world. It encompasses 11 sites and has 468 holes with varying degrees of difficulty to accommodate any golfer's skill level. In fact, you can visit 4 of the courses while traveling this one-tank route!
The nearby Flint River is an ideal place to go rafting, canoeing or inner tubing. You can also explore the area around the river from horseback, riding through a 500-acre preserve that parallels Flint River. On your way down to Gadsden, Lake Guntersville State Park is worth a stop to enjoy the scenery around the 69,000-acre reservoir. The Tennessee River fills the lake for fishing and boating, while the wooded riparian shoreline makes for great wildlife watching on the hiking trails.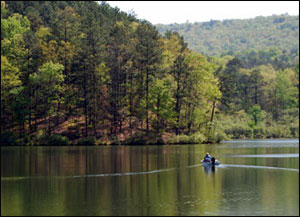 Gadsden
It's time to continue, so head south via the 431 for a little more than 70 miles, to the town of Gadsden. This is a perfect place to pull over to stretch the legs and check out the breathtaking 90-ft. Noccalula Falls. While they can be viewed from afar, for the best viewing you should enter the state park and hike the 1.5 mile trail to the foot of Noccalula Falls. The best time to visit is through the fall/spring seasons, when annual rains fill Black Creek – the source of the falls – and they're at their most dynamic.
Anniston
Getting back on the 431 and continuing south, we roll into the city of Anniston. The Berman Museum of World History is here, with more than 8,000 oil paintings, jade sculptures, modern and ancient weapons, as well as Frederic Remington bronze sculptures. New acquisitions arrive all the time, so check the museum website for special events and exhibits before your visit. Another place of interest is the Anniston Museum of Natural History, where you can see displays of 2,000-year-old Egyptian mummies, dangerous predatory animals of Africa and North America, as well as dioramas featuring life-size models of various dinosaur species. Admission is reasonable, and traveling exhibits change the action up a bit. Definitely worth a look as you pass through town.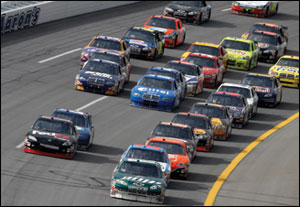 Talladega
Once you're ready to hit the road, catch the westbound I-20 and aim for the final destination city of Talladega. NASCAR fans know this place well, as it's home to the Talladega Super Speedway, the biggest and fastest motor sports facility in the world. World records for competition and speed have been established here, witnessed by more than 140,000 attendees. Record holders include Pete Hamilton, Buddy Baker and the late Dale Earnhardt. The area surrounding the speedway is abundant with natural parks, making it a perfect place for racing fans to camp out during the competition season. The Speedway is surrounded by the Talladega National Forest, which offers opportunities for hiking and biking along its many trails.
Cheaha State Park is roughly 20 miles from the city of Talladega and features Cheaha Mountain, which at 2,400 ft. is the tallest peak in the state. The state park makes an excellent place to swim, camp, or hike. Treat yourself to dinner at the Cheaha Mountain Restaurant, which hangs out over the mountain and offers an eye-popping view of the Talladega National Forest below.
With its many opportunities for outdoor recreation, culture and world-class racing, Alabama makes for a great place to point the RV and let the cruising begin!
Where to Stay: Birmingham South Campground is conveniently located next to Oak Mountain State Park in Pelham. This pet-friendly RV park features paved, level pull-thrus with full hookups (30/50 amp) and cable TV.