Cascade Loop RV adventures — 440 miles of stellar views in Washington.
Known as "Washington's Ultimate Road Trip," the Cascade Loop leads travelers through nine "must-see" regions in the northwest corner of the Evergreen State. Diverse attractions include natural beauty, camping and hiking, photographic opportunities, unique regional heritage and friendly rural communities found all along this byway with its astounding views.
Driving the Cascade Loop requires plenty of time to stop and explore. While you can drive the loop in two days, most travelers spend four days, others 10. Do whatever works for your time frame. This road trip will be much more entertaining if you have ample time to explore. Comfortable clothing and good walking shoes are recommended. Binoculars and a good camera to capture the unforgettable views and wildlife abundant in this region are a must!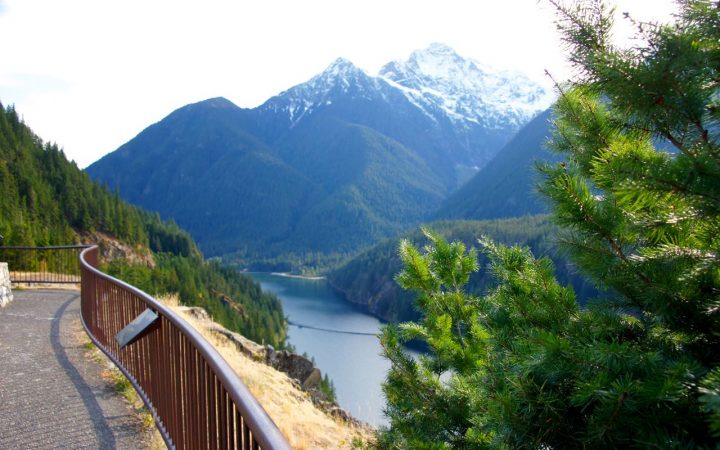 Cascade Loop RV Wonders — Diablo Lake
One point of interest along the loop's northern portion within the North Cascades National Park is the Diablo Lake Overlook (milepost 132 on Highway 20). The lake is a reservoir created by Diablo Dam with breathtaking, brilliantly colored light-blue waters created by melting snow from surrounding glaciers. From this viewpoint southerly lies the most glaciated valley found in North America outside of Alaska. Summer lake programs are provided, such as boat cruises offered by Seattle City Light. Hiking trails through ancient forests provide views of jagged peaks, deep valleys and numerous waterfalls.
Cascade Loop RV Natural Sights — Salmon Swimming Upstream
On Highway 20, the community of Newhalem is a must-see. A stop here in the fall will reveal schools of migrating salmon traveling upstream. Assisted by structures from the Skagit River Hydroelectric Project, the fish are able to swim against the current through what was formerly an impossible passage due to nine-miles of rapids at this location. Don't miss the North Cascades National Park Visitor Center here for maps, exhibits, audio-visual displays and more. Picnic tables, ample parking, restrooms and a general store enhance this stop.
Check out Good Sam Parks and more in Washington State.