Burning Man RV Trip — feeling the heat of a fantastic Nevada event.
Every August, 70,000 "Burners" make the pilgrimage to Black Rock City, a temporary metropolis built from the dust-up in Nevada's desolate and inhospitable Black Rock Desert. Located about 100 miles north of Reno, Black Rock City is home to the week-long Burning Man event. Contrary to popular belief, Burning Man is not a festival – it is a community, a celebration of creativity and radical self-expression, and a cultural movement based on 10 principles. Here we discuss how to RV Burning Man
One of these principles is radical self-reliance. At Burning Man, you are responsible for your own survival, safety, and wellbeing. That means you must bring enough food, water, supplies, and equipment to last the entire week. Due to the challenging environment, many people choose to bring an RV as it offers modern comforts like a bed, bathroom, cooking facilities, and protection from dust storms.
RV Burning Man
Thousands of RVs show up at Black Rock City each year. The city's camping area is formed by a series of concentric and radial streets. In the center of it all is the open playa, which is where you'll find tons of art installations, the temple and the "man" — a tall wooden statue that is burned at the event's culmination. The radial streets are named by their clock position and the concentric streets have names that change every year depending on the theme. This system makes the city very easy to navigate. There are no assigned campsites at Burning Man (unless you are part of a theme camp), so feel free to camp on any street that's available. Wild parties, cool art, and banks of porta potties can be found on every street.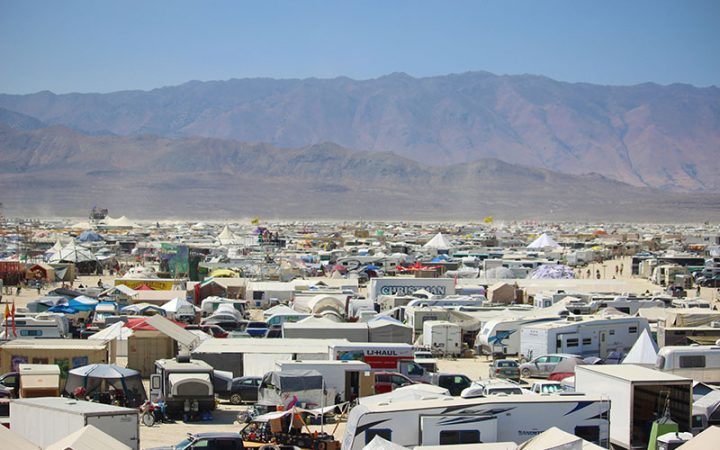 How to prep for RV Burning Man
So you want to take your RV to Burning Man, too? Just know it won't be like your typical RV trip. A large amount of dust, temperature fluctuations and lack of amenities mean there's lots of prep that needs to be done beforehand. Keep your vehicle safe from dust by closing all vents when not in use, taping over switches and seams, using painters tape to seal outside windows, and covering upholstery with sheets. You can also get your RV waxed beforehand so the exterior has an extra layer of protection against the dust.
Burning Man is also the largest leave-no-trace event in the world. Everything you bring must return with you so it's important to have a cleanup plan before hitting the playa (dry lake bed). Keep in mind that there are no RV dumping stations or locations for scheduling RV servicing. Dumping on the playa is also prohibited.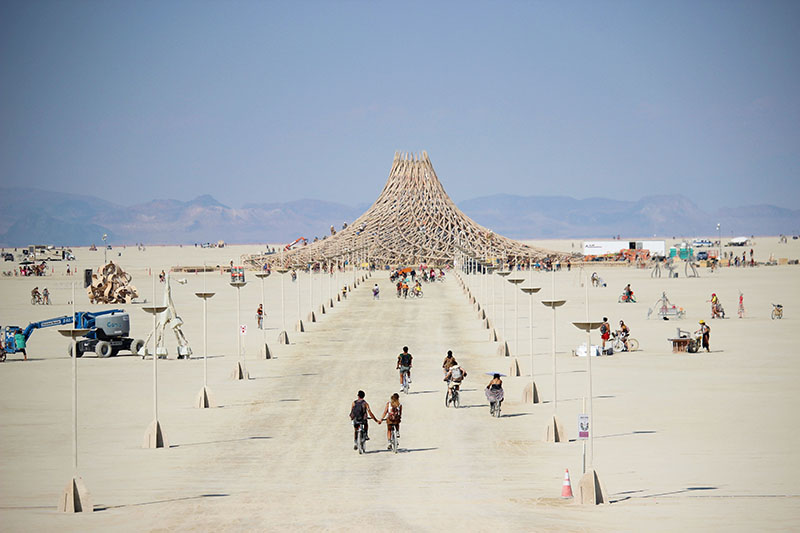 The Event
Once you've set up camp, it's time to hop on your bike and explore! Black Rock City is a magical place – I promise you won't find anywhere else like it. It's a freeing, spiritual and transformative space where you can really let your inner child run wild. Go discover all the incredible art installations. Attend a workshop or seminar. Dance the days and nights away at countless sound camps. Venture into deep playa. Give back by volunteering at a camp. Grab a drink at a bar – did I mention everything is free here except coffee and ice? Meet other Burners and share the gifts you brought. Take a ride on a mutant vehicle. Watch the most awe-inspiring sunrises and sunsets of your life. The list goes on and on. Don't forget to put your phone away. One of Burning Man's most valued principles are participation and immediacy so I encourage you to get out there and live in the present.
Looking for a place to camp before or after Burning Man? You'll find plenty of RV parks in Nevada.
Images by Melissa Li.