Summer, it turns me upside down
Summer, summer, summer
It's like a merry go round
The pairing of travel, camping and festivals in the summertime is magic. And while I don't think that's exactly what Ric Ocasek was singing about as he was walking on water at a pool party, there's just something powerful about the combination.
Basking in the warm sunshine, BBQing with friends and road-tripping to outdoor events or music festivals are staples of today's summer.
Why are we already thinking about summer?  Well, because an epic road trip calls for good planning.  After all, Americans who plan out their vacations use more of their vacation days and are happier for it!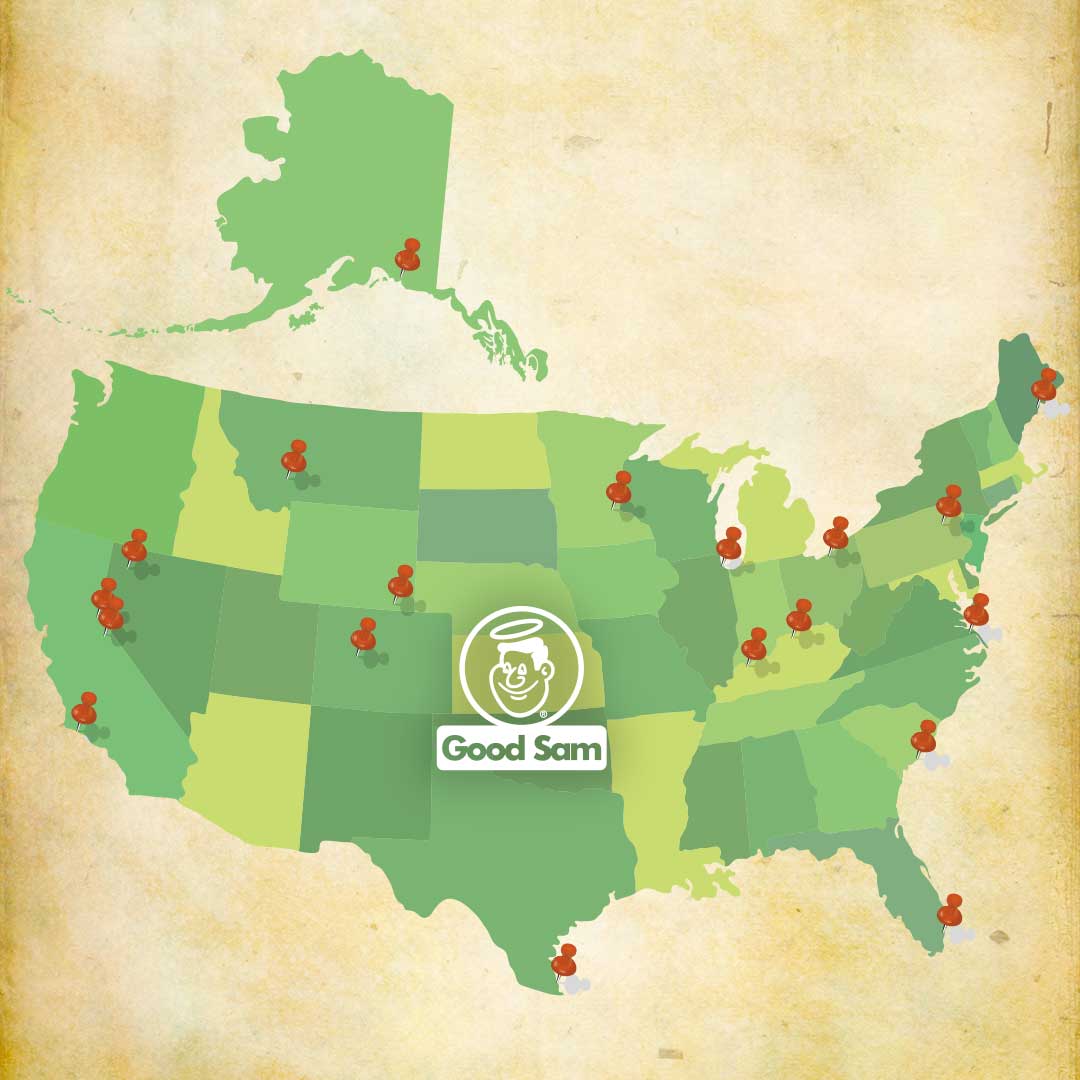 Whether you're driving from the sunny parts of San Diego, the green, misty forests of Oregon, or the rolling mountains and breezy coastline of North Carolina, there are memory-making events waiting for you to experience all across the country.
Here are some of my top picks.
Lollapalooza, Chicago, Illinois: August 1-4, 2019
The word Lollapalooza dates back to a late 19th or early 20th-century American phrase, which means, 'an extraordinary or unusual thing, person, or event; an exceptional example or instance.'
In the era of experiences, a great music festival feeds the soul.  The annual Grant Park event started as Perry Farrell's brainchild and continues to usher in the world's most popular and promising musical acts. The full grounds of Grant Park cover 115 acres. That's a lot of music.
Call it the all genres A-list music festival. I attended this back in 1994 when the Beastie Boys, George Clinton and the P-Funk Allstars, The Breeders and Green Day performed.  I've been a longtime fan of The Pixies, and bassist Kim Deal then formed her own band, The Breeders. But it was there I discovered Nick Cave & The Bad Seeds and The Pharcyde. This festival also features artists, dancers and stand-up comedians. This year, check out The Revivalists, Tenacious D, Death Cab for Cutie, Hozier, The Strokes and Perry Farrell's Kind Heaven Orchestra.
And unlike Coachella, single-day tickets are on sale.
There's no on-site camping at Lolla. Less than an hour drive from Grant Park is Leisure Lake Resort, in Joilet, IL. This campsite is owned and operated by the Good Sam members, for the Good Sam members. Featuring a 24-acre stocked fishing lake, two-acre sand bottom swimming lake and swimming pool – it's the perfect way to relax after a hot day of dancing!
Burning Man Festival, Black Rock Desert, Northern Nevada: August 25 – September 2, 2019
Imagine a temporary city built with some of the most amazing live acts and art installations ever imagined. It's not just a festival. It's a global culture. I attended with a group of friends, which formed a camp of 50 people from around the world, in 2011. Our camp's theme was Le Bon Temps Roule, a Cajun French phrase meaning 'let the good times roll.' What was to take place I couldn't foresee. Thankfully, I attended with a group of people who had been before and a photographer friend who even filmed his own documentary ("Burn Baby Burn"). I was lucky.
So, four of us planned to head north from Los Angeles in a rented travel trailer behind my 1992 Toyota 4-Runner. My friend Lisa made 50 gallons worth of a popular NOLA bourbon drink for the week. Perhaps we hadn't properly prepared for the weight to power ratio needed because about half way there, my temperature gauge buzzed up to the red. The radiator blew and we took it to a local mechanics shop.
Okay, so I wasn't feeling particularly lucky at that moment. We were 'earning the burn,' as I later learned. We pleaded with the mechanics that we couldn't wait two days for a radiator. Thankfully, he just happened to have a spare 4-Runner lying around. A 'rite of passage' was the right phrase.
So, what's so special about Burning Man?
It's the people. The people design the mind-blowing art installations. The people create the music blaring from art cars that putt among the dirt and dust. The people continue the exotic rituals. The people design hundreds of workshops ranging from 'Laughter Yoga' to 'How to Save the World.'
In addition to the 'Burning Man,' the temple serves as an effigy of everything you wish to let go. I wrote a message to my Dad, that had passed away three years prior. It's tremendously cathartic when it all goes up in flames.
Google even attended Burning Man to find its next CEO. Google's founders, Sergey Brin and Larry Page are 'Burners' after all. The festival is a known haven for tech entrepreneurs. It's like the most intense and impressive brainstorming session ever, where ideas and inspiration are flowing like 50' long multicolored camp fabrics in the desert wind.  The very first Google Doodle, posted in 1998, was a stick figure of the Burning Man himself!
ProTip: We rented a travel trailer and packed it way too much. Fifty gallons of Mint Julips can do that. <feeble grin> And many rental places won't allow you to take a trailer to Burning Man because of the dust. So, if you want to rent, check out places that will allow it. But a trailer is a fantastic haven from the hot sun, dust and music when you need a break.
NASCAR, Chicago, Illinois, Sparta, Kentucky & Long Pond, Pennsylvania: June 28, July 11 & July 27, 2019
Do you have the need for speed? NASCAR presents the Gander Outdoor Truck Series at the Chicagoland Speedway. The trucks return under the lights as part of the Four-Race Weekend on Friday, June 28, 2019, in the Camping World 225. Enjoy fireworks after an intense 225-mile race.
Camp Wednesday through Monday morning and enjoy four races. Boasting over 1,800 campsites in four different campgrounds, you'll not only camp within earshot of the world's greatest drivers but experience what summer is all about with camper-only parties and campground entertainment. Who's your pick to victory lane?
ProTip: The GPS address that will get you there is 2116 Rowell Ave. Joliet, IL 60433. Stop by the misting stations in Champions Park near the Freedom Walk and the Infield Fan Zone. And check out the splash zone at the Rail Jam wakeboarding demonstration.
On July 11th, head to the Kentucky Speedway for the Gander Outdoors Truck Series Race. What can we say, we love our trucks!
Their spacious and scenic campsites can be reserved for event weekends. RV lot sizes are approximately 20' x 50'. Traditional campers will find comfort in the Camping World, Hawk's Landing and Ponderosa campgrounds. If you want to be in the heart of the action, reserve a site in the Infield Campground.
On July 27th, The Gander Outdoors Truck Series comes to Pocono Raceway in Pennsylvania with the Gander RV 150. Some say you haven't been to Pocono until you've camped in Pocono. There's even a 'Bark Park' for four-legged fans. Infield camping puts you in the heart of 'The Tricky Triangle.'
Pro Tip: Saturday is a great day to visit the track with your friends and family. You will get to experience Monster Energy NASCAR Cup Series practices *and* the NASCAR Gander Outdoors Truck Series race.
There's nothing like a smoke show.
Bluegrass Music Museum & Hall of Fame, Owensboro, Kentucky: June 26-29, 2019
Speaking of Kentucky, did you know season 16 of Top Chef was filmed in the Bluegrass State earlier this year? One of the best ways to get a sense of a place is through its traditional fares and libations.
And there's nothing more Kentucky than its Bourbon. Check out Maker's Mark Distillery and choose a tailored tour at this iconic American whiskey distillery. A tour of our beautifully preserved distillery is almost like a stroll through time. With the history and beauty of this enchanting setting, you'll want to drink in the spirit of this working distillery and National Historic Landmark. And it wouldn't be complete without a visit to their on-site restaurant, Star Hill Provisions, where you can fill up on delectable Kentucky cuisine.
If acoustic guitars, violins and fiddles are your jam, then you won't want to miss the festival hosted by the Bluegrass Music Museum & Hall of Fame in Owensboro from June 26-29th.
Romp to the best in Bluegrass at ROMP, at the Daviess County's Yellow Creek Park, a 150-acre facility famous for its nature trails, winding creek and fishing lake.
Pro Tip: Camping is on a first-come, first-serve basis. Get there as soon as you can. Wear your wristband throughout the festival. If camping in an RV, everyone in your RV must have both ROMP and camping wristbands. Check sites that are family friendly (no late night parties) or sites that are very close access to the After Party stage. Download the new "ROMP Fest" app for up-to-date information. Set your phone for weather alerts at '42303.'
Stop at any one of our highly rated Good Sam parks including:
5. Fourth of July in Virginia Beach, Virginia: July 4, 2019
Thousands of visitors flock to the waterfront stages to see marching bands and other local musicians, followed by spectacular fireworks over the ocean. And your four-legged family members are always welcomed in Virginia Beach.
The Virginia Beach Boardwalk is a 28-foot wide marvel that stretches three miles and features a separate bike path. While you're there, check out Tula Adventure Sports to rent kayaks or stand-up paddle boards for an afternoon spent exploring the waterways of Broad Bay. Unplug at the secluded beach hideaway of Sandbridge and ride a fat tire (not to be confused with the beer) bike along the water's edge. Then enjoy the beautiful views of the Rudee Inlet at dusk at Rudee's Restaurant & Cabana Bar. They take pride in serving the freshest seafood obtainable. Eat al fresco during the Summer.
6. MLB All-Star Game, Cleveland, Ohio: July 7-10, 2019
The list wouldn't be complete without mentioning the national pastime. And summer wouldn't be summer without the MLB All-Star Game. There are not many other sports that offer you hundreds of games in one season. The planning, strategizing and calculating plays make baseball a magical game.
Just a day's drive from Virginia Beach, you can break up the trip in Maryland at Cherry Hill Park. As the closest RV park and campground to Washington, D.C., Cherry Hill Park is the perfect place to stay while exploring our nation's capital, too!
The 2019 Major League Baseball All-Star Game will be the 90th Major League Baseball All-Star Game. The game will be hosted by the Cleveland Indians and will be played at the newly renovated Progressive Field on July 9, 2019.
7. Aspen Music Festival, Aspen, Colorado: June 28-August 19, 2019
If rock, alternative or bluegrass music doesn't float your boat, try the Aspen Music Festival, in the imperial Colorado Rockies. It's regarded as one of the top classical music festivals in the U.S. And this year marks the 70th anniversary season. The festival brings together more than 400 of the top music students from around the world, ranging from opera to string quartets.
8. Sample the Sierra, South Lake Tahoe, California, September 14, 2019
Are you into the farm to fork movement? Then you'll want to experience the 10th annual event that brings together local chefs and restaurants with neighboring growers/producers to turn out scrumptious samples craftily paired with wine or beer. The weekend is also full of festivities for the whole family including farm tours, music, live entertainment and art.
From California wines to locally made and fresh local microbrew, there are plenty of libations to cheers with friends. And don't miss the Sierra Chef Challenge, local talented chefs facing off, right in front of you – all within the gorgeous backdrop of the Sierras! You even get to sample their creations. Get to know the food, the produce, the wine, the spirits and the art of beautiful Northern California.
9. Mammoth Festival of Beers & Bluesapalooza, Mammoth Lakes, California, August 1-4, 2019
Four days of incredible music and some of the best craft breweries in the country among the pines in Mammoth Lakes – how much better can it get? It may just be the best party of the summer!
Now in its 24th (yes, nearly a quarter of a century!) year, Mammoth Bluesapalooza has a well-deserved reputation for presenting a unique variety of legendary blues performers and an equally impressive lineup of craft beer. At 8,000 feet, it's the highest elevation beer and music festival on the West Coast. The festival features two days of beer tasting. The event benefits the California Craft Brewers Association, The Infinite Music Foundation and many local nonprofit organizations. And it's like a family reunion among the craft brewers, with a reception held for the brewers on Friday night.
Did I mention unlimited pours?
10. Salmon Jam, Cordova, Alaska: July 13 & 14, 2019
This surprisingly artsy, coastal town lives and breathes fishing. Every July, local nonprofits and volunteers come together to raise awareness of the region's rich resources and raise funds to support art opportunities. This is a family-friendly event.
Fire up your grills for the Taste of Cordova, for the wild food cook-off, or just come sample the tasty food.
11. Cheyenne Frontier Days, Cheyenne, Wyoming, July 20 – 29, 2019
Celebrate our western roots and relive the old west spirit with Championship Bull Riding, amazing live shows and good ol' fashioned fun. The very name Cheyenne conjures up images of cowboys, rodeos and trains.
While you're there, enjoy world-class mountain biking, camping, paddleboarding, fishing and hiking. Stay at AB Camping, where they have an on-site BBQ restaurant for homemade ribs, brisket, chicken and tacos. Because BBQ just tastes better after a long day outside.
12. Lowcountry Jazz Festival, Charleston, South Carolina, August 30 – September 1, 2019.
Labor Day honors the contributions that workers have made to this great nation. Make one of the last few weekends of Summer count with this 11th annual festival in charming Charleston. Love the sophisticated and smooth sounds of the saxophone? Then this is the event for you. The Lowcountry Jazz Festival is a fundraiser presented by Closing the Gap Healthcare, a non-profit dedicated to providing health education and programs that promote wellness and healthy lifestyles to the underserved communities in Charleston.
Recently voted the "second best city" in the U.S. by Travel and Leisure magazine, Chucktown is quickly becoming a major travel destination for anyone seeking the combined ambiance of music, sunshine, great food and shopping.
On Friday, August 30th, South Carolina's premiere Smooth Jazz event kicks off with the All White Party Affair.
13. California Craft Beer Summit Festival, Long Beach, California, September 14, 2019
Did you know California is the birthplace of the American craft brewing movement? As of January 2019, more than 980 craft breweries are in operation across the state, more than any other state in the nation.  California craft brewers donate an average of $10-$15 million to charity every year!
So, this isn't your ordinary beer festival. This is a festival organized by the California Craft Brewers Association, who represents the craft brewing industry in California. The Summit Beer Festival is the largest beer festival on the West Coast, featuring more than 170 California craft breweries. And Long Beach in Summertime is just about perfect. If you're a beer geek like me, you'll want to check out the summit and speakers like Greg Koch of Stone Brewing and Mikkel Borg Bjergsø, of Mikkeller (physics teacher, turned one of the most innovative brewers in the world).
14. Maine Lobster Festival, Rockland, Maine, July 31 – August 4, 2019
What started as an idea for a local marine festival to revive Midcoast Maine communities has turned into an internationally-recognized celebration of local seafood. This ultimate crustacean celebration is five days of fun and feasting on New England's fabulous coast.
Check out lobster crate races (because, why not?), live entertainment and all the lobster you can eat!
Stay: Lake Pemaquid Campground is less than 30 minutes from the festival. This is Maine's lakefront family camping near the ocean!
15. Texas International Fishing Tournament, South Padre Island, Texas, July 31, 2019 – August 4, 2019
The Texas International Fishing Tournament is expected to attract as many as 1500 anglers & 500+ boats during its two days of activities. Surrounded by the sparkling waters of the Laguna Madre Bay and the Gulf of Mexico, Port Isabel and South Padre Island play host to Texas' largest saltwater fishing tournament. Fisherman young and old will compete in one of three divisions: bay, tarpon and offshore.
The family-oriented event includes two days of competitive fishing and an array of activities for family members of all ages.  There is plenty to do on the island – making it a true family vacation opportunity.
16. X Games, Minneapolis, Minnesota, August 1, 2019 – August 4, 2019
Who's your favorite Moto X Rider? If you have an answer to this, then this is the event for you. If you're looking for state of the art courses, music and tricks never seen before from the raddest action sports athletes, then head to the bread and butter state. Minneapolis will host an X Games summer event for the next two years at the new, state-of-the-art U.S. Bank Stadium in downtown Minneapolis. From big air competitions to Moto X Freestyle and more, this event is sure to wow extreme sports enthusiasts. Also, check out a generous dose of some of the most influential and diverse music acts around today.
Tickets for X Games Minneapolis 2018 are available through xgames.com.
Don't forget: On Thursday, July 19 from 5 p.m. – 11 p.m., admission is FREE to the public.
17. Rockin' the Rivers, Three Forks, Montana, August 8, 2019 – August 10, 2019
If you've ever watched those '50 Greatest Hair Metal Albums' of all time documentaries, then you should take a road-trip to the birthplace of the Missouri River. This year, check out the tremendous rock voice behind the 1980s hit, Juke Box Hero. Ex-Foreigner frontman Lou Gramm will be performing on August 10th. Who knows, he may even play some new material. Wink, wink.
One of the many great features of Rockin' the Rivers is the convenience of on-location camping. Bring your tent or camper, but don't forget the leveling blocks – most sights are uneven. Or, if you want a break from the party, just a half hour away is Bozeman Hot Springs Campground & RV Park.
During your stay at the Bozeman Campground, make sure to take the time to dip your toes in the healing waters of the Bozeman Hot Springs. Be sure to check out some of the new additions at the campground such as an outdoor life-size chess set, ladder golf, and horseshoes.
18. Spa Months, Miami, Florida, July 1, 2019 – August 31, 2019
What's the use of a vacation if you can't get into complete relaxation mode? That's where "Spa Months" comes in! After all, you may need a 90-minute massage and steam room after all that celebrating, right?
Greater Miami and the beaches are renowned for luxury spas that rank among the "Best Spas in America." Miami Spa Months are comprised of the destination's top luxury spas offering locals and visitors up to 50% off treatments.
Try out Acqualina Spa by ESPA, the award-winning European spa, who's the recipient of the Forbes Travel Guide Five Star Award and the SpaFinder Wellness Readers Choice Award. Set against the tranquil ocean and stunning white sands of Miami Beach, you couldn't ask for a better place to relax. The mosaic tiles Crystal Steam Room ignites the body's seven chakras through a spectrum of color and light.
Map out your Summer with these awesome and uniquely American events. Enjoy the journey.