Hello and welcome to the very first post for our new blog series Smart Life & RV.  In this series, we will review, recommend and test the best, most productive, and most fun tech you can add to your RV and outdoor adventures. Each week I will cover new tech that will enhance and empower your life on the road. This weeks tech is the family of Amazon Alexa powered devices for your travels and the ways to ensure your data is unlimited while you travel the Great American outdoors.
What started in 2014 as a virtual assistant built into a speaker, the original Amazon Echo speaker was a truly groundbreaking invention that would forever change the landscape of the "internet of things" concept. Since then, the device has grown to be featured in hundreds of products that range from tablets and cell phones to door locks and cameras, and all are connected to one another and controlled by your voice or the Amazon Alexa app. Let's dive into the portion of the Amazon Alexa line of products or connected devices that would be best for your RV and/or outdoor lifestyle.
CAMERAS AND SECURITY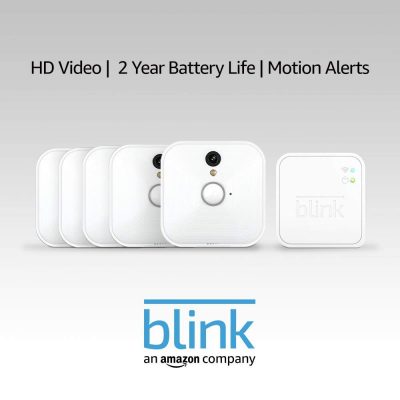 In 2017 Amazon purchased camera start-up company Blink. Blink makes ultra-affordable, truly wire-free video security and monitoring systems that would be perfect for your RV, tent or campsite. The Blink indoor security camera with motion detection comes with 2-year built-in battery life and cloud storage included. There are kits available for single camera, double cameras, three, and five camera systems. As an example, the single camera system starts at $66 on Amazon.com and the five camera system is $234, so this thing fits into any budget. The video shoots in 720p and are a little smaller than a coaster so they can be placed anywhere. In addition to their ease of use and setup (seriously no wires at all), the Blink cameras can also be viewed from anywhere. So, as an example, if you are outside your RV playing cards with your friends and you have little ones asleep inside, keep an eye on them in real time by leaving a camera facing their beds. If you are camping on the beach and leave the RV at the campground, you can get real-time motion alerts if the camera detects someone at your campsite that shouldn't be there. Put them in tents, in the RV, on your beach site, really anywhere indoors. These cameras are not waterproof though so keep that in mind. 
ENTERTAINMENT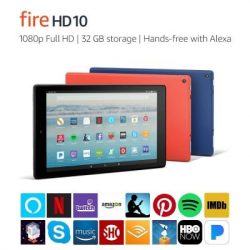 When it comes to entertainment on the road, there is a lot to consider. Is it in-dash entertainment you are needing? Entertainment for your travelers in the back of the RV? Are you pulling your trailer and need entertainment in the car? Do you need to keep your kiddos occupied for long distances? No worries, the Amazon Kindle library of products has something for you. My wife and I were early adopters of the Amazon Alexa technology and have almost every device they have released. Some of them add great benefit to our daily lives, some add even more benefit to our outdoor and family lives, and some don't really do much of anything (I'm looking at you Alexa Look, Echo Buttons, and Echo Tap). But, the best place to start is with Amazon Fire Kindle series. They have so many options on these and every single one of them is affordable. The all-new Fire HD10, for example,, has an awesome display, has all the entertainment apps you could want for watching movies and shows on the go and playing tons of games. You can grab the 10″ Kindle Fire for only $99. Netflix, Hulu, Vudu, and more right in your hands plus thousands of games, books for reading and even hands-free Alexa.
---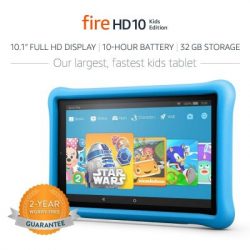 If you have little ones, you can also grab their "kids edition" which comes with time and content restrictions and an awesome case that keeps it safe even outdoors. Grab the kids edition for only $150! The kids edition is really cool for your little ones and allows you to control how long and what they can see on their tablet so when you are upfront and they are in the back you never have to worry about what they are getting into. Now, for us grown-ups these also make great readers to read Kindle books, great 2-way video communication via the Alexa Drop-In features, and a way to check on your security cameras at home or on your campsite on the go.    
---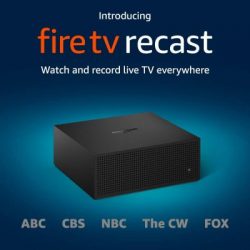 Not only are there MANY Kindle options (seriously, there are almost ten of them to choose from), there are several options for the TV inside of your RV. As long as your TV has an HDMI input, the FireTV options are great. (I will also mention this to be fair and honest, the Roku stick is also a great option and we aren't recommending one over the other, but we are covering Alexa in this article so let's stick with the FireTV for the sake of the conversation). The newest FireTV option is the FireTV recast. The FireTV recast provides you with over-the-air DVR (Digital Video Recorder), and 500gb of storage for all your favorite TV shows. What's the difference with the recast and other FireTV options? The FireTV recast is a DVR that lets you watch and record over-the-air TV at home or on-the-go with a TV, Echo Show, or other compatible mobile devices. It allows you to watch and record live sports (that's a big one because no streaming service has fully figured this out), late night talk shows, and other can't miss TV from channels available through an HD antenna. Now, the antenna DOES NOT come with the recast which is a bit of a bummer, but it also opens up the whole of any option that you prefer to add HD channels to the recast. You can even record 2 shows at once because the unit has 2 tuners built int it. 
---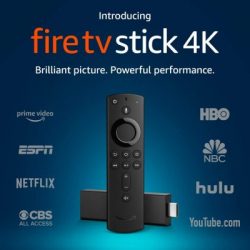 In addition to the FireTV recast, Amazon has several other FireTV options for your RV and travel adventures. The FireTV Stick 4K is their newest HDMI plug-in streaming stick. What does this do? Well, as long as you have wifi in your RV, plug this into the HDMI input on your tv and instantly you have access to thousands of hours of television, gaming and movies. Connect to Netflix, Hulu, Amazon Prime Video, Youtube and much more. Also, with an available gaming controller, you can play hundreds of free or paid games right through the FireTV stick.
HOUSEWARES AND CONVENIENCE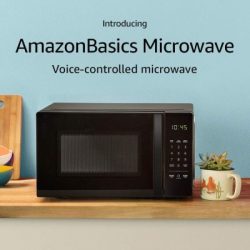 Not only can Alexa empower you to have fun and be entertained on the road, Amazon's Alexa library also includes devices to make traveling easier and more convenient. For starters, in 2018 Amazon revealed their first "smart home" appliance – The AmazonBasics Microwave w/ Amazon Alexa. It is the perfect size for your RV, only 0.7 Cy.u. Ft, 700w it will nestle neatly on your counter. It features Amazon Alexa voice control functionality to make it easier to not only defrost veggies and reheat food, but you can actually automatically reorder popcorn when you run low and save on Amazon subscription replenishments. It's a pretty fun and cool little device. Do you need to control a microwave with your voice?; no, you don't. Is it awesome doing it though?; yep, it sure is.
In addition to the microwave and what seems to be a billion other options, Amazon also introduced the Amazon Smart Plug. These little beauties only cost $25 a piece, and they turn any outlet in your RV into a smart plug that can be controlled by an Amazon Echo unit. (We cover those in the next section.) In addition to being able to tell your Echo to turn off plugs, you can also do it on your mobile device via the Amazon Alexa app. So if you are out on a hike and forgot to turn the coffee pot or toaster off, no biggie, just open up the Amazon Alexa app and turn off the Amazon Smart Plugs that the coffee maker and toaster are plugged into and you are good to go.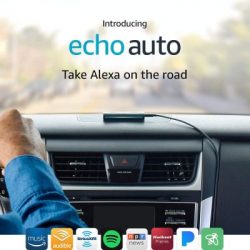 SMART BULBS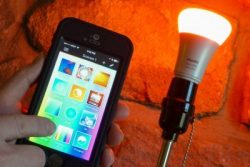 There are so many different smart bulbs to choose from it's crazy. You can choose a regular screw-in style or flat LED style but there is a smart bulb for almost everything nowadays. You can choose from many different manufacturers including Amazon, Philips, GE, and much more. This allows you to control your lights from an app on your phone or via your voice with an Amazon Echo unit.    
SMART COOKERS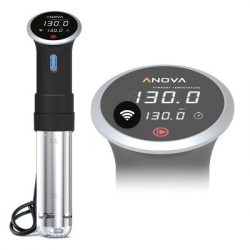 The Anova Culinary Sous Vide Precision Cooker allows you to check-in on and control the Sous Vide cooking of your steaks, chicken, veggies, etc with your voice or an app. This is especially cool if you are cooking a steak inside the RV sous vide style and you are playing cards or enjoying the campfire outside. You can keep an eye on your steak from your phone and be a part of the experience with your family and friends.
---
SMART SPEAKERS AND SCREENS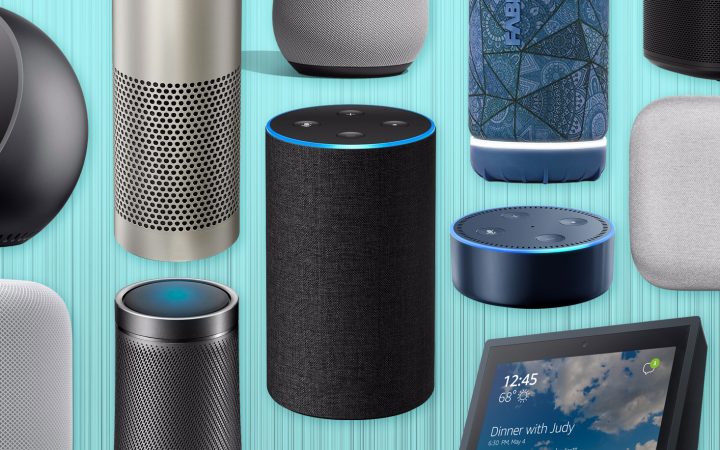 The device that started the whole thing – the Amazon Echo. The echo premiered in 2014 and has grown exponentially from being a virtual assistant into being a whole home hub. There are many different Amazon Echo speakers that have existed, some do not anymore (Echo First Gen, Echo Tap, Echo Dot First Gen) and some keep getting better (Echo Show). Here is the rundown of the Amazon Echo for your RV. Remember, in order to have any of the smart devices listed above work with Alexa (except the Kindle) you will need one of these Echo devices to act as the "hub." (When we say voice-activated, this is the device that enables that). Also remember, for all of your echo devices, WiFi connectivity is required.
Remember, for all of your echo devices, WiFi connectivity is required.
ECHO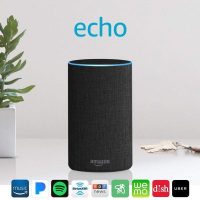 The original device, the Amazon Echo is a smart speaker, virtual assistant home hub. The new gen models have expanded on the speaker quality, microphones, color options, and more from the original models. The Echo connects to Alexa to play music, make calls, set alarms and times, ask questions, control smart-home devices and more. They start at only $99.        
ECHO PLUS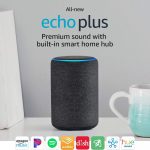 Introduced in 2018, the new Echo Plus model adds improved audio quality and a Zigbee hub to easily control all compatible smart home devices. Amazon states that the new Echo Plus features powerful speakers powered by Dolby play 360 to deliver extremely crisp and clean audio. At $150 it will be personal preference on whether or not it's worth the extra $50. For my money, I say no, but that's up to you.
ECHO DOT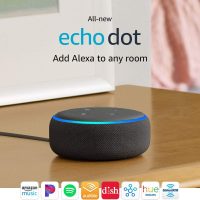 Let's start by saying this, NO this will not replace an Echo unit as a speaker. The dot is really just to make any speaker smart. What does that mean? It means that if you have a favorite Bluetooth speaker, plug this dot into its 3.5mm jack and now your speaker has Amazon Alexa in it. That's about it. We have one of these in our bathroom and it doesn't even fill that room with music when the volume is turned all the way up. At only $50 it's an awesome device to make your very best speakers smart. 
ECHO SHOW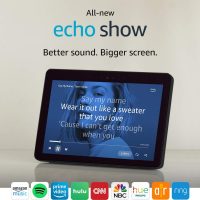 My personal favorite Echo device, the Echo Show is a 10″ screen with a beautiful crisp and clean speaker on the back. The device plays all your favorite music in addition to being a 10″ screen to watch your favorite shows or youtube videos on. We have one in the kitchen and my wife loves asking for Alexa to show her recipes via youtube. You can also make video calls to other Alexa units or even the Alexa app on any phone. At $229 it's the most expensive Echo, but it does the most and truly allows you to stay connected. Kids can call grandparents and share their camping stories at the end of each day, etc. A lot of cool options with this and a surprisingly good speaker. 
There is so much to say about the Amazon Alexa and Kindle ecosystem that it would take days to explain it all. To simplify it for you, here are the steps to get yourself going and make the decision that's best for your family.    
Step 1: Make sure you have WiFi
Step 2: Connect your Amazon Echo device to the WiFi
Step 3: Connect each of your companion smart devices to the same WiFi and then to your Echo via the Amazon Alexa app
Step 4: Enjoy your new smart RV experience
It's up to you and your family to determine your individual wants and needs and what system would work best for you. Remember you have to start with an Echo unit and then from there the sky is the limit. The Blink cameras and the smart plugs probably provide the most immediate benefit to the RV lifestyle and would be a good place to start building your smart RV system.
UNLIMITED DATA 
All these great Alexa devices sound awesome right?  I bet you're thinking – "Yeah, they sound awesome when I have WiFi, but what about when I am not parked at a Good Sam Park that has unlimited free Wifi?" Well, worry not, there are several ways to ensure you never go over on your data and you always have the unlimited access to the internet that you need (pending of course that those cell signals can reach you where you are traveling).  Here are some ideas for unlimited data:
Use Your Cell Phone: All the major carriers now offer unlimited data as an option or as the standard plan for their service.  As long as you have a smartphone, you just use your phone as a mobile hotspot and voila – unlimited data for your devices to connect to.  For more information, I recommend heading to your carrier store and confirming you have this feature on your plan.  T-Mobile users, it's already included with your T-Mobile One plan.
Verizon PrePaid Unlimited Data Plan: Verizon is offering a prepaid Unlimited Jetpack (Mobile Hotspot) plan for $65/a month with autopay discount, WITH NO HIGH-SPEED DATA CAPS! For more information check out the recent Verizon press release explaining this.
These are just a couple of the ways to unlimit your data while you travel.  Enjoy the road
Photos courtesy: Amazon.com
---

About the Author
:
Jeremy P Elder
is a U.S. Army veteran.  In addition to having over 15 years of Business Development and Marketing history, Jeremy is a proud father and writes the
A Dad Outside
blog series about adventures with his young daughter
.
Jeremy serves as the Digital Product Manager for Good Sam Enterprises.