The Lug_Nut View

In-motion satellite antennas have become very popular on all RV's. It is an option that most people order when purchasing a new rig.  But, will this change in the future?   It would appear it may.  The latest satellite technology being used operates within the Ka (Kurtz-above band) frequency band.  This differs from the Ku (Kurtz-under band) frequencies currently used in the RV roof type dome units.  Generally the Ku band used for satellite TV service is between 12.2 to 12.7 GHz and has a band width of 27 MHz.  In contrast the new Ka band uses 18.3 to 20.2 GHz and has nearly double the band width at 50 MHz.
This need for a wider band width was, in part, brought on by the demand for HD (High Definition) TV.  Additionally, satellite service providers are going to multi-satellite configurations to be able to offer both HD and more channels.  Currently, DirectTV uses five satellites in their full service package while Dish Network employs three.  Dome type antennas are not capable of monitoring the full satellite sets.  Adding to that, the Ka frequency band transmission requires more precise dish aiming and possibly, increased dish size.
Does this mean the dome antennas, both stationary and in-motion are not going to work anymore? No, they will still work, but you will only get limited programming, and in most cases, no HD.  Have you noticed the prices tumbling on these dishes?  That should give you some clue.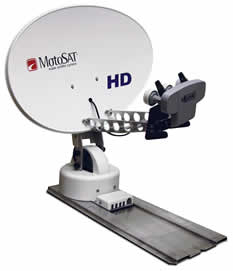 So, what are the alternatives? How can you get all the programming and HD available?  Well, there are several manufacturers that offer multi LNB (low noise block) dish configurations like Winegard's HD Slimline (DirectTV 5 LNB) or MotoSat's HD.  These units are for stationary use only and are non-enclosed and fully automatic locating.  They cover and receive all the satellites at once, be it three or five  They fold down for travel at the touch of a button.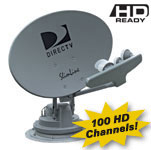 Will they make in-motion RV antennas that will track the multi configuration satellites and handle the Ka frequencies?  Maybe one day.  But, for now, you are going to need a power-up dish if you want to capture all the programming and HD that the networks are offering.
I have a KVH R-6 in-motion dish on my coach and have had a MotoSat HD multi-LNB installed towards the rear.  This gives me a choice of limited channels including music while driving using the KVH, or full HD viewing with all channels when parked.  If I were buying a new rig, I would only order the stationary multi-satellite setup.  The additional dollars for an in-motion unit would not be justified given the limited application.
So, if you are ordering a new rig or upgrading to a new satellite antenna, do your homework. There are many great choices out there.  Find the one that specifically fits your needs today and one that can serve your wants tomorrow.  If in doubt, go for the one that offers the most.  The cost differences are negligible and, if you are purchasing a power-up stationary like the Winegard, it's far less expensive than almost any in-motion dish.
Dishing Out My Thoughts     –     Lug_Nut    –    Peter Mercer