By Bob Difley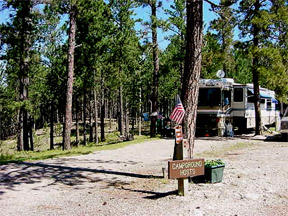 A lot of new and wannabee RVers ask "What does RVing cost?" Of course, that is a question that–depending on how you look at it–either has no answer or has infinitive answers.  My approach to that in my classes and writing has always been to define what the individual asking the question means by RVing.
There is a whole lot of cost difference between the young family that invested in a second-hand pop-up tent trailer and the retired couple that sold their mega-mansion and invested in a rig designed for fulltiming. And fulltiming here is their definition–something as close to their standard of living as they can get in an RV.
That might be a 45 foot luxury motorhome built on a Peterbilt truck chassis and memberships in the fanciest (and pricest) RV golf resorts. If that defines you, congratulations. Money and income is probably not a consideration for you since you likely have enough to support such an RV lifestyle.
But for the rest of us, the answer to how-much-does-RVing-cost lies within the definition of your version of RVing. If you enjoy–and plan on continuing–eating out in the country's restaurants, your food cost will be substantially higher than if you shopped for local fresh foods in farmers' markets, roadside produce and fruit stands, and U-pick orchards and prepared your own meals in your RV kitchen.
The same comparison would be those for whom reading is an important complement to their RV lifestyle, and shop the used book stores, read ebooks on their Kindle, and trade books with other RV readers at campgrounds and rallies, compared to those that prefer going out to cultural events like operas, plays, and concerts, or visiting popular entertainment centers like Disney World, Six Flags, or Dollywood.
So before asking the cost question, sit down with a tablet or at your laptop and start defining what you would like for an RV lifestyle. Fulltime or halftime. Working on the road or fully retired with investment income. The versatility of a small rig or the luxury of a large rig. Boondocking or full-service RV resorts. You will be surprised that many of these decisions are not answerable by a simple yes or no, but more likey in percentages, such as 50% private campgrounds, 30% state and national parks, 20% boondocking.
A good place to start is with the figure that you can count on for income each month. If your RV defined lifestyle exceeds that figure, you have the options of either scaling back one or more of the items, or deciding to work part-time and seasonal jobs (check out the Workamper website), hosting at a campground to save camping expense , or caretaking to make up the difference.
The results you come up with will be ever changing and redefining, but they will be a start. And if you define each with the budget you've allocated to that item, you will be closer to the actual cost. And you might want to know that for most people who really want to start RVing, they will figure out a way to tweak the costs so it fits. RVing is that remarkable activity that has myriad possibilities and opportunities to adjust, re-adjust, change, and modify so that it works for you.  Happy travels.
For more RVing tips take a look at my Healthy RV Lifestyle website, where you will also find my ebooks: BOONDOCKING: Finding the Perfect Campsite on America's Public Lands (PDF or Kindle), 111 Ways to Get the Biggest Bang for your RV Lifestyle Buck (PDF or Kindle, and currently #3 in Kindle's Parks and Campgrounds Travel Reference section), and Snowbird Guide to Boondocking in the Southwestern Deserts  (PDF or Kindle).