RV nomad living — how to make full-time traveling work.
When you have wanderlust in your heart, the life of a young RV nomad looks terrific. And for most of us, it is! Turning your back on a traditional lifestyle will cause others to question your sanity, but the reality is there's no reason why you can't hit the road before retirement. You'll need to plan and budget wisely to stay connected to the working world, but do it right and you can have the best of both worlds — decades before your first social security check.
Two of the biggest challenges for RV nomads: staying connected and finding steady income on the go. Here are some of the lessons we learned since starting our full-time journey in 2007.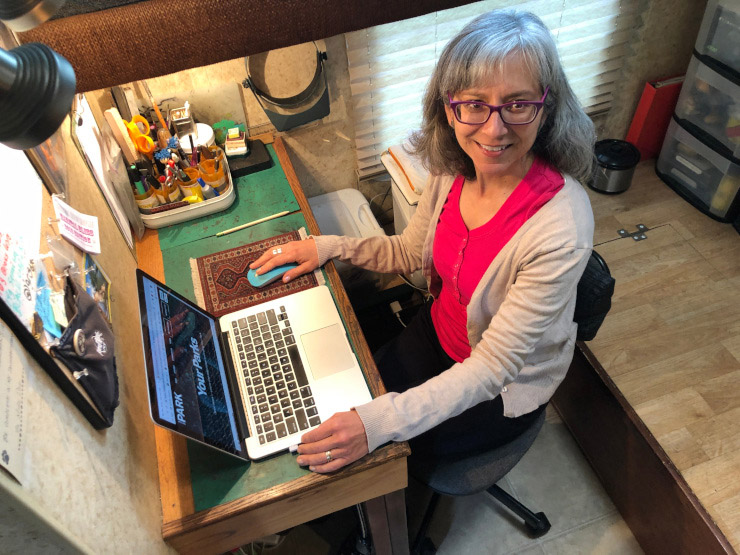 Internet Access on the Road
Simply put, Internet connectivity plays a vital role in finding and keeping jobs. Cellular broadband access gives us the ability to camp and work in many spectacular settings, and thankfully getting online has gotten easier over the years. Unfortunately, it's not all good news for RV road warriors. We usually pay more money for less data, and trying to rely on free wireless hotspots at restaurants or campgrounds is frustratingly futile. Paying for dedicated Internet access is a must, whether you work online or just need data service on your smartphone to apply for a summer workamping job at a resort.
Other Internet-based investments may include buying a cellular signal booster, especially if remote camping is your style. But sometimes the best booster can't give you an Internet connection, so if 24/7 web access is as critical for your business operations as it is for mine, investing thousands of dollars in a mobile satellite internet system is the only way to guarantee fail-safe connectivity in the hinterlands. However, you get online when you work on the road, paying for dedicated Internet access and hardware is mandatory for young RV nomads earning a steady income.
Balancing Work, Family and Play
If you crave adventure, there's nothing better than having the ability to change up your scenery whenever the mood strikes you. But reaping the benefits of nomadic living also requires the daily discipline to put in an honest day's work in order to pay for the lifestyle. Distractions are everywhere, like beautiful scenery, retired friends inviting you on afternoon jeep rides, and sometimes the cacophony of your own road-schooled children. Staying focused throughout the workday can be tough if you've never worked at home before.
Investing in work-space tools helps you stay productive. You can get a portable laptop desk built just for the cockpit area of a motorhome, or do what many RVers like myself have done: retrofitted part of our RV interior into a dedicated workspace. For some RV nomads, renting a workspace in urban co-working facilities is another helpful way to get work done.
Workamping Challenges
Many working RVers will also balance freelance gigs with workamping to offset living expenses. The seasonal jobs found through organizations like Workamper News often range from campground hosting to special event food service or even Amazon warehouse work. Most include a campsite rent deal, many are great fun and all differ in job responsibilities and time commitments. The flip side is that workamping jobs can also be unglamorous and tedious. Cleaning cabins or selling funnel cakes at Dollywood can get to you, but the money you can save by not paying rent and having an end in sight can make an occasional workamping gig more tolerable.
The leisure life was never an option for my husband and me when we hit the road, and it still isn't today. Like many other young (and young-at-heart) RV nomads we've met through the years, we work just like anyone else to keep money coming in. Most of us pay for the lifestyle by working in various capacities such as:
Taking short-term seasonal "workamping" jobs, like camp hosting and Christmas tree sales
Tracking down Internet-based work as freelance online teachers, business consultants, website developers and graphic designers
Running a location-independent business with little to no inventory
Working remotely as full-time W2 employee for a traditional business
And sometimes doing all at the same time!
RV Nomad Living Work Life is About Choices
Lots of working-age full-time RVers like my husband and I joined this lifestyle after watching middle-age friends die before realizing their retirement dreams. Leaving our non-working years to chance was something neither we nor many of RV nomad friends are willing to do. Most of us haven't regretted the decision to live and work on the road.
But as you can see, trade-offs do exist. In addition to the downside of working from RVs, we often sacrifice the conveniences of city life, being near family, friends and giving up a more lucrative income. Staying on the road at a younger age also requires careful retirement planning to build a safety net for the future. This life isn't always easy, but the satisfaction of knowing that we didn't wait for retirement to full-time is totally worth it.
Every day, another working age person decides to give full-time RVing a try. If you're thinking about doing the same and can accept the trade-offs of a young RV nomad's life, what are you waiting for?