Valentines Day was the first of a regular "Monthly Mystery Challenge" question.   This month was devoted to, "Name That Coach". Do you know the make, model and year of the pictured coach?  Well it seemed many did.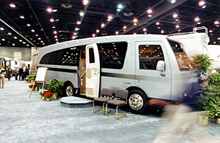 February's Mystery question answer is a 2001 Newmar NewAire.
Well I certainly did get smoked on this one.  I can't believe so many got it!  Next month's will be slightly more challenging.
Good going to the following readers that solved and posted the correct answer.
Bragging rights go to the following readers……………..
Bob, Beverly, Rlsly, A W Walker, Marvin Shaffer, Robert Brown, John and David Campbell.
Watch for the March Monthly Mystery Challenge that will be posted in the next week or so.  Also, be sure to try your hand at the Lug_Nut RV Trivia Challenge 2, on Thursday, March 12th.
With A Skill Testing Question  –  Lug_Nut  –   Peter Mercer