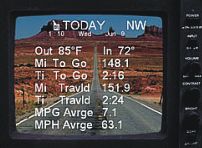 As reported by Lug_Nut .  Last week we looked at needed dash instruments and readouts required in the operation of your RV or tow vehicle.  This week we will examine an option that may be a somewhat luxury that many already have, the fuel mileage onboard computer.  Does it work and does it provide a value?
Fuel consumption computers are found on many vehicles sold today including many RV chassis.  These display digital readouts of such things as instant MPG, current MPG since last reset, estimated remaining fuel range and more.  While all may have somewhat questionable accuracy they are still very useful.  In addition, one has to also remember that the calculations do not include consumption from the generator or any fuel burning heaters or boilers.
Unfortunately their accuracy can not be adjusted.  This is due to their method of calculation.  While gasoline and air intake are burned at a theoretical weight ratio of 14.7 to 1, it is subject to vary depending on conditions and the exact fuel properties.  Temperature for example, alters the volume to weight ratio of both fuel and air.  So repeatability is not necessarily possible.  One day's event may well be more accurate than another. Even industrial electronic flow meters with temperature compensation are generally only accurate to a + or – of about 0.5 %, and these are far too expensive and delicate for such an application.  But, for what they are and do, the automotive fuel consumption computers work pretty well.
For older rigs or for those that did not come with one, there are many after market units that can be added.  The most popular one used in motor homes is probably the TripTek.  This is a plug-and-play computer that displays an overlay on the back-up monitor.  Most of the after market units are relatively easy to install if your vehicle was manufactured in the U.S. in 1995 or later.  All vehicles since then have included an OBD II (Onboard Diagnosis) interface connector beneath the dashboard.  This connector has all the information electronically that one of these computers requires.
Surprisingly, vehicles that are equipped with fuel monitoring displays attain much higher fuel mileage than those without.  This is due to operator awareness.  Put an ongoing readout of the average fuel consumption, in real time, in front of most people, and they will try to attain as high a reading as they can.  This will happen after each reset of that day's run and after fueling up.  It may, in some cases, add a measure of increased safety related to a reduced highway speed that may be sought in an effort to get a higher reading. 
Some coaches come with a chassis OEM readout that monitors some of this information.  They generally only have one resettable MPG and one lifetime.  Whereas the addition of a TripTek, or similar system, can provide up to three resettable readouts, today's run, trip leg and entire trip duration.  I personally use the "Leg" page to show readings since last fuel.  This page then gives me the total road miles miles, the MPG, and the average speed since I last filled the fuel tank.
So, do you have a fuel consumption readout on your RV or tow vehicle?  If so, do you find it a valuable tool?
Looking At Another Driving Aid      –      Lug_Nut      –       Peter Mercer