Tasty Tips for a Safe and Yummy Thanksgiving with RVing Pets
RV ownership gives us many reasons to be thankful, especially at Thanksgiving when we can skip out on airport chaos by bringing our home to the celebration. And whether we end up parked in Uncle Al's driveway or check into a campground, when our pets accompany us the holiday weekend is so much more fun. If your dog or cat is along for the ride, check out our quick tips for a tasty (and safe) Thanksgiving feast with RVing pets.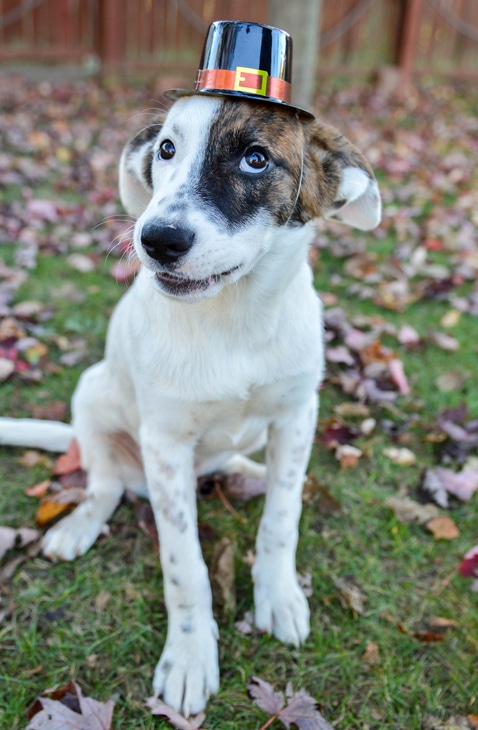 A Safe and Tasty Thanksgiving with RVing Pets
RV Thanksgivings can be as simple as ordering a catered feast from a nearby restaurant, or as elaborate as deep-frying your turkey outside the rig. However you celebrate the day of thanks in your RV, if you remember to keep your pets safe from hazardous holiday situations they can be there to enjoy the tasty Thanksgiving recipes for cats and dogs shown below.
Keep Your Pet's ID Information current
Hopefully, you won't need this information during a long holiday weekend, but Thanksgiving-related pet calamities happen all the time. Create your own RV pet travel checklist to ensure yours is covered in an emergency. Make sure your pet is microchipped, wears a pet collar tag with your present location listed and that you have all important medical records in the RV.
Hide Toxic Thanksgiving Food
Make sure your pets have zero access to human Thanksgiving food. According to the Pet Poison Helpline's Thanksgiving pet safety tips, the most common call received over the holiday weekend is about pets who overdose on fatty foods. Many die from pancreatitis – inflammation of the pancreas – after overdosing on human foods loaded with butter, fat, gravy and meat scraps. Do your best to keep your pets away from your food and remain vigilant for signs of pancreatitis, including vomiting and diarrhea.
Keep Pets Close and Contained
In the excitement of setting up a Thanksgiving campground feast (or getting ready to visit the relatives), keep an extra eye on the pets. With more activity than usual and people coming and going from the RV, there's a good chance someone will accidentally leave the door open and allow your pet to escape unsupervised. You can avoid the heartache of a runaway pet by cordoning off a section of your RV with a pet gate, or setting up a comfy outdoor space inside a portable pet pen.
Once you set aside Thanksgiving pet travel logistics, don't forget to create something tasty for your furry co-pilots, like these easy Thanksgiving treats recipes for cats and dogs!
Pup-Kin Patch Cookies
From San Francisco's gourmet dog baker, Paw Patch Pastries
Ingredients:
2 ½ c of organic gluten-free flour
2 large eggs (room temperature)
¾ c of pumpkin puree
3 Tbsp of Peanut Butter
Directions:
Preheat oven to 350 degrees.
Mix all ingredients together until a dough forms.
Roll out dough and cut into desired shapes.
Place on cookie sheet and bake for 30 minutes or until golden brown.
Fabulous Turkey Meat Loaf for Felines
Ingredients:
1 lb. ground turkey
1/4 cup of boiled carrots
1/4 cup boiled peas
1/4 cup oats
Two hard-boiled eggs and one raw egg
You simply make it like you would a meat loaf for yourself. Heat your oven to 350 degrees, mix up everything in a bowl, transfer it to a loaf pan, and bake it 45 minutes.
Happy Thanksgiving to you and the traveling pets. May you share many more great holiday memories together!