General Info: Rocky Mountain National Park protects 358.3 square miles of subalpine valleys, ragged snow-capped summits, alpine tundra, and spruce and pine forests in north-central Colorado. This breath-taking nature preserve was established in 1915 and made an International Biosphere Reserve in 1976. The Continental Divide runs northwest to southeast through the middle of the park, following the steep mountain peaks and creating two very different climates and ecosystems.
You can get to this park by taking advantage of Colorado's oldest designated scenic route, the Peak to Peak Scenic Byway. Available year-round, it runs for 55 miles from Central City to Estes Park on state routes 119, 72 and 7. Along the way, you'll see old mining towns and majestic summits towering over pine forests that open into meadows. Keep an eye out for elk, coyotes and deer! You'll also pass by Golden Gate Canyon State Park and the Indian Peaks Wilderness, which offer more opportunities to experience the quintessential Rocky Mountain landscape.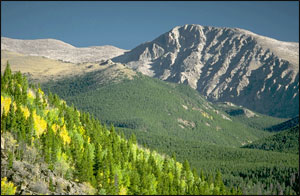 Hours and Fees: The park itself is open 24 hours every day of the year, but the visitor centers have limited seasonal hours. An entrance fee of $20 per vehicle is good for 7 consecutive days. Stop by one of the visitor centers upon your arrival to get up-to-date information on road conditions, hiking trails, and a schedule of ranger-led programs.
Activities: Whether you're craving a hands-on adventure or prefer a more relaxed approach to viewing the scenery, you'll find plenty of fun things to do outdoors all year! Of course there's climbing and mountaineering on the dozens of mountains (60 peaks are over 12,000 ft.) and boulders around the park. Management urges you to practice minimum impact and Leave No Trace techniques. The park also features 355 miles of hiking trails of all lengths and levels of difficulty.
Fishing the many lakes and streams is another great past-time. Anglers will delight in the cutthroat and other trout varieties to be found, but remember that high-altitude fishing may not be as successful as what you're used to at lower elevations. Strict fishing guidelines apply to protect the recovering native fish populations and a valid Colorado fishing license is required for anglers age 16 and up.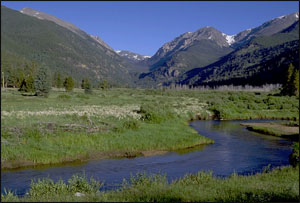 The park hosts dozens of picnic tables in a variety of idyllic locations for your dining pleasure. Some of these areas have fire grates or allow portable grills for food preparation. Flush/vault toilets are nearby for your convenience. Check the picnic chart to learn more about the park's picnicking amenities.
For the ultimate leisure tour of the park's natural glory, take a scenic drive in your vehicle. The park has two main scenic routes that take you through the various landscapes of forests, valleys and mountains. Keep in mind that altitude sickness may affect you even while driving.
Winter snow brings conditions for snow shoeing and cross country skiing. You can also go snowmobiling on the North Supply Access Trail near the town of Grand Lake. Kids big and small will enjoy sledding in Hidden Valley. Remember that these activities are at your own risk and that conditions are not always safe. Read park recommendations for winter activities before you begin.
Accessibility: All visitor centers have designated ISA parking spots. Most park facilities are at least marginally accessible, with plans for improvement underway. Download the access brochure PDF for complete accessibility information.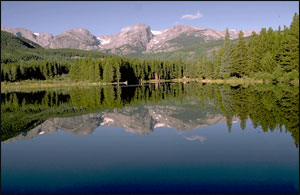 Pets: Your leashed pets can join you in roadside areas, parking lots, picnic areas and campgrounds, but not on the trails or in the backcountry. Basically your pets can go wherever a vehicle can go. See the pet regulations brochure for details. Don't leave your pets unattended in a parked car because temperatures will quickly become unbearable. Several businesses offer pet boarding and day care in the neighboring town of Estes Park.
Weather and Safety: This mountain park is at high elevation, which means that drastic weather changes can occur within minutes, from warm and sunny to cold, windy and wet. Dress in layers and bring extra clothing. You may find it helpful to bring a map or compass, flashlight, sunscreen and protective sun-wear, and extra food and water with you on your daily adventures in case you get caught in unexpected severe weather.
Areas of lower elevation (below 9,400 ft.) generally have moderate temperatures, whereas higher summits can experience snow in July. Summertime temperatures range from 70-80°F during the day, dropping down to the 40s at night. Remember that this advanced height brings increased risk of sunburn, dehydration, altitude sickness (nausea, headache, dizziness) and the irritation of existing medical conditions (especially cardiovascular and respiratory conditions). Make sure to drink lots of water and take plenty of breaks during your first 48 hours at altitude to adjust to the thinner air. Descend to a lower elevation if you feel sick or experience any other physical ailments. You'll also want to descend below tree level by the afternoon to avoid lightning strikes, which are quite common. Read more safety tips from park rangers before your visit.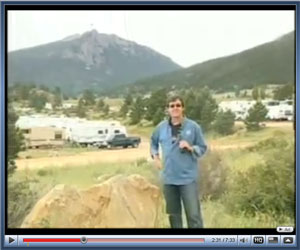 Camping Info: You can stay in the park at one of the five first-come first-serve campgrounds, which have a total of 589 sites. None of the sites have hookups of any kind, but flush toilets are available. Maximum RV length varies from 30-40 ft. depending on the campground. Visit the park campground page for details.
Or, the town of Estes Park is a good home base for your visit to this national park. Watch a short video from RV Today for a preview of Estes Park attractions! Stay at Mary's Lake Campground and RV Park—just five minutes from the national park entrance! It's a pet-friendly park with full hook-ups, breath-taking mountain views and too many amenities to list here. For a list of other RV parks in the area, visit the Estes Park Convention & Visitors Bureau website.
If you're from Colorado or have visited Rocky Mountain National Park in the past, please chime in with your stories and tips! Your insights can help others have a fantastic trip. There's plenty to see in the area, so tell us about your favorite spot!