Sixty miles north of Seattle, Washington, tulips have been cultivated every spring since the early 1900s, with their vibrant colors spreading across hundreds of acres of the Skagit Valley. The Skagit Valley Tulip Festival has celebrated this fabulous floral display for the past 33 years. This celebration of the "blooming of the fields" spans the entire month of April, with special events that include the following activities:
Arts Festival
Home & Boat Tours
Boat Show
Wine Festival
Street Fair
Quilt Show
Salmon BBQ
Concert
Parade
"Woodfest" Chainsaw Carving
And much more…
Two show gardens, named "RoozenGaarde" and "Tulip Town," are planted with over one million flower bulbs. Here, you can purchase cut flowers and souvenirs, take photos, or order bulbs for your own yard. Note that pets are not permitted in these gardens. Hint: The two-lane roads to and past the tulip fields will be easier to navigate in your tow vehicle than your RV.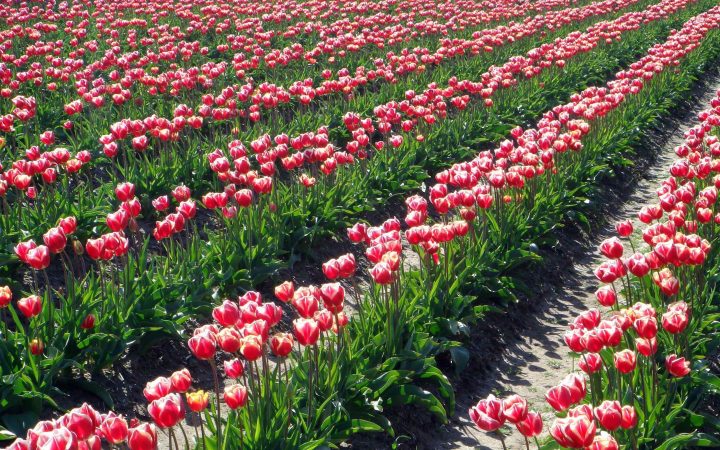 There are Good Sam Parks close to these events in the surrounding towns of Anacortes, Mount Vernon, La Conner or Bellingham—such as Mount Vernon RV Park. RV Parks book up quickly during April, so make your reservations well in advance. A convenient Camping World is also located in nearby Burlington for any RV supplies you might need during your stay.
If you decide not to dine in your RV, experience a multitude of eateries within a short drive. You are also in for a shopping treat with many specialty shops and boutiques that favor the main streets of any of these towns. Here, you will find it difficult to pass by the doors of tempting shops with everything from clothing to décor, gifts or galleries.
This season is a glorious time to consider a weekend away in your RV with flowering trees and plants visible everywhere. Cameras are a must! Plan for some rain along with sun breaks that occur in the Northwest during April.
From along the road,
Chris