Motorhomes pulling autos—so-called "dinghy" vehicles—are a common sight on the nation's highways as another summer nears. Dinghies are four-down flat-towed, two-wheel dolly-pulled or carried in an open or fully enclosed trailer.  All of these to provide a vehicle to get around at various destinations.
Flat towing, that is towing with all four wheels on the road, seems the most common. Towing with dollies or separate trailers is also quite popular.  All of these, however, have some drawbacks or trade-offs  Things like less maneuverability, increased RV fuel consumption, and possible tire-wearing issues can be experienced.  Additionally, storage at each on-the-road destination for dollies and trailers can present challenges.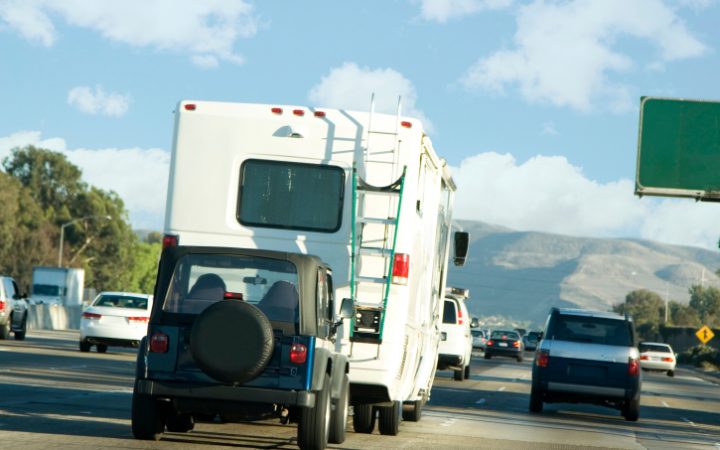 So, what are the options? Well, traveling without a dinghy and renting a vehicle when needed is a valid alternative.  But isn't that a more expensive way to go?  Perhaps not!
I think when all is tallied up, the renting angle may prove less costly for many. Availability, however, may be an issue, depending where you travel.  While companies like Enterprise, and most other car rental companies, will pick you up, a 10 miles away rule generally applies. This can result in being unable to get a vehicle at some locations.  The option, then, may be locating a rental company somewhere that you can pass by on your way to your stop and having your spouse drive it behind.
Now, some tips on auto renting while traveling.
Rent from a regular street location, not an airport. Airport rentals can be double the cost, or more, for the same car from the identical rental company.
Ask if your spouse can also operate the vehicle. Some rental agencies want $10 or $15 extra per day. Avoid them if possible.
Verify if your personal insurance will cover the vehicle and what the deductible would be. Some credit cards also may help in coverage. Rental car insurance is expensive and is charged per day. Decline it if you understand, and are comfortable to agree with the liabilities involved. (Downtime for repairs is also charged in many cases should the car sustain any damage.)
When inspecting the vehicle prior to leaving, be sure to check the windshield for any damage as well as the body. Glass damage is your responsibility.
Be sure to return the car on time. A small grace period is generally observed, however, an extra day's rental may well apply otherwise.
So, whether you choose to tow or to rent is up to you. But renting may be dictated by your geographic travel area. Good Sam members enjoy discounts with Hertz through Good Sam's Smile & Save program. Those remote venues may not provide the amenities that include such services.  Enjoy!