Check out these highlights of RV-related news, events and video from this past week.
1. Latest RV-Related Recalls: The National Highway Traffic Safety Administration has issued a new list of recalls for several products related to the RV industry. The latest round of recalls include components for fifth wheels, travel trailers and class A RVs See the recall release for the full list of affected products.
2. Factory Service a Good Option for Maintenance Repairs: Since most RVs are not daily drivers, resident blogger Lug_Nut debates the merits of dealer service vs. factory service when it's time to have some maintenance or repair work done on your RV. Which provider is most efficient and convenient? Read the post and sound off with your thoughts on the matter!
3. Good Sam Club Extends Warranty Coverage: With the increasing number of RV manufacturers closing their doors or filing for bankruptcy, the Good Sam Club, the world's largest RV owners community, has expanded the protection available from the Good Sam Extended Service Plan to include the time normally covered by the manufacturer. Read the full news release for more information.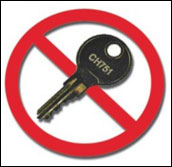 4. RV Security Improvements – Change Those Locks!: From the factory, most RVs use the same key and lock combination for all the external storage doors. To improve your RV security, you should change out those locks or have them re-keyed. This goes for your RV entrance doors as well. Mark Corgan tells us how to switch out the lock assembly yourself to improve your RV's security.
5. RV for Your Health: According to a Campfire Canvass survey taken by Robert Hitlin Research Associates, Inc., 70 percent of RVers say they walk more when on RV trips than when they are at home. The very nature of the RV lifestyle would seem to support these findings, as RVers enjoy many outdoor activities and often socialize by walking around to chat with campground neighbors. Keep reading to find out more about how RVing is good for your health!