General Info: Mount Revelstoke National Park in southeastern British Columbia protects a portion of the world's only inland temperate rainforest, nurtured by the warm, moist climate. The steep, rugged Columbia Mountain range is distinct from the Rockies and the Coast Mountains and is blanketed with stands of old-growth red cedar and hemlock. The beauty of Mount Revelstoke's meadows full of spring wildflowers inspired a group of townspeople from Revelstoke to lobby for the creation of the park in 1914. Learn more about Mount Revelstoke's cultural and natural history.
Since the Meadows in the Sky Parkway is a narrow, mountain road with 16 switchbacks, trailers and motorhomes are not permitted. You can park your RV .5 km up the Parkway from the Trans-Canada Highway interchange (watch for signs indicating the Nels Nelsen Historic Area). If driving your toad up the Parkway to the summit isn't convenient, you can take the shuttle bus from the parking area at Balsam Lake to the summit from 10:00 a.m. to 4:20 p.m. Or, if you want to stretch your legs a big you can take an easy stroll or a longer hike from the Balsam Lake area to the summit area instead.
You'll be rewarded at the summit with beautiful photography opportunities, picnicking areas and mountaintop hiking and strolling. The historic mountaintop firetower also serves as a good subject for closer inspection and keepsake family photographs. Download the park map PDF to get a lay of the land.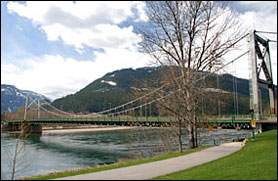 Hours and Fees: The welcome station kiosk is staffed from mid-June to the "August long weekend"—if you're Canadian please comment below to tell the Yanks what and when that is! During that time period the kiosk is staffed daily from 7 a.m. to 10 p.m. Parkway hours in August are 7 a.m. to 8:30 p.m. In the fringe seasons in May and early June, and September and early October, the parkway is open from 9 a.m. to 5 p.m. Check with the kiosk staff for closing times during your visit, as the parkway gate is locked at closing time.
A daily entrance fee of CAN$7.80 applies to each adult (ages 17 to 64), CAN$6.80 for seniors (age 65+) and CAN$3.90 for youths (ages 6 to 16). Season passes are also available.
Activities: Hike the Giant Cedars trail, where ancient Western Red Cedars tower above you, or take the Skunk Cabbage trail for an introduction to the temperate wetland, a birder's delight! These boardwalk trails may not be open if there are bears in the area or if snow has damaged parts of the trail structure.
You'll most likely see any number of wildlife from the trails in this rugged wilderness park, from squirrels and hoary marmot to chickadees and water pipit (and dozens of other bird species). Remember that no matter how cute and small all animals should be respectfully viewed from a distance, and never fed. Read the park's wildlife safety notice for pointers about dealing with wildlife.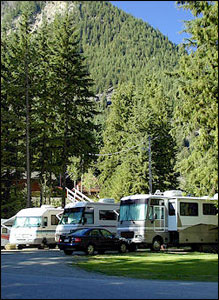 Weather: The greatly varied topography of the region makes for generally unpredictable weather. It could be raining hard in one valley and sunny in the next valley over. Snowmelt and wildflower blooming can vary by a matter of weeks, but on average the last of the snow melts off the summit by mid-July. Prepare yourself for quickly changing conditions by bringing extra layers of breathable clothing, sunscreen, and sunglasses (even on cloudy days).
Camping Info: Since there are no road-accessible campsites in the national park, set up the RV just outside Mount Revelstoke at Canyon Hot Springs Resort LTD. It's a Good Sam Park with 62 grass RV sites measuring 25×55' for back-ins and pull-thrus. All sites have water and electrical hookups only (15/30 amp), but a dump station is available. You can also browse through the Trailer Life Directory for info on several RV parks located in the town of Revelstoke.
If you're from British Columbia or have visited Mount Revelstoke National Park in the past, please chime in with your stories and tips! Your insights can help others have a fantastic trip.