Shoshone Falls in Twin Falls, Idaho is dubbed the Niagara of the West. At 212 feet high and 900 feet wide, it is actually 36 feet higher than its counterpart in New York. The city itself was named after these falls. The $3 admission fee per car to Shoshone Falls Park is well worth the price for a close-up view of the Snake River cascading over these majestic falls in southeast Idaho. The river flows at the bottom of a massive canyon that stretches through the northern portion of Twin Falls.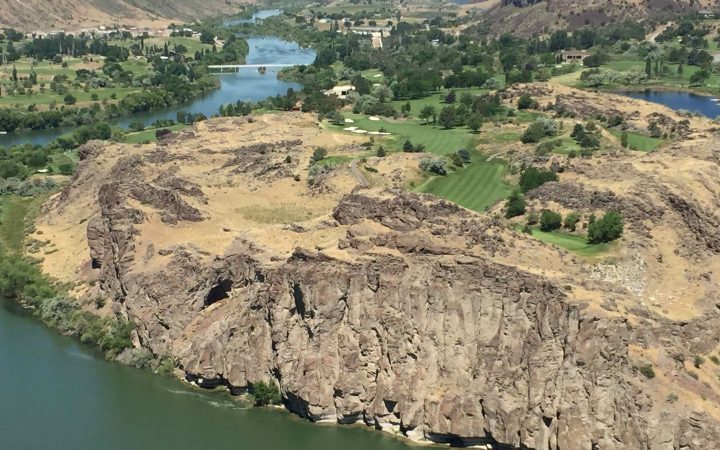 To the west of the falls, U.S. Highway 93 traverses the Snake River and its canyon over an equally impressive structure named the Perrine Memorial Bridge. I was told this is the only bridge in the U.S. that permits base-jumping. Parking is easy in the Visitor's Center on the south side of the bridge. Here catch a grand view of the Blue Lakes Country Club golf course sitting at the bottom of the canyon on the north side of the river. Then walk along a wide, paved path under the bridge to catch a glimpse of base jumpers leaping from the bridge to float down with parachutes into the canyon and the river below. For a video of a base jumper I photographed, click here.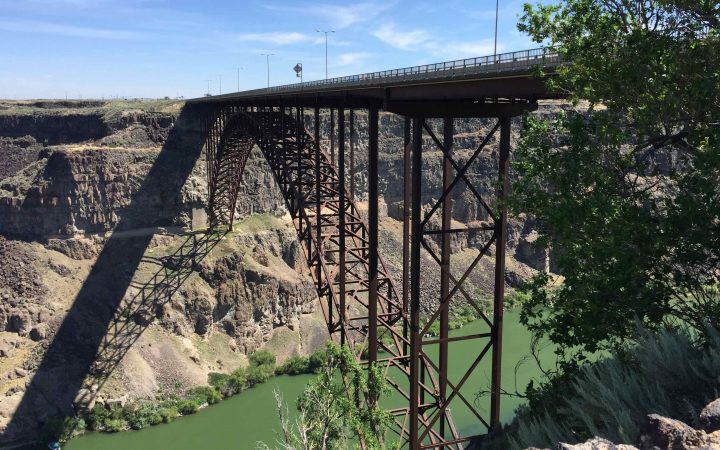 To the east of the bridge is Pillar Falls where basalt pillars divide the Snake River into multiple channels through which the river drops about 20 feet. One can enjoy an easy kayak or canoe paddle to these falls from one set-in location nearby on the river. East of Pillar Falls is also the site of the infamous Evel Knievel Snake River Canyon Jump which failed when winds impeded his rocket powered motorcycle. The launch ramp's foundation is on private land and is still visible today.
There are two RV parks within easy driving distance of these sights. One is Twin Falls 93 RV Park west of town or to the east you'll find Anderson's Camp RV Park. Both parks will give you a great home base to explore these and many more sights around Twin Falls.
Reporting from along the road, Christine Mays.