Add bicycling to the list of fun activities for your next RV trip. Family bike rides give you and your traveling companions a chance to explore the area you're visiting with the added perks of fresh air and exercise. But before setting off down the bike path, make sure you're observing the following precautions.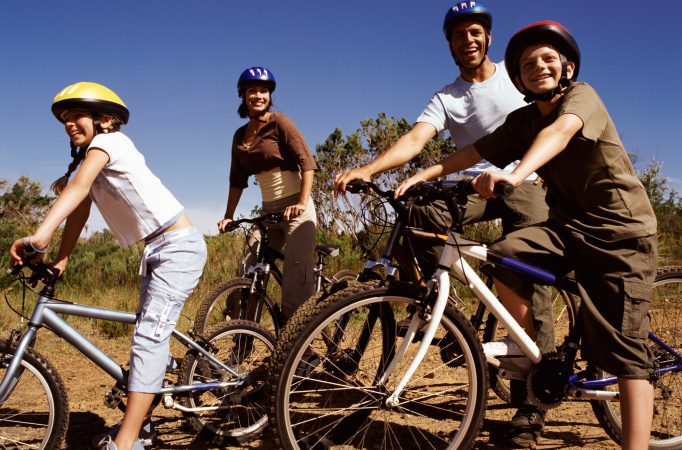 Helmet—Ensure the helmet fits the rider correctly. This may seem like common sense, but properly fitted helmets can make a big difference when it comes to protecting the head in a fall. Make sure the straps on kids' helmets aren't too loose. Also, make sure that the helmet is the right size for the rider and take the extra few minutes to ensure that helmets are snug-fitting and correctly buckled.
Rules of the Road—Make sure all children and adults understand the rules of the road for bicyclists. Teach kids hand signals for turning, and make sure you're riding in the proper areas—use designated bike lanes when available. Always watch for traffic from cars or other bikers, along with road obstacles and other potential dangers. Teach smaller riders to keep their eyes trained on the road ahead of them.
Road-Appropriate Clothing—Many bicyclists will want to wear a pair of biking gloves to get a good grip on the handlebars. Tight-fitting shorts or leggings are also a good idea to keep your clothing from getting stuck in the chain (and potentially bringing you to a grinding halt), not to mention the grease that will stain your pant leg!
Bring Water—Bring water on your biking jaunts. Cycling in the hot sun can result in dehydration, so keep the H20 on hand.
Transporting Your Bikes—Camping World offers several varieties of bike racks to help you transport your two-wheelers on your RV. Also available are bicycle accessories like bike saddles, pumps and more.