The Canadian Rockies are home to some of the most spectacular views in North America and rival the most beautiful mountain ranges in the world. The Icefields Parkway, a 166-mile scenic road that connects Banff and Jasper National Parks, parallels the Continental Divide and provides jaw-dropping beauty in every direction. The turquoise lakes, expansive glaciers, colorful wildflowers, and abundant wildlife make this locale a favorite for nature lovers and offers endless outdoor opportunities.
Downtown Banff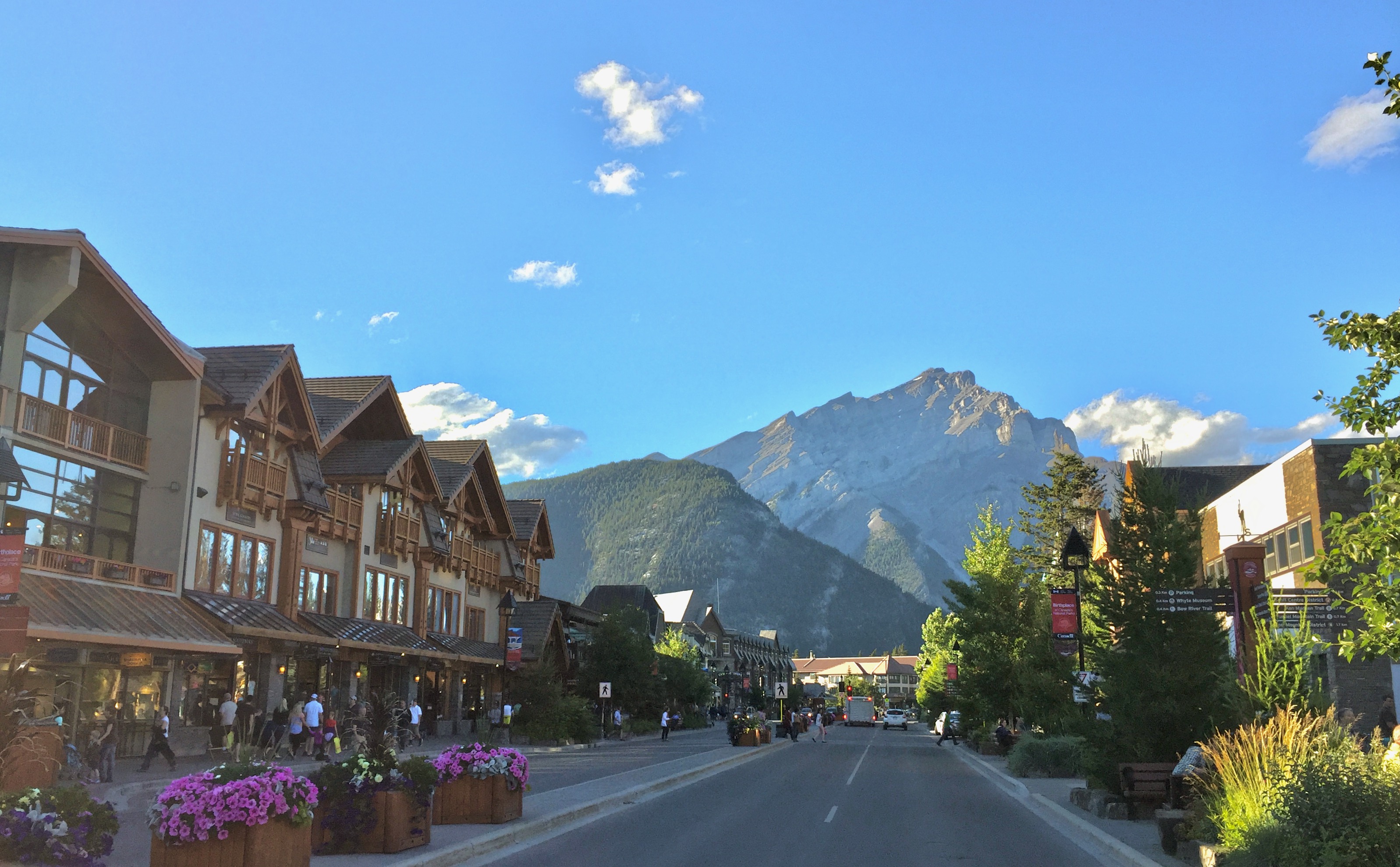 Nestled in the heart of the Canadian Rockies, the small resort town of Banff looks like it's straight out of the Swiss Alps. With towering peaks dominating the skyline and flower baskets hanging from Bavarian-style buildings, you'll forget you're still in North America. Along Banff Avenue, downtown's main thoroughfare, you'll find world-class restaurants, shops, art galleries, and museums. To enjoy a nice view, many bars and eateries offer rooftop dining. You can walk or bike around town or take advantage of their public transit system. Though Banff only claims 8,000 full-time residents, summertime is quite bustling, so if you prefer fewer crowds, visit in the spring or fall.
Go Kayaking
One of the best ways to explore the Icefields Parkway is by boat, and between pristine alpine lakes, lazy rivers, and whitewater rapids, there are endless opportunities for people of varying skill sets. If you're looking for a place close to town where you can kayak and paddleboard, Johnston Lake, Two Jack, and Vermillion Lakes are excellent options. If you're hoping to venture to a lake along the Icefields Parkway, skip the pricey and crowded Lake Louise, for Peyto, Bow, or Hector Lake.  For lakes in Jasper, try Maligne, Pyramid, and Edith Lakes or go white-water rafting on the Sunwapta River. If you don't have your own boat, no problem! There are plenty of outfitters that offer rentals, like the Banff Canoe Club. For an even more leisurely ride, cruises are offered on Lake Minnewanka, which takes guests on a tour around the lake.
Cascade Gardens
Off the beaten path, but still close enough to walk from downtown Banff is Cascade Gardens, a gorgeously landscaped 4-acre park. Built in the 1930s, the terraced garden full of annual and perennial plants is the perfect spot to escape the hustle and bustle of downtown and enjoy a picnic or an afternoon of painting.
Banff Hot Springs
After a day of exploring the national park, relax in the soothing mineral-rich water of Banff's Upper Hot Springs. Situated at 5,200 feet, these are the highest elevation springs in Canada and offer spectacular views of Mount Rundle and the surrounding area. Next door, visit the Cave and Basin National Historic Site, where you can see where railroad workers discovered the source of the spring in the late 1800s.
Athabasca Glacier
The must-see stop along the Icefields Parkway is undoubtedly the Athabasca Glacier, spanning 2.3 square miles and at its thickest, 980 feet deep. This impressive geological feature is one of many glaciers within the Columbia Icefield and is the most visited on the continent due to its easy accessibility. The Athabasca Glacier provides a somber testament to the effects of climate change and should be visited sooner rather than later. Every day, the glacier recedes by 2 centimeters and loses a depth of 16 feet per year. Over the past 125 years, it's lost over half of its volume. Though it's visible from the parkway and visitor center, guided tours can also take you right up onto the glacier.
Banff Gondola
Located just a 5-minute drive from downtown, the year-round Banff Gondola takes visitors on a 7,500 feet journey up Sulphur Mountain where you can get a panoramic view of the Bow Valley and six different mountain ranges. Once at the top, take the short walk along the Banff Skywalk to the Cosmic Ray Station National Historic Site and Sanson's Peak Meteorological Station. While there, explore the interpretive center and enjoy some food and wine at sunset.
Hike to a Waterfall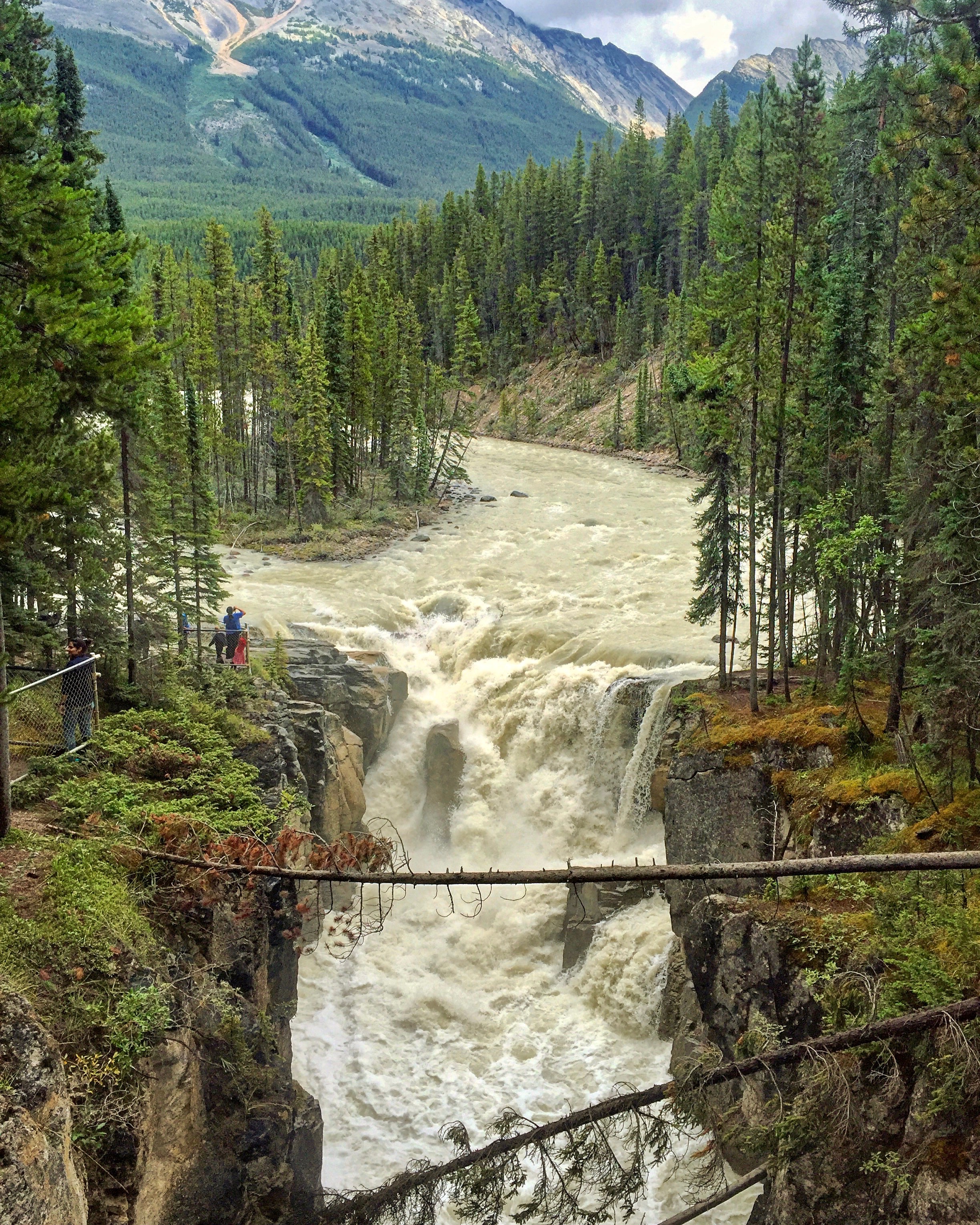 Sunwapta Falls in Jasper national Park @CateBattles
Between the beautiful lakes and rivers of the area, it's no surprise that the Icefields parkway is home to numerous waterfalls. Whether you want a quick roadside stop or get your blood pumping, there are many ways to enjoy the waterfalls in the area. The most accessible waterfalls can be found at Sunwapta Falls, Bridal Veil, Athabasca Falls, and the Weeping Wall, all located just off the parkway. To trek to a waterfall, take a hike to Banff's Johnston Canyon or Jasper's Maligne Canyon, both offer incredible views.
Downtown Jasper
If you're looking for a town with rustic charm and want to skip Banff's crowds, downtown Jasper is your best bet. Located in the heart of Jasper National Park, Canada's largest park, the downtown is smaller than Banff and has a more laid-back vibe, and is considerably less commercial. However, for a town of only 5,000 full-time residents, you'll find your fair share of shops and eateries, including a wide variety of restaurants. To get a birds-eye view of the town, take the Jasper SkyTram up Whistlers Mountain. 
Wildlife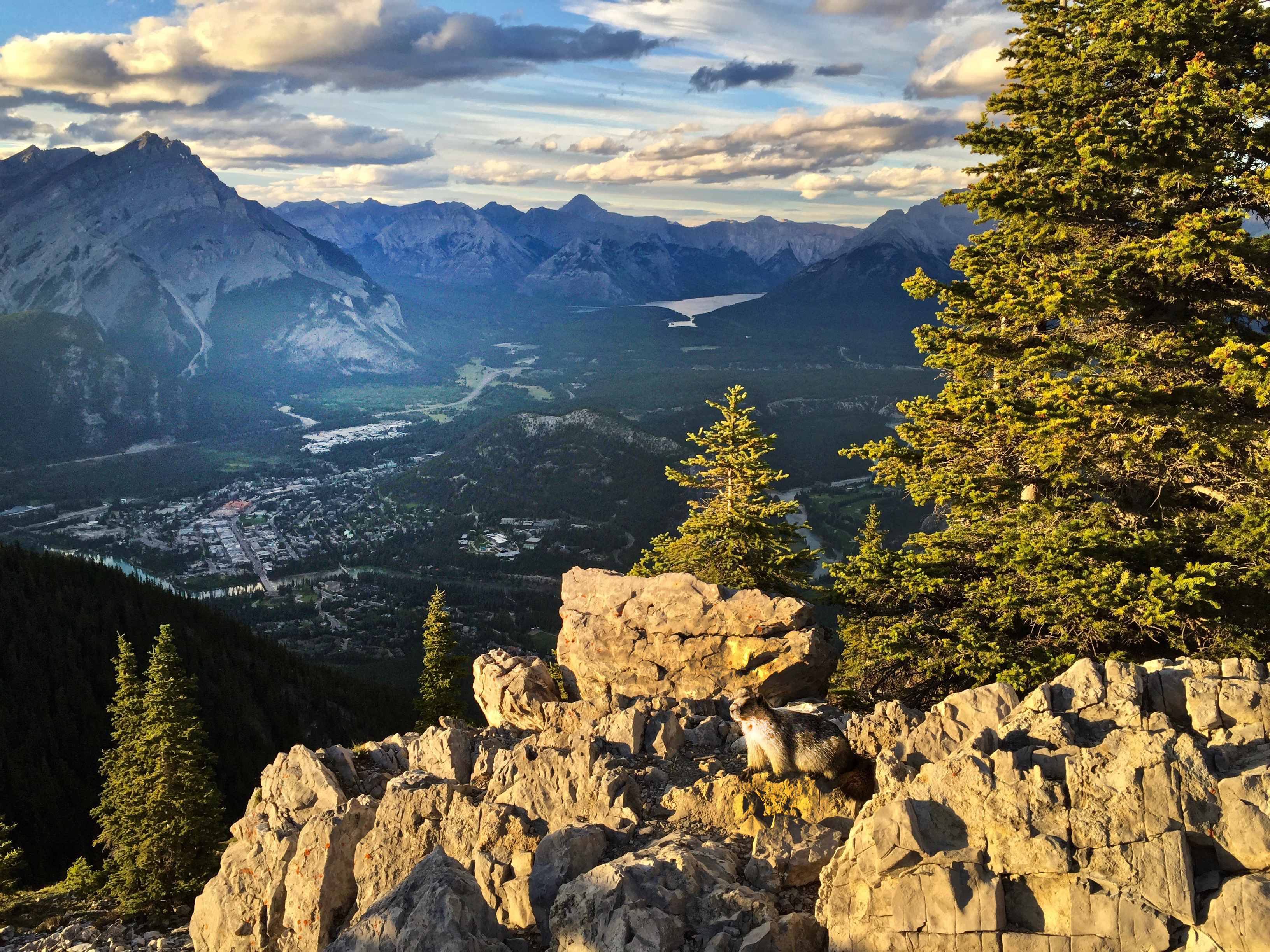 A marmot posing at sunset @CateBattles
Though both parks boast a wide array of wildlife, you'll have a better chance of witnessing fauna in the lesser-visited Jasper National Park. The most common animals to see are elk, bighorn sheep, marmot, pika, mule deer, mountain goats, moose and black bears. Besides the usual suspects, wolves, lynx, cougars, grizzlies, and wolverines call the area home but are more unusual to come across. Because of the immense wildlife in the area, it's always a good idea to take extra precautions while hiking, camping, and even driving along the Icefields Parkway. Herds of elk have been known to walk through downtown Jasper or cross the parkway so keep a lookout. It's also important to give animals plenty of space and to appreciate them from afar. For your best chance to see wildlife, most animals are active at dawn and dusk, which is perfect since the golden hour is a photographer's favorite time of day.
Dark Sky Preserve
If a night spent under the stars sounds swoon-worthy to you, Jasper is the second largest Dark Sky Preserve in the world. With 97% of the park designated a wilderness area, the sky is free of light pollution and provides the perfect backdrop to viewing an ultra-bright Milky Way. Not only that, but from September-to May you've got a chance to witness the aurora borealis which paints the sky beautiful greens, purples, reds, and yellows. In downtown Jasper, visit the planetarium where you can enjoy their interactive domed theatre and a guided tour of the largest and most powerful telescope in the Canadian Rockies.
Bring Fido
There are endless places to bring your pets while visiting the parks, so consider taking your pooch along for the journey. Most trails are pet-friendly, but you'll still find some popular trails that are bipedal only, so it's best to check ahead. Due to health regulations, pets aren't allowed at food- establishments unless they have outdoor patios. The Jasper SkyTram is also pet-friendly.
Know before you go:
• If you want to avoid crowds, consider visiting Banff September-May, or visit popular attractions and trails early in the morning.
• Some trails require bear spray, but even if it's not mandatory- it's a good idea. Additionally, some trails require you to hike in groups of 4.
• When you cross the border with your RV, there are a few things to keep in mind. If you're traveling with pets, you are required to have proof of a rabies shot. The RV will have to be inspected by border control, so it doesn't have anything that could be considered federally illegal in Canada or the U.S. Lastly, bringing guns into Canada can be tricky, and requires extra paperwork and fees, and only applies to standard rifles, shotguns and handguns with at least 4-inch barrels.  Consider leaving your guns and ammunition at a gun storage center near the border.