Good Sam reps turn RV travel into a living.
We began our career as a sales rep team with Good Sam in 1987 with the intention of only staying on for two years. Thirty years later, we're still at it, and we wouldn't want to change anything about our journey. Good Sam has given us the chance to enjoy the best of both worlds: the fun of RV travel while still making a satisfying living.
RVing as Good Sam Reps
When we joined Good Sam, we were no strangers to working on the road by RV. For years, we traveled the nation via RV to train insurance agents. Previously, Lynda (originally from New Mexico) worked for Eli Lily while Fain (a Texas native) came from the insurance industry.
After answering a classified ad from Good Sam in MotorHome magazine, we sat for a job interview to be reps at a campground picnic table. Three decades later, we still have fun inspecting RV parks and developing marketing plans for customers of the Good Sam RV Travel & Savings Guide.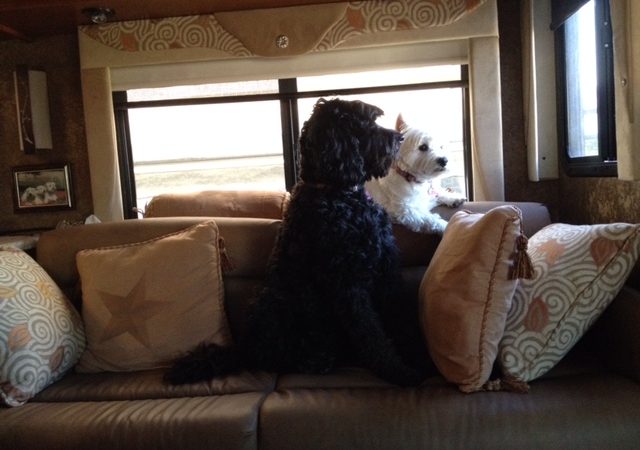 We love traveling with our pets, Lizzie, a West Highland terrier, and Lilly, a small Labradoodle (right). We've had 11 RV's over the years, from a pop-up trailer to a 40-foot motorcoach. We have made friends all over the United States and have enjoyed beauty that we could never have imagined. We're also able to spend time in our home in Texas, where we've hung the cover of every issue of the travel guide that we've worked on.
Lessons from Road Scholars
Here are a few essential qualifications for Good Sam reps:
You must be able to work together as a team — couples that succeed share the load.
Couples have to be self-starters and possess great time management skills.
You have to be a good planner, have your materials organized and apply strong sales skills.
The rewards include establishing satisfying relationships with customers while enjoying the personal freedom of being independent contractors. (Check out more rep stories).
Be careful — if you like this job enough, you just might spend 30 years doing it! See below for more info.
---