We spent years in corporate leadership and Christian charity. Then we discovered we could take our passion for people and business on the road. As a Good Sam rep team, we're able to make friends and discover new places — all while making a satisfying living.
Finding Good Sam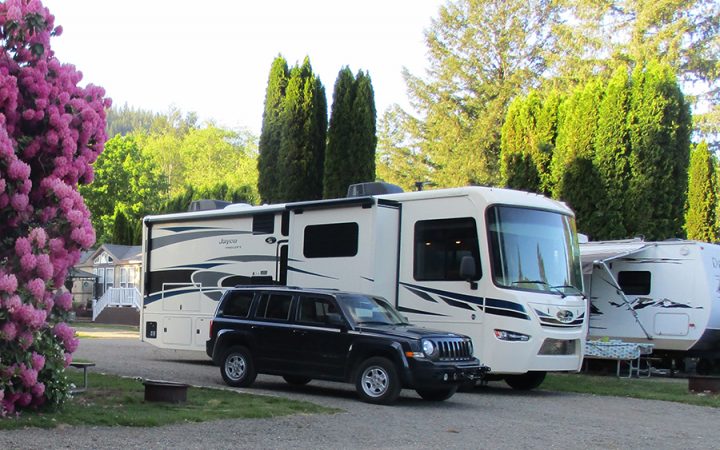 RVing wasn't always a natural fit for us. A pair of Midwest natives, we held leadership roles for engine-maker Cummins in Columbus, Indiana. But as retirement approached, RV travel stayed on our "never to do list" — until we took the plunge. Now our only regret is that we didn't do it sooner!
Following retirement, we initially focused on benevolence/ministry work with children, seniors, Native Americans and feeding the hungry. Then we got a tip about Good Sam, and we began a new season in our lives.
Rep life is a refreshing change of pace. We set our schedule based on our interests and regional happenings. Generally, we stay at parks/resorts that fit our lifestyle. We also spend time with our two grandchildren, continue consulting with benevolence and Christian ministries, visit our home in Tennessee and cheer the Green Bay Packers (well, at least Jeff does).
Good Sam Rep Perks
As we inspect parks and develop market plans with customers for the Good Sam RV Travel & Savings Guide, we meet great individuals. RV park owners, managers and RVers are some of the best people around.
This is a great earning opportunity: income is based on effort and results. We receive fantastic office support from Good Sam along with guidance from more experienced teams. We love helping parks market to the right demographics: Family/singles/seniors? Glamping/rustic? Quiet/active? When the right RVers show up at the park, magic happens.
We've had some amazing moments on the road, from marveling at salmon ladders on the Columbia River to seeing Cadillac Ranch in Texas.
Joining the Team
Good Sam reps must be technologically savvy, have the skills to consult with park owners, and the maturity to handle the ups and downs of sales work. Do you have what it takes for this job? See below for more info.
---