Celebrate with Us!
Who wouldn't want to celebrate their 21st birthday in the heart of Las Vegas? And since it has been a few years since most of us RVers have been 21, what a great excuse to celebrate someone else's 21st birthday Las Vegas style.
Come and enjoy all that the Vegas Strip has to offer during the month of August, at a discounted rate of $21.00 plus tax, up to three nights, at Oasis Las Vegas RV Resort and help them celebrate their 21st year of business.
Whether you've been here before, or are thinking of making your first trip to the city of entertainment, Las Vegas is sure to have something for you to experience and enjoy, and Oasis Las Vegas RV Resort is the place to stay while here. You can fill your days soaking up some sun with the family by a beachfront pool with waterfalls. Leave the cooking to them and enjoy breakfast or lunch in the café. With year round sunshine you'll want to try your hand on their 18 hole putting course, and if you just so happen to forget anything, you can shop in their fully stocked convenience store.
Glitz and Glamor of The Strip!
For those of you who are already over 21, you can enjoy the adult pool and Jacuzzi, or rent a scooter from the office and cruise around the resort. If you're feeling more adventurous, you can take a short drive up The Strip to enjoy all the glitz and glamor of the most amazing casinos in the world. Each night you can dine in one of Las Vegas' award winning restaurants, enjoy mouth watering cocktails, see jaw dropping acrobatic shows, listen to musicians, laugh at some of the best comedians and impersonators, or take in a variety of shows alfresco while walking down Las Vegas Boulevard.
Calling all neighbor RVers. If you live in any of Nevada's neighboring states, California, Arizona, or Utah, take advantage of 20% off Oasis Las Vegas RV Resort's regular nightly rate and enjoy more Vegas fun for up to three nights during May, June, July and August. All you need is a valid ID showing you are a neighbor, and an RV.
Extend Your Visit!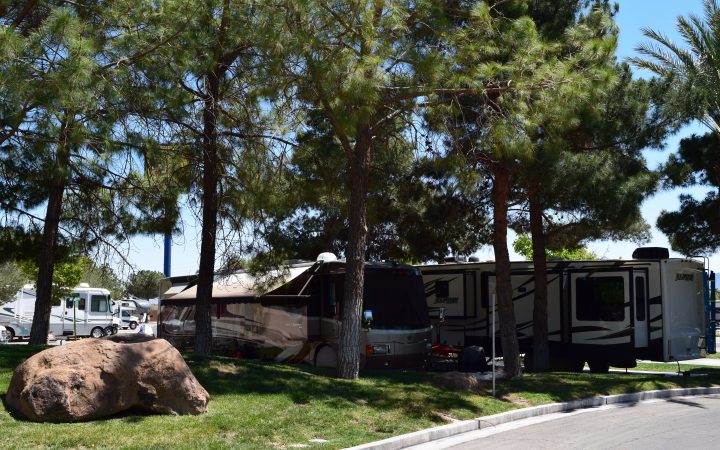 Don't feel you have to leave after just three days, feel free to extend your visit and explore all of the surrounding fun. Summer is a great time of year to bring your boat along for the trip and take advantage of all the waterways around Nevada. With Lake Mead and Lake Mojave a short drive away you can spend days exploring and sightseeing the gorgeous countryside. Hoover Dam is a must see, and don't forget to save an evening and explore Fremont Street where you can zip line over crowds, and experience the early days of Vegas.
Hire the Party Room!
With all the excitement of Las Vegas, you may find yourself wanting to throw your own party, host a wedding, or renew your vows in the Wedding Garden, and lucky for you Oasis Las Vegas RV Resort has a party room on premises where you can dance the night away with any size guest list. Their elegant ballroom can host up to 280 guests comfortably and give you exclusive access to the patio area so you and your guests can enjoy the sunny Las Vegas weather. If your party is a little more intimate, you can use the Hollywood Room, which comfortably accommodates up to 50 guests.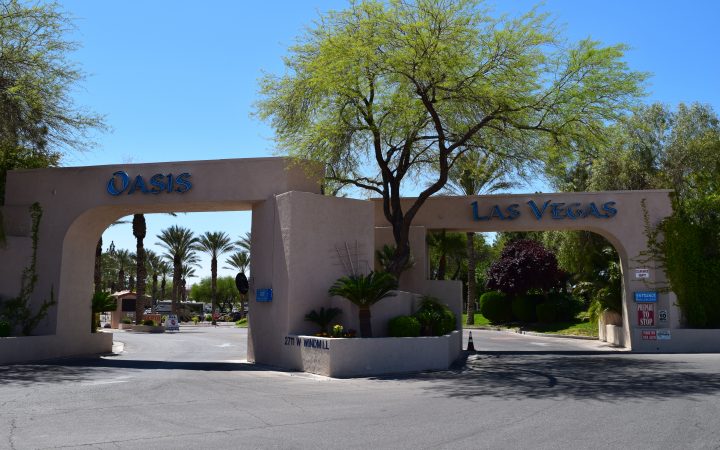 Visit OasisLasVegasRVResort.com to book your stay, your party, or your next family vacation and you'll discover why for the past 21 years, Oasis Las Vegas RV Resort has been a favorite vacation spot for tens of thousands of RVers and will continue to be for another 21 years.