Just on the edge of South Dakota's biggest city is a special historic and cultural site. The area, which is now referred to as Blood Run, has been changing for thousands of years.
It was home to about 6,000 people from approximately the years 1500 to 1700 – long before any towns as we know them existed. These people were a part of the Ioway, Otoe, Ponca and Omaha tribes. Their villages stretched over four miles along the Big Sioux River, on what today is Iowa and South Dakota. The site saw European settlers arrive in the 1800s and archeologists in the early 1900s.
Now, a portion of the Blood Run site has been preserved as a South Dakota state park. The park, called Good Earth State Park at Blood Run, was designated in 2013.
Brand New Visitor Center
Last spring, the park opened a brand-new visitor center to help tell the story of the people who live here so long ago. The state-of-the-art, 11,000 square foot visitor center is home history timelines, hands-on exhibits, 3D dogs and travois, and even an eleven-foot lodge that visitors can enter and experience.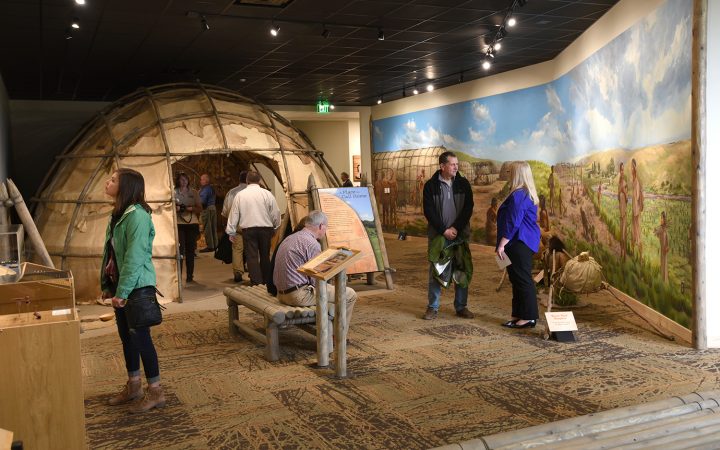 Beautiful hand painted murals line the walls with vibrant colors of the South Dakota landscape and the daily life scenes of the Native Americans who once lived here. A film tells the story of the site, bringing the area to life.
Outside, the park features over six miles of trail through prairie, woodland and river bottom. Several picnic shelters and viewing decks allow you to take in the breathtaking scenery. The park is popular for hiking, running, wildlife and bird watching, and dog walking.
Good Earth State Park is an oasis of nature, offering opportunities for learning, recreation and relaxation. It is definitely worth a visit.
Good Earth is located just outside of Sioux Falls, in eastern South Dakota. For more information, visit www.gfp.sd.gov.