Escape to the woods — with all the comforts of a top-rated Good Sam Park — at Pine Acres Family Camping Resort in Massachusetts.
Situated on the shores of 70-acre Lake Dean near Oakham, Pine Acres caters to everyone from tent campers to high-end travelers seeking full hookups with Wi-Fi. The family-friendly park sits within striking distance of New England's most popular attractions, but Pine Acres' ample amenities may just compel you to stay put.
Family Spirit
Family togetherness has always been a guiding principle in the park. Opened in 1960 by Kim and Grace Packard, the campground was handed down to their son, Randy, and his wife, Denise, in 1989. With the help of the Randy and Denise's three children, the family continued adding amenities and activities to the park over the years, earning in a perfect 10/10*/10 rating from Good Sam.
Fun for All Ages
Wholesome fun is a top priority. Families can go fishing on one of the piers overlooking Lake Dean or enjoy a picnic on the manicured waterfront park, a great place to watch sunsets over the water. Hit the beach on the lake for swimming or sandcastle making. Uncle John's Bait Shop — the first building constructed in the park — supplies live bait and poles for anglers to reel in large-mouth bass, pickerel, perch or sunfish. Boaters can rent rowboats, canoes, single and double kayaks, paddleboats and paddleboards, while landlubbers can rent four-wheel pedal karts and bikes.
Pool and Play Areas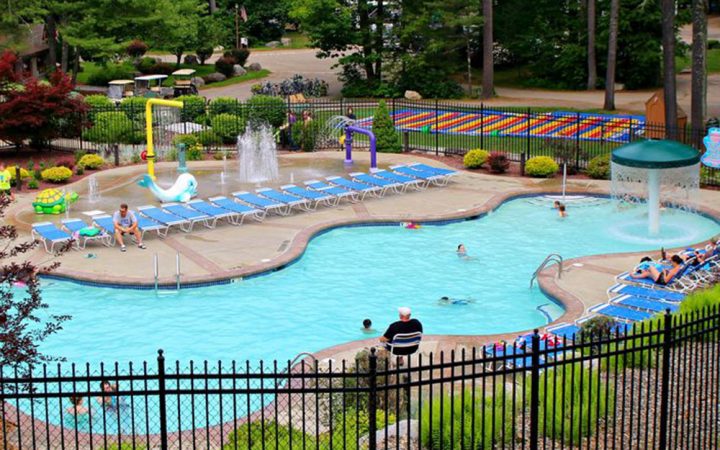 More watery fun is found in the sprawling pool, which is kept at a comfy 80 degrees and sits next to a hot tub for grownups. Nearby, a splash park keeps kids busy during warm days. Families can work off energy at the tennis and basketball courts (lighted during the evening). A jump pad and children's playscape will keep tots happy, and the 9-hole miniature golf course takes guests on a woodsy adventure.
Refreshments
After playing in the park, guests can cool off with a scoop of ice cream at the Pine Acres Country Store & Café, which stocks all the supplies you need for your trip along with a menu for every age. The Pine Acres Lodge hosts a family redemption arcade on the first floor; the second floor is home to an adult bar and lounge and a large special-events function room.
Superb Sites
Camp in a secluded wilderness setting or bask in all the comforts of home. Site options include:
Preferred sites, located close to the lake and just a short walk from the center of the park
Premium sites, situated on the beautiful of the 70-acre lake. Guests can stay at the main waterfront area with paver patio, deck and Adirondack chairs; camp in the secluded L area located on a private cover with a semi-private beach; or relax on a secluded waterfront peninsula with five tenting sites directly on the lake.
Wilderness Tenting sites include an area for tent setup, water hook-up, picnic table, fire pit and vehicle parking.
Pine Acres Family Camping Resort is big-rig friendly, and services include water, sewer, electric, cable and Wi-Fi.
Join the Party
Join the fun by participating in one of Pine Acres' events. The park's Independence Day Extravaganza features carnival games, a patriotic parade and fireworks for the whole family. Later in July, Holiday Magic kicks off the jolly season early with a visit from Santa and shopping opportunities. Check the resort's calendar for more events.
Local Attractions
A short drive takes you to some of the most popular spots in New England, including Old Sturbridge Village, the EcoTarium Museum of Science and Nature, Six Flags New England and more.
Visit their website: PineAcresResort.com
Photos supplied by Pine Acres RV Resort.