With the midnight summer sun shining nearly 24 hours a day, Fairbanks is bursting with energy and things to do. Get lucky panning for gold, float the Chena River, mingle with reindeer and musk oxen, cool off in an ice museum, take a refreshing hike and look for birds and wildlife, or be inspired by art galleries, museums, cultural activities and historic sites. Locals embrace the natural world and have created a vibrant river city. Where else can you travel to such a remote location and still enjoy all the amenities of a charming downtown, a thriving arts community, rich Alaska Native culture, authentic Alaskan activities and attractions and endless opportunities for exploration?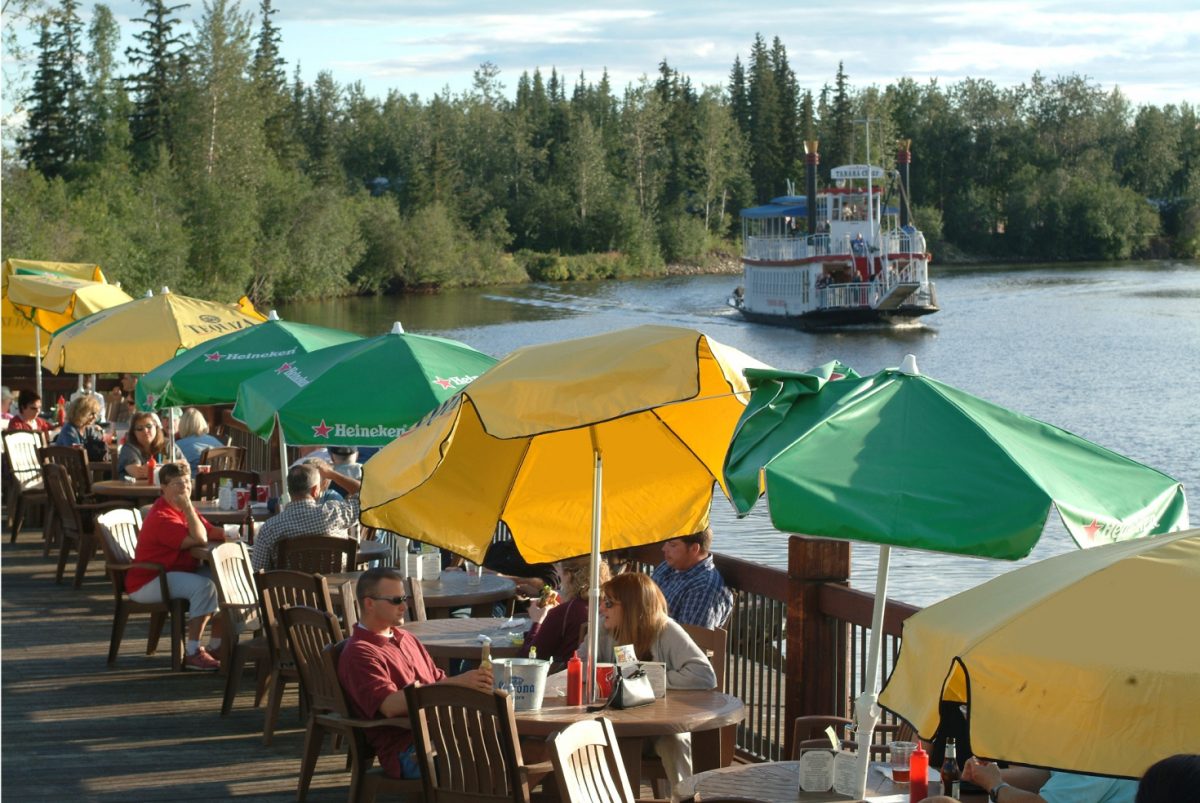 Wake up in the middle of the night to find the sun shining brightly and people out biking gardening and walking the dog. The endless sunshine transforms life in the Far North in pleasing and wondrous ways. Flowers, vegetables and all things green and growing dwarf their lower 48 counterparts. The sun energizes people to be on the go at all hours. For 70 straight days from the middle of May to the end of July, Fairbanks doesn't experience darkness, just brief twilight, because the sun doesn't go down far enough below the horizon.
Trips of a lifetime are easily within reach.
Make Fairbanks your basecamp to explore the vast Interior and Far North. Denali National Park is just two hours away; the Arctic Circle and Yukon River are an accessible four- to five-hour drive; villages without road access, refuges and parks are just a short flight away. Singular places in the Interior and Arctic like Barrow, Nome, Fort Yukon, Beaver, Bettles, Anaktuvuk Pass and Coldfoot are all within reach. Listen to the call of the wild. See caribou migrations. Take a late-summer polar bear tour. Float mighty rivers and fly fish remote streams.
During Aurora Season, August 21-April 21, people from all over the world come to Fairbanks because of its position under the "Auroral Oval". A ring-shaped zone over the Far North where aurora activity is concentrated. The city's location combined with a good balance of clear nights, occurrence frequency and activity allows for excellent aurora viewing opportunities.
Make the Morris Thompson Cultural and Visitors Center your first stop in Fairbanks.
Not only beautiful but informative, the Center has brochures, maps, free WiFi and telephone, and local walking and driving tours. Serving as the regional visitor facility, the friendly and knowledgeable staff can answer all your questions. The free 9,000-square-foot exhibit hall features outstanding displays and dioramas showcasing Interior Alaska's people, wildlife, landscapes and seasons. Enjoy free films and programs on Alaska's natural and cultural history. The Center also has an artisans' workshop, a planning area for outdoor excursions and an Alaska Geographic Store.
Once a gold rush boomtown, now called the "Golden Heart of Alaska," visitors find Fairbanks, inviting, engaging and awe-inspiring—the heart of the last frontier. For more information, visit ExploreFairbanks.com or call (907) 456-5774.