The perfect place to enjoy easy access to all the best of San Diego, while being nestled in a private, scenic valley surrounded by avocado and citrus groves – that's one of the beautiful contrasts of Escondido and one of the many reasons travelers return to the area for a relaxing, yet exciting stay. One more: The city was named both the "Best Place in the West in which to Retire" as well as a "Kid Friendly City" by Money Magazine. It takes a lot to be so widely embraced by both ends of the spectrum. Yes, when it comes to RV travel in Southern California, it just doesn't get better than Escondido. And that goes double for RVers' favorite area RV park: Escondido RV Resort.
The Perfect Getaway Spot
 What goes into the perfect RV resort? Ample sites that provide full hookups? Check. Resort amenities that allow lavish living during your stay? Check. Those little extras, like a new, fenced dog park that make you—and your pooch—feel taken care of? Check. Weather that makes it easy to get out and see the sights comfortably? Check, check.
Like the rest of greater San Diego, Escondido enjoys beautiful year-round weather that adds to the enjoyment of exploring the area's numerous hot spots. And its unique location means being able to sink into the rural, natural environment with great hiking one day, and then head to SeaWorld, the San Diego Zoo Safari Park, Downtown Escondido, Carlsbad Beach, or Legoland the next. And then there is the burgeoning array of local breweries that have made Escondido a North County go-to spot.
About the Resort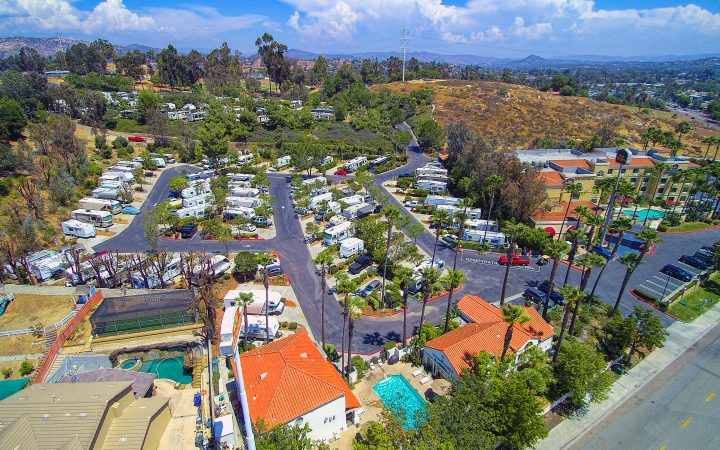 Escondido RV Resort's 10 lushly landscaped acres, plus the beautiful views from the top of the resort, complement the vast on-site amenities, including a heated pool and spa, picnic tables and barbecue grills, and a clubhouse with a TV and fireplace. When you add in Rod McLeod Park just next door, with its playground, trails, and grassy fields, as well as the resort's privacy landscaping and full hookup sites, it's easy to understand why guests have a hard time leaving the resort. In fact, extended stays of a season or more are among the fastest-growing types of stays at the resort. Now, for a limited time, you can take advantage of a Free Night Special, booking a seven-day stay and paying for just six days. What will you do with your extra day?
Escondido RV Resort features 127 spacious full hookup sites and an ideal location just off of I-15. For more information or to book a stay at Escondido RV Resort, visit the website or call 866-477-6165.