Author William Feather once said, "One way to get the most out of life is to look upon it as an adventure." If you're living the RV life, you're probably already aware of that mantra, but how about taking it up a notch with a visit to Circle RV Resort? No matter what you're looking to see or do in San Diego, Circle RV is the ideal home base that puts the best of the city within easy reach. Gear up for a great time with these San Diego adventures.
One of San Diego's most famous — and most fun — attractions is just a short drive down Interstate 8 from Circle RV Resort. SeaWorld is renowned for its animal encounters, rides and roller coasters, and one-of-a-kind shows like Sea Lions Live and Dolphin Days. Don't forget to bring extra clothes, or at least something waterproof, if you're planning to sit in the splash zone. And, don't miss the chance to "get closer than ever before to amazing animals with an Animal Experience. Swim with, feed and interact with dolphins, go behind-the-scenes with penguins, swim with beluga whales and much more."
Seeing a San Diego Padres game at Petco Park is always a pleasure. Catch all the action from a seat close to the field, or choose a spot at the top of the bleachers so you can gaze out at the downtown skyline or the San Diego Bay. In addition to a full schedule of competitive games, the Padres also have fun special events on the calendar throughout the season, like Party in the Park: Cocktailfest and Military Salute: Welcome Home USS San Diego during the homestand against the Mets. When the Padres play the Cardinals, you can get a Tony Gwynn '98 commemorative bobblehead, a Trevor Hoffman '98 commemorative bobblehead, or a Greg Vaughn '98 commemorative bobblehead.
One of the top zoos in the country, this favorite San Diego hotspot will take you around the world, from the Antarctic to the Serengeti to northern China, to see all the animals you can imagine. There are more than 3,700 of them here, spread out among beautiful grounds. Hoof it, tour by double-decker bus — or both!
See the monkeys, elephants and tigers (Oh my!), and save time to check out some of the most exotic animals on the premises, like the African okapi, Malayin tapir and Amur leopard, which is nearly extinct! Other can't-miss exhibits include the giant pandas, rare outside of China, and Koalafornia Adventure, the largest koala colony outside of Australia, with kookaburras and Tasmanian devils. If you really want to get an up-close look at the animals, consider the the San Diego Zoo Backstage Pass. You can actually hand-feed giraffes and rhinos and get up close with a cheetah.
Whether you're here for a few days or an extended visit, make sure to schedule time to see some of the most beautiful natural sights in the world. No matter what type of beach adventure you're seeking, you'll find it here in San Diego's 70+ miles of spectacular, perennially warm and sunny coastline. Coronado State Beach has been repeatedly selected as America's best beach and is home to the landmark Hotel Del Coronado.
The family-friendly beach features permanent volleyball courts, an off-leash dog park, and fire pits. Head to La Jolla Shores' mile-long beach with its calm waves to swim or kayak. And to the Scripps Pier for an especially Instagram-worthy pic. Kayak, dive, or simply gaze out at the lounging seals at La Jolla Cove. Take the kids swimming at the Children's Pool, the seawall-protected beach that's a favorite of families of both the human and seal variety. One of San Diego's premier coastal hangouts, Mission Beach isn't just home to the actual beach. It also attracts those looking to enjoy Belmont Park and its famous Giant Dipper Rollercoaster, the beachfront restaurant, The Wave House, and activities like stand-up paddle boarding on the bayside.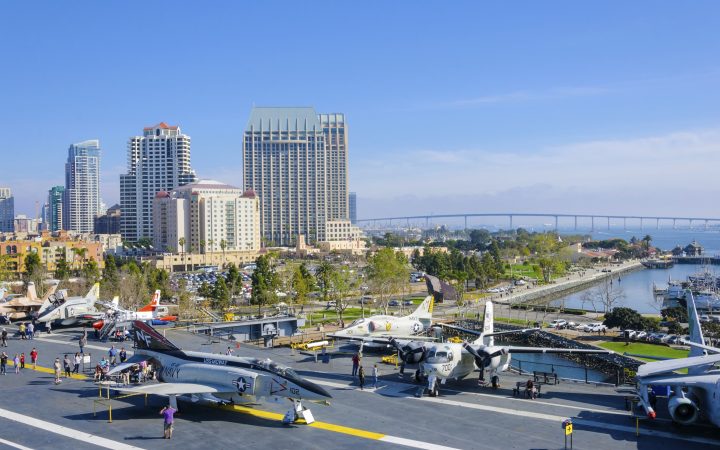 And don't forget about these additional San Diego adventures:
Old Town San Diego, with its colorful lifestyle, unique architecture, and delicious array of food. Celebrate the area's heritage. Shop the unique boutiques, and visit the Mormon Battalion Historic Site commemorating the trip from Iowa to San Diego in 1847.
The USS Midway Museum, an actual aircraft carrier — and not just any aircraft carrier, but the longest-serving U.S. Navy aircraft carrier of the 20th century. It's now a museum with walk-through helicopters, three types of flight simulators, and a new children's audio tour.
The Gaslamp Quarter, a true destination in downtown, with great restaurants, a happening nightlife, pedicabs that are a gift to tired feet, and interactive exhibits at the New Children's Museum.
Circle RV Resort
Circle RV Resort is a favorite spot for those seeking a welcoming RV resort with easy access to attractions and relaxing environs. Located in El Cajon near restaurants and shopping, the resort offers a host of amenities, including a heated pool and spa with poolside barbecue area, a fitness center, a large clubhouse, a wide-screen TV lounge, a billiards room, pet-friendly areas, and a library.
For more information or to reserve a spot, call 866-990-6915 or book online.