Q&A: How being a Good Sam rep team means "seeing new places and meeting new people — while getting paid to RV travel."
In 2006, Chip and Karen May made the big leap from owning an insurance agency to hitting the road as full-time RVers. Five years later, they made an even bigger move by becoming a Good Sam rep team.
Since then, the two Californians have never looked back. "It was the best decision we made," explains Karen, who joins Chip in carrying out inspections and developing market plans for parks listed in for the Good Sam RV Travel & Savings Guide and online.
The Mays have deep roots in RVing. The couple borrowed their parents' truck camper for their honeymoon in Big Sur 45 years ago and spent weekends on the road. After raising two kids, and owning and operating a successful agency for Farmers Insurance for 31 years, they put their experience to work for Good Sam.
How did you become reps?
We met a Good Sam rep team when we were visiting Alaska. They recommended us to Bob Chamness (director of sales) and we were hired. Then one of the teams dropped out of the program and we were called to be in San Antonio for training. We had to be there in 10 days — and we did it.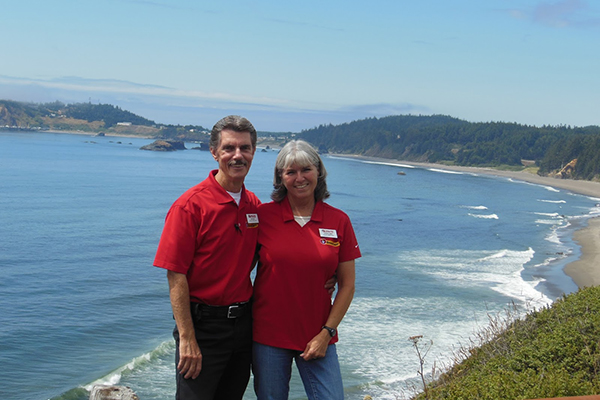 What aspects of the rep life appeals to you?
The traveling, of course! Seeing new places and meeting new people — all while getting paid. We choose to move often and stay at different parks as much as we can each year.
What is the most professionally rewarding part of being a rep team?
Meeting the RV park owners and managers is one our favorite parts of this job. That, and working with all the awesome people at Good Sam, from upper management to our account coordinator to the support staff at the office.
What skill set/quality is most important in rep teams getting paid to RV?
Honesty, sales skills, pride in your work and an enthusiasm for working with people. We feel this is a customer-service business, and helping the parks promote themselves is what we are all about. We pride ourselves on being honest and fair.
What are some of the amazing things you've seen on the road?
While we were visiting the Florida Everglades, we were sitting on a bench having lunch, when we heard this commotion over our heads. When we looked up we witnessed a young bald eagle attempting to steal a fish from the talons of an osprey. Soon, more osprey joined the fray. We were so in awe of the display that we forgot about the 35mm camera with a zoom lens sitting at our feet! That's a great memory. (Check out more rep stories).
Do you have what it takes? See below for more info.
---