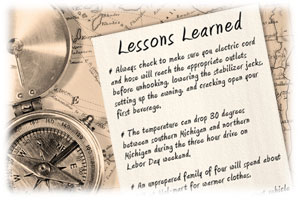 Many years ago, when I served in the Navy, we'd finish up a cruise and put together something called a "lessons learned" log. Mind you, we enlisted types didn't really read it, we just showed enough interest to avoid any extra duty back in the home port. Oddly, something from that experience clung to the inner linings of my brain. If you look in my camping journal (what…you don't have one?!?), you'll see little notes at the end of each entry. I don't call them "lessons learned." I've called them many things, most of which cannot be repeated here, but they share a common goal: if I write down my mistakes, I won't repeat them, or so the theory goes.
Here are some of the lessons I have learned:
Always check to make sure you electric cord and hose will reach the appropriate outlets before unhooking, lowering the stabilizer jacks, setting up the awning, and cracking open your first beverage.
The temperature can drop 30 degrees between southern Michigan and northern Michigan during the three hour drive on Labor Day weekend.
An unprepared family of four will spend about $113 at Wal-mart for warmer clothes.
While a Dodge Durango 4×4 is a great vehicle in the mud, a Dodge Durango 4×4 with a 32′ Coachmen strapped to its bumper is almost useless in the mud.
A Hensley Arrow is great for allowing you to tow a 32′ Coachmen with a Dodge Durango, but provides little assistance for getting un-stuck from the mud.
It costs $75 to have a tow truck pull a Dodge Durango 4×4 and 32′ Coachmen out of the mud.
Always check to make sure the ground is as solid as it appears before attempting to turn around on it.
You children will not keep something as fun as getting stuck in the mud a secret from their grandparents.
A child of 8 would surrender military secrets for the mere promise of an ice-cream cone.
Plastic tire chocks will float away.
A 3000 watt generator in a "primitive" campground will drive a 40 year old man to thoughts of homicide right around 2am.
If you work for Hensley, do not use your personal hitch bar to exchange with a customer needing a different offset.
I lose one hour of travel time when I need to drive back to the office for a hitch bar so I can hook up.
Do not wait until March to look for the potential leaks in your trailer roof. They're not "potential" any more.
I hope this brought a smile to your face as we wait for the last of the snow to melt. That's what you get for living in Tampa. What are your lessons learned? I can keep a secret…well, unless there's ice-cream involved.
If you haven't called Hensley Mfg. for information on the Hensley Arrow, the ultimate in trailer sway elimination, or TrailerSaver, the top air-ride 5th wheel hitch in the industry, give us a call today at 1-800-410-6580. We now manufacture the Hensley Cub for smaller travel trailers, available in three different sizes. Be sure to ask about our Package Deals.