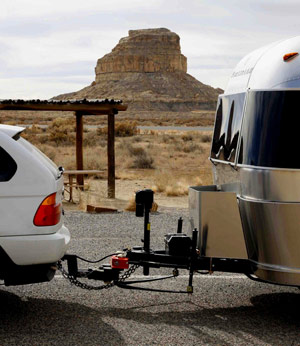 If you call Hensley Mfg. and ask about a sway control hitch, you'll be told that Hensley is not interested in controlling trailer sway. They are interested in eliminating trailer sway.
And that's precisely what they do. All other sway control devices on the market use friction to control, or dampen, trailer sway. The unique linkage design of the Hensley Arrow and Cub makes it impossible for the trailer to sway. Because there is no friction involved, the tow vehicle maintains complete control, while side forces like wind or passing trucks have no effect on the trailer.
While Hensley products are the most costly on the market, they are also the only ones with a perfect safety record.
"We're not selling a hitch," says Colin Connell, President of Hensley Mfg. "We're selling a level of safety you can't find anywhere else. It's about priorities. Our priority is keeping you and your family safe. When I started this company 16 years ago, I was just another RVer looking for a better answer. When I found it, I wanted everyone to have the same sense of security I'd discovered."
After starting Hensley Mfg., named to honor the inventor of the "converging linkage system" used in the hitch, Colin Connell set about making over 10,000 new friends, all RVers who's rediscovered their love of travel, thanks to the Hensley Arrow. "It's funny," says Connell, "people call here to thank Mr. Hensley for saving their lives. But Jim Hensley never actually worked for the company or any hitch company. Maybe I should just change my name to make it easier."
The Cub is designed for light trailers. It's available in three models for trailers up to 18 feet, 20 feet, and 24 feet. The Arrow is rated for larger trailers up to 14,000lbs. Both come with a 60-day money back guarantee and a Lifetime Warranty.
Hensley Mfg. also offers "package deals." They make the TruControl brake controller, McKesh portable towing mirrors, and other accessories. When you buy a package of products, you save several hundred dollars off your purchase.
Call Hensley Mfg. at 1-800-410-6580 and request the free video and information package. You can also visit them online at www.NoSway.com.