There are several essential RV components that make a world of difference to your RV adventure, especially if you're traveling during the summer months. If you've been thinking of upgrading or getting a new RV roof vent fan, now is the time.
An RV ceiling vent helps to increase airflow in your motorhome, and keep the air fresh. A good vent fan is a necessary addition to any RV if you want to be comfortable whatever the climate. Installing an RV vent allows air to circulate inside your vehicle and helps you get rid of unwanted cooking smells and shower steam.
An RV roof fan can save the day, better yet, the new MAXXFAN Dome was designed to put a "spin" on conventional rooftop ventilation by adding a matching fan guard that acts as a rain shield and protects your interior from weather and debris – perfect for ventilation and moisture control in small areas including bathrooms, galleys and showers.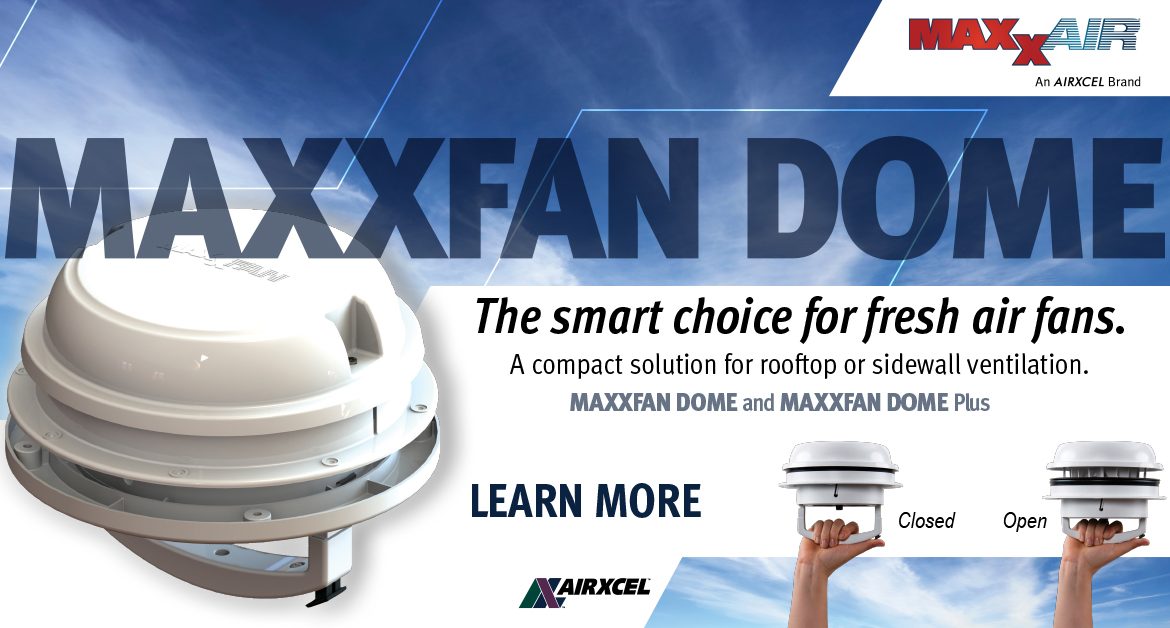 KEY FEATURES:
12 Volt
6" exhaust only fan with manual lift lid
Locking lid with single hand push button operation
Removable screens make cleaning a breeze
For 1" roof or sidewall thicknesses – extension included to accommodate up to 6" roof or sidewall thicknesses
Packaged with matching fan guard that must be used for sidewall applications
1 Year Limited Warranty
MAXXFAN Dome Plus features LED lighting
For sidewall applications, the fan guard acts as a rain shield and protects your interior from weather and debris. Additionally, the fan guard provides protection from accidental contact with the fan blades. Keep comfortable with maximum air circulation and keep certain odors out of your rig.