And check out the products and places that help mothers get it done
Can you have a family and travel in the same lifetime? These camping moms say yes! Family travel can be even more exciting and rewarding than travel without kids. Moreover, it can be manageable!
In honor of Mother's Day (May 12), we want to share invaluable advice from some of the top traveling moms and our pics of the best gifts to help say thanks.
It may not always be paradise. Parenting can be all-consuming. Here's how these RV and travel bloggers make traveling with kids a reality. And all the while, making it look easy.
Books for the Traveling Brood
Stephanie and Jeremy from RV Family Travel Atlas have three young children that are growing up on the road in an RV. Stephanie is dedicated to spreading the word that moms don't have to give up having big adventures just because they are traveling with little humans.
They recently talked about tips for parents who may not be enjoying every single moment.
If you love reading, then why not take reading habit to the campground? The Puglisi's typically end their day by reading a book. Just like they have taught their kids to pack their clothes and any sports equipment they want to take along; they have to pack a certain number of books. So, they are choosing what they want to read. And the couple models it as an activity.
Mid-day reading downtime can be a great break from the campground, to reset and helps prevent crankiness. And go digital! Try Libby, where you can discover eBooks and audiobooks from your local library. And it's free!
EP: What's been the best camping gift you've received to make your life easier?
"A comfortable camp chair or hammock!!! Every mom deserves the chance to relax in comfort when RVing. Some moms love a zero gravity chair, others like a rocking chair or big, comfy papasan. Hammocks are also the perfect gift to for a mom who needs some downtime."
EP: What has been the most rewarding thing about RV travel, in regards to being a mom/parent?
"I think it's been spending so much time with my kids away from the busyness of every day life. When we RV, we really just check out of the endless to-do lists and enjoy time together. We also spend so much more time outside, whether we are RVing to the mountains, the beach, the lake, or a great city destination."
EP: What would be your advice to a new mom/young family looking to hit the road?
"Don't make it too complicated! Keep it simple and really try to enjoy the time together. Plan activities that the whole family will enjoy. Teach your kids how to do the things you love, whether it's hiking, biking, kayaking, or fishing. Also, not every moment will be Instagram worthy, and that's okay. It's worth the effort to step out of your comfort zone and RV with young children."
Go Crazy for RV Family Togetherness
Crazy Family Adventure is a family of six and a dog who sold everything, bought an RV and have been traveling full-time around North America since 2014.
It's interesting to think that these high school sweetheart parents now have children that have never gone to a traditional school. Craig and Bryanna are giving their kids the world as their classroom.
They didn't have a lot of fears around traveling with kids. Their fears were more around leaving behind a life they had built before they headed out on the open road fulltime. But they are still on the road, five years later!
As they say: "It is freedom, it is independence."
EP: What do you love about RV travel?
"I love going to new places to explore together as a family. Seeing my kids experience something for the first time and being able to share that with them is an awesome thing!"
EP: What are your top tips for making family travel work?
"Compromise! And know that things aren't always going to go well but that is OK. One bad moment doesn't have to ruin the whole day. Also be sure to include a lot of down time to just let the kids run and play."
EP: What would they advise new moms/families wanting to hit the road?
"Just do it! There is never going to be a perfect time so if it is something your family wants to do then make it happen now!"
A Tribe Called Rallis
The Rallis Tribe sold our home and cars, donated most of our belongings, and hit the road in their renovated fifth wheel in March of 2018. Their mission is to have less so that they can experience more. Kate's best camping gift that has made her life easier?
"I've landed on my Hydro Flask as my favorite camping item to date. It is portable and easy to take on trails, it keeps my water super cold, and the stainless steel interior gives me peace of mind about sharing sips with the kids and being able to easily clean out their cooties. Plus, it looks cool!

Second to that, all the sweaters and blankets in the world! Seriously, every last one. Nobody likes to be cold."
Finding Flowers for Zoey
Moon Mountain Man and Reborn By Adventure is an outdoor adventure love story. Ukrainian born Natasha Moon came to the U.S. and was introduced to camping and backpacking. This life-changing experience brought freedom and balance to her life. And now that she and Jacob Moon have a daughter, they want her to benefit from nature and the outdoors the way they have.
From her Instagram:
"Since Zoey was very little we always pointed at different flowers while on the trail. She is almost two now and she loves flowers, and marvels even at tiny flowers she spots in the grass."
Trading Mortgages for Mountains and Meadows
Ditching Suburbia is a site for families who've achieved the "American Dream" but found that it's actually exhausting. These bloggers share their story about leaving the suburban life in search of simpler living, closer family and uncommon adventure. And they would know; founders Matt and Tabitha Best have seven kids.
EP: What has been the best camping/travel gift you've gotten that has made your life easier?
"This is a tough question because my immediate thought is to say an Instant Pot because for RV life, that has consistently been the most helpful thing we have for feeding the masses. It was a gift from my husband, but only because I told him to get it for me. Your question though was for a 'camping/travel gift' so as I'm remembering our days before the RV as tent campers, and how that type of camping doesn't allow for the Instant Pot, I'd have to say the best gift that makes things easier is a good soft cooler.

Ours is a Coho 24 Can Cooler from Costco that was a gift from family. It's great for travel days to have in the car or for day excursions to parks, museums and such. Ours fits in between the driver and passenger seat of the truck so it's easy to access healthy snacks. It's big enough to hold enough for an actual meal for a family of nine, but not too big that it can't come with us easily. Since someone is always hungry, having a good cooler really makes things easier as you can plan meals ahead of time and then stick to the plan."
EP: What has been the most rewarding thing about RV travel, in regard to being a mom?
"This one is easy, the most rewarding part of RV travel as a mom is seeing joy and excitement that the children get when we take them to a new unique place. No matter if it's a field for them to run in, a stream to throw rocks in or an incredible waterfall, they love having fun and are filled with excitement with every new experience. The look in their eyes as they learn and play in amazing places makes life very meaningful."
Allie's Answers for RV Living
Allie Casazza is a mother of four from Oceanside, California. This minimalist expert and business owner purchased and renovated a camper and took part in trailer traveling. And while they are not traveling in an RV anymore, they look back on it fondly, even though it had its rough spots.
They spent two months living on the beach in beautiful Southern California. And every time the kids needed to burn some energy, or they felt cramped, the beach was right there. They quickly learned that it's hard to be productive when everyone around you is on vacation.
EP: What was the best camping/travel purchase that made your life easier?
"Redoing our shower system! This was one of the best things we purchased because having a good shower set up for that many people in such a small camper was vital. Especially since I was doing photo shoots and video shoots all the time for my business! I need to feel great and get ready… and so did my family!"
EP: What was the most valuable thing you learned from RV travel and living in your RV?
"The whole experience cemented, in our hearts, what we already knew. And that is that less is more. That experience brought our family incredibly close together and is the reason we are still super close. It was a pivot point in our family story and in our marriage. It was a time that truly taught us how you really don't need much to live and you can live more freely with less! All those cliché things you hear were really true to us during that time. Our time traveling in a camper was the catalyst for the platform I have today, which is teaching women and families to simplify and live with less through my online programs."
Does your mom love camping and the RV lifestyle? Then you'll want to check out this guide to help find the perfect Mother's Day gift.
Where would we be without our moms? Honestly, nowhere! So, take some time to say thanks and plan a safe and fun adventure with the kids. Explore these destinations and RV parks that the whole family – especially mom — can enjoy.
Good Sam Parks Make Moms Feel at Home
Several Good Sam Parks across North America have given moms a break with special pricing and fun events for Mother's Day weekend.
About the Author: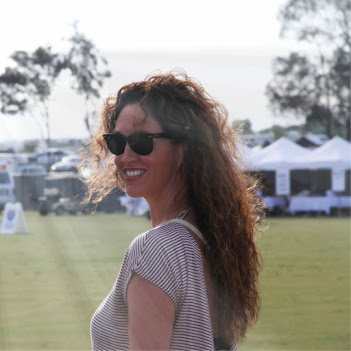 Erin Peters is the offspring of a nuclear physicist & one of the founding fathers of phone-to-phone VoIP and a Mensa mother. She has over 20 years of marketing experience, having worked for Internet giants, biotech leaders and Fortune 500 companies. She also created digital media departments at two online advertising agencies. Erin is also a renowned beer writer and judge, that has been enticing beer drinkers for over a decade through her blog, The Beer Goddess.