Updated on August 26, 2019
We love our pets. They greet us at the door every day like they haven't seen us in weeks. Man's (and women's!) best friend isn't meant to stay at home while you and your family are exploring the outdoors. They love the outdoors just as much as you do! And they're part of the family. This dog-friendly guide to RV camping will help ensure an enjoyable and safe trip with your pup.
According to a Recreational Vehicle Industry Association study, furry friends serve as excellent companions on the road for 61% of RV owners.
Tips for a fantastic time with your furry friend:
Introduce your dog to the RV.
Before you hit the road, park your RV in the driveway and pull all the slides out, bring in the dog bed and food and water bowls. Don't coax with treats right away. Be patient and just hang out inside and see if they'll come and join you (I'm betting they will).
Once they're comfortable, go for a drive locally. Then take a local weekend trip, close to home. Before you head back home for the weekend, consider tiring your dog/s out before bringing them back in for the long ride home.
Pack and prepare for your pup.
Take care of any vaccinations, vet visits and give your pup a good wash before you go. Treat your dog for fleas and ticks year-round, but especially before extended time outdoors.
And while it's likely that Daizie (my adorable black Australian Shepard and lab mix) would be fine, it's best to find local vets in the area you're traveling to, just in case. Keep in mind vets are licensed in the state that they practice, so keep in mind getting a prescription filled across state lines may be a bit tricky. Pack your vet records and contact information with you.
Utilize your mobile phone and download one of the many vet finder apps.
MyPet.com – you can keep all of your pet's appointments and treatments, to keep track of important dates, vaccinations and more. And by just entering your zip code, you can find a veterinarian near you. They even have seasonal tips, health and nutrition care to help for everyday ailments.
VetFinder – allows you to search vets who currently have emergency service and open office hours. You can search for mobile veterinarians or vets that offer home (campground!) visits.
Don't forget all his or her basics:
Leash: the Ruffwear harness for hiking is something to consider. Ruffwear is dedicated to enhancing outdoor adventures with dogs and their dog's gear is designed from a dog's perspective. When you're hitting the trail for a hike with your best friend, we share our dog walking wisdom with hikers and dog lovers.
Food: Okay, duh, right? But how will you store Daizie's food? Try Vittles Vault travel collection – they've got portable pet food containers.
Camping World has a slew of items perfect for your RV pet. From retractable cable tie outs and self-warming pet cots to portable pet steps and pet cooling mats, they've got your pooch covered.
Treats
Medications: be sure to bring along a pet first aid kit.
Toys: you bring games, bring some for Daizie too!
Kennel
Bedding
Stay at a dog-friendly campground
It's important to check ahead about pet policies. Most campgrounds and state parks require dogs to be kept on a short leash and not roam free. However, many private campgrounds now have dog walks or off-leash dog park areas to accommodate pet owners.
Here's a list of some of the top pet friendly parks. Good Sam Campground listings list pet restrictions per park.
Rio Bend RV & Golf Resort, El Centro, California. Located 20 miles east of San Diego, Rio Bend is ideal for both vacations and extended stays.  This luxurious 120 acre resort boasts world class facilities, warm weather and fantastic golf options. And Sun Beam Lake is less than a mile away for on the water activities.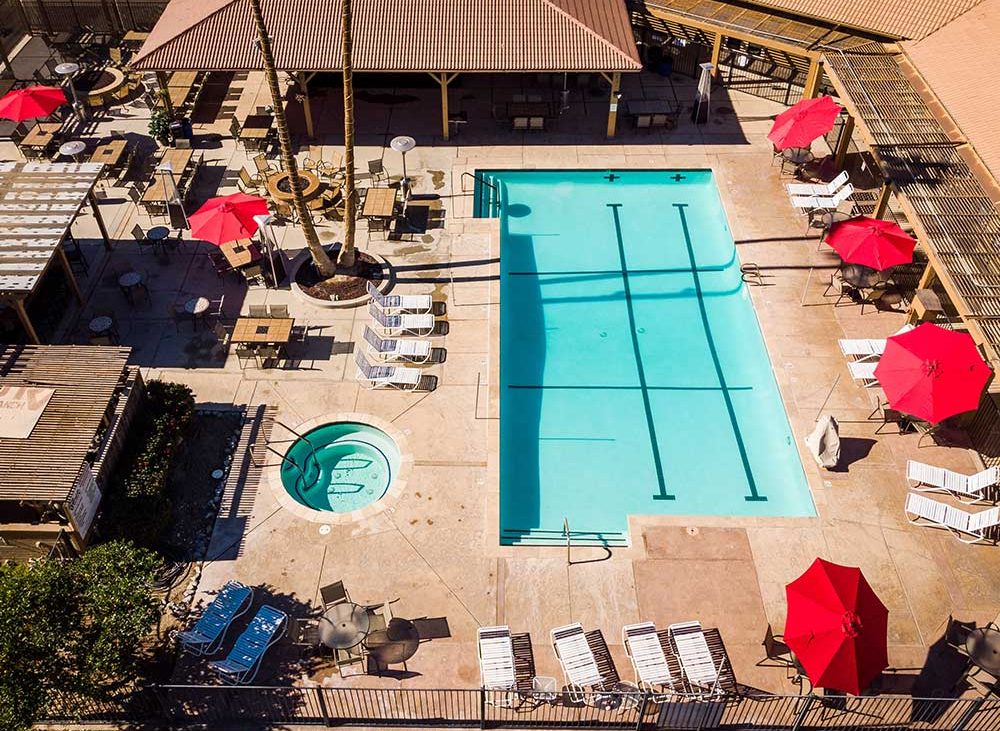 Pet comfort.
Does your RV have easy access for your four-legged friend? Make note of the number of steps. Where will Daizie sleep? Bring a dog bed that shows where he/she will lay its paws. Install dog friendly flooring and furniture. Let's face it. They can be a little smelly and they shed, so consider installing vinyl floor.
If your camping in the dog days of Summer, make sure you have a good temperature control unit to keep the RV cool on hot days. A powerful ceiling vent fan can make a big difference for good ventilation.
Safety first.
You put seatbelts on you and your loved ones, why not your best friend, too? Have either an anchored harness or a pet carrier. Allowing your dog to roam freely in the RV or tow vehicle is dangerous for both of you.
Take your dog on your next adventure and provide them with a safe, dog friendly environment for memories that will last a lifetime for you both.
Featured image credit: @filson1897 on Instagram, filson.com