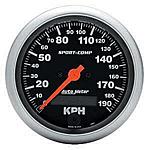 This week's Lug_Nut view.  Many years ago, in the early 1970's Canada used standard measurements for things like weight, area, distance, temperature, etc.  This, with the exception of the imperial gallon and similar liquid measures, matched that of the U.S.  Trade between both countries could be done using the same scale and measure.  Life was good.
The Canadian government, led by Pierre Trudeau, started the transition to the metric system.  This took over 13 years to fully implement.  Living in Canada, I can tell you it was tough.  Business's had to convert to these new measures in every aspect.  New equipment, new packaging, new advertising brochures, billing changes, and shipping changes, were just some of the challenges.  Consumers were equally confused.  Now meat in the grocery store was priced by the kilogram and more expensive product by the 100 grams.  There was absolutely no way to gauge whether you were getting a fair price or being ripped off, short of having a calculator and an accountant with you.  Oh, and what's up with badges on cars saying "3.2" etc.?  Is that a software wersion?
Well, here we are 40 years later, Canada pretty well fully metric and the U.S. using the standard North American measure.  My only question is "What was Canada thinking?"  U.S., our best friends and neighbors, which we share thousands of miles of border, were using the same as we did.  Why did Canada change it?   What were they thinking?
Personally, I would rather buy my fuel by the gallon, the American gallon, not the milk bottle sized liter.  Then I can drive miles, not European kilometers.  If I want to do that I will go to Switzerland.  If it gets cold, I want to monitor it in Fahrenheit degrees not Celsius, centigrade, or any other nonsense.  I want to live in a house that is X square feet, not square meters.  I would probably have to buy metric furniture for that.
But, because of the U.S. influence and trade, Canada is really a "Pig-Metric" society.  TV's are still sold by the inch, as is automobile rims and much more.  All pumps are built and rated in GPM, U.S. gallons per minute.  Aircraft fly at altitudes in feet and motor homes and trailers are sold by the foot.  What was Canada thinking?
So let's take a look at a Canadian-ized motor home.  First, it is probably made in the U.S.  They are sold and advertised as so many feet long.  The speedometer is calibrated in kilometers as is the odometer.  The oil pressure is measured in kilopascals, whatever that is.  It must need special metric oil because any good American oil would do pounds per square inch.  Engine temperature is displayed as Celsius, I guess it takes metric glycol too.
Now, I know many screws and bolts found throughout the automotive industry are in fact metric.  This little addition cost mechanics and tech's a wheelbarrow of coin to outfit their tool chests to meet this challenge.  These metric sized hardware pieces added nothing that the standard size couldn't.  It required fastening distributors to double their stock if they were to keep up with the industries needs.  Using metric bolts on a U.S. made product?  What were they thinking?
Well, if you haven't figured it out by now, I'm not a metric fan.  Give me inches over centimeters, foot pounds over Newton-meters, ounces over milliliters, miles per gallon over liters per 100 km, and any standard measurement over any metric nonsense.
What were they thinking?
Just My Opinion      –      Lug_Nut       –        Peter Mercer