Combine wildlife watching and RV travel.
What could be better for wildlife watchers/photographers than to see free-roaming animals in their natural habitats? Here are some of the best places where you can watch unrestrained wildlife, from moose to bears to wolves.
Yellowstone National Park, Wyoming
Yellowstone has the largest concentration of animals in the Lower 48 states, and wildlife watching and RV travel blend nicely here. Bison and bears, the largest mammals in Yellowstone, can be seen in both summer and winter. Look for gray wolves, wolverines, lynx, elk, moose and numerous other mammals.
Nearby Good Sam Parks.
Grand Teton National Park, Wyoming
Moose, the mammal most often associated with Grand Teton, and bison can be seen peacefully grazing in the park's meadows. Sixty-one species of mammals are found in the park's habitats of alpine, coniferous forest, sagebrush flat and wetland. Moose, elk, bison and pronghorns are commonly seen from the park's roadways, and you can catch a glimpse of predators like grizzly and black bears, wolves and mountain lions on park trails.
Nearby Good Sam Parks.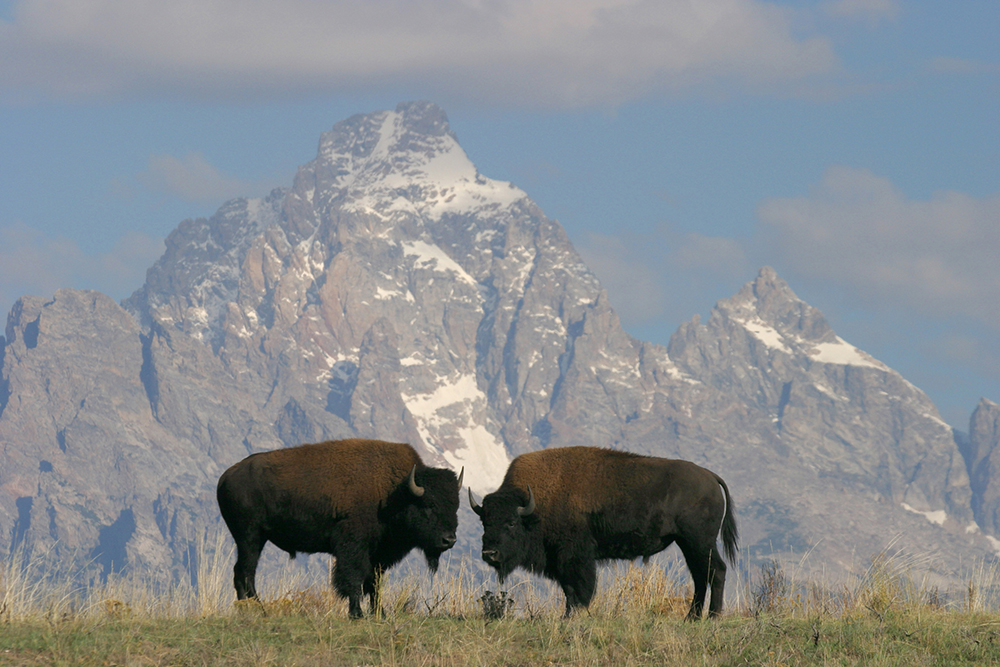 Glacier National Park, Montana
Glacier is known for its bighorn sheep population, which can be seen atop the Continental Divide near the visitor center. The park service counts 66 different types of mammals, including grizzlies (look for them in and around Lake Mary), lynx, cougar and elk.
Nearby Good Sam Parks.
Custer State Park, South Dakota
Custer's free-roaming 1,300-head herd of bison can be seen grazing on prairie grasses alongside the Wildlife Loop Road. The herd often cross the roads, stopping traffic as they amble slowly to greener pastures. Every fall at the annual 3-day Buffalo Roundup and Arts Festival, the herd is rounded up in a spectacular display of the Old West.
Nearby Good Sam Parks.
Rocky Mountain National Park, Colorado
Whether bighorn, elk, mule deer or other wildlife, Rocky Mountain visitors flock to see big mammals. Winter elk herds of 600, about 350 bighorn sheep and numerous mule deer call the park home. It's a great place for wildlife watching and RV camping.
Nearby Good Sam Parks.
EvergladesNational Park, Florida
The park protects the southern part of the Everglades, and yes, alligators do dwell here. But the park also features 36 federally protected animals, some of which face grave threats to their survival. A gator cousin, the American crocodile, is one of them.
Nearby Good Sam Parks.
Crystal River National Wildlife Refuge, Florida
This is only wildlife refuge protecting gentle West Indian manatees, which have become threatened because of humans. They're most prevalent in the park during fall and winter. Paddle out over the water to see these so-called "sea cows" bask in the sun beneath the still water.
Nearby Good Sam Parks.
Bonus: Dean Creek Elk Reserve near Reedsport, OR and Prairie Creek Redwoods State Park near Orick, CA where you can see free-roaming Roosevelt elk herds. At San Simeon, CA near Hearst Castle and Año Nuevo SP you will find thousands of Northern Elephant Seals on the beaches year round.
You can find Bob Difley's RVing ebooks on Amazon Kindle.